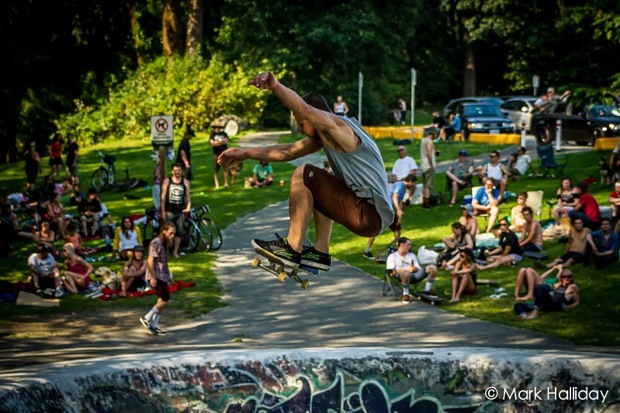 It's awesome that I consider the kickoff to someone else's series of skateboard competitions better than the kickoff to my own, but I just love Bowl Series. There is no better times. And after all, the Bowl Series is what gave me the idea to start a full series of contests in Surrey. Why do 1, when you can do 5 or more??
So today was one of the best Canada Day Seylynn Jams in a long time. The weather was amazing, the crowd was full and there was sick skating going on all day in every category. Ben Chibber brought out a group of kids that localize his indoor park – The Dry Spot – and they were shredding in Beginner. Presley was the only dude in the finals that wasn't part of their crew, and the little 5 year old from Squamish let them know who`s boss, but still finished in 4th, out of 8 kids in total. The Intermediates were also laying it  all on the line with crazy tricks and awesome flow lines. I think the kids name that won it was Ross but I can`t remember, which is bad since I MC`d their runs. Either way they all skated good. The ladies were shredding the bowl, Protest Rider and my wife Carrie Williams finished in 2nd place behind crazy ol` Jess who hits the most difficult speedlines, and today did them all barefoot. Jess ended the ladies jam with a face smash in the deep end carving in frontside a little to fast. 5 girls in the comp, stellar.
The advanced was where it was at, like usual. 40-50 dudes going hardcore, ranging in age from 17-45+. You know it`s a crazy scene when the guy that gets 1st place is in his early 20's, the guys that gets 2nd is in his early 40`s and the guy that get`s 3rd is the youngest dude there at 17. 9 people made the Finals in this one – Wow! We had a sick heat with Giver, myself Hippie Mike, Jaden Easton-Ellett, Brad `Fighter`Muscat & Andy Anderson and all 5 of us were ripping. Only 1 guy from each heat qualifies to finals though and Andy squeezed through. Good think he kept up with his game in the finals and ended up in 3rd place. Bushman and Eve Feaver were also all over the bowl today, Protest Skateboards was being highly represented, and Eve came through in 2nd place. It`s tough judging out there when there are over 40 guys in advanced and all of them are skating good. The MC role was definitely easier than the judging today. Adam Hopkins came through in the Finals and won his 6th straight Bowl Series contest leading him in the direction to go flawless again this year – Alex Chalmers style. Adam took the King of the Bowls Trophy last year with 5 wins out of 5 comps. He was killin`it today, definitely a crowd favourite.
Big thanks go out to Mike Strato and the Vans Crew, the Gullwing Crew and many other sponsors for getting the 19th year off to an awesome start. Strato works hard for these contests so thank him when you see him. And to Mark Halliday of Moonrider Productions who is working with me to create a documentary following this year`s Bowl Series start to finish. Him and his crew of filmers were sweating in the hot sun all day to capture the best of the best footage. And to Pete`s Meat Butcher Shop for running a fundraiser BBQ to raise funds and donate them to the late Carver Don Hartley`s family. Awesome guys.
Thanks to everyone else just for being there, nothin`but love.
Cold drinks, fast lines, hot sun and lots of fun!
Stop 2 – Griffin Bowl
July 14th
Seylynn Advanced Winners
Adam Hopkins
Eve Feaver
Andy Anderson
Rob Rickaby
Steve Denham
Clinton
Merrick
Leif Brooke
George Faulkner