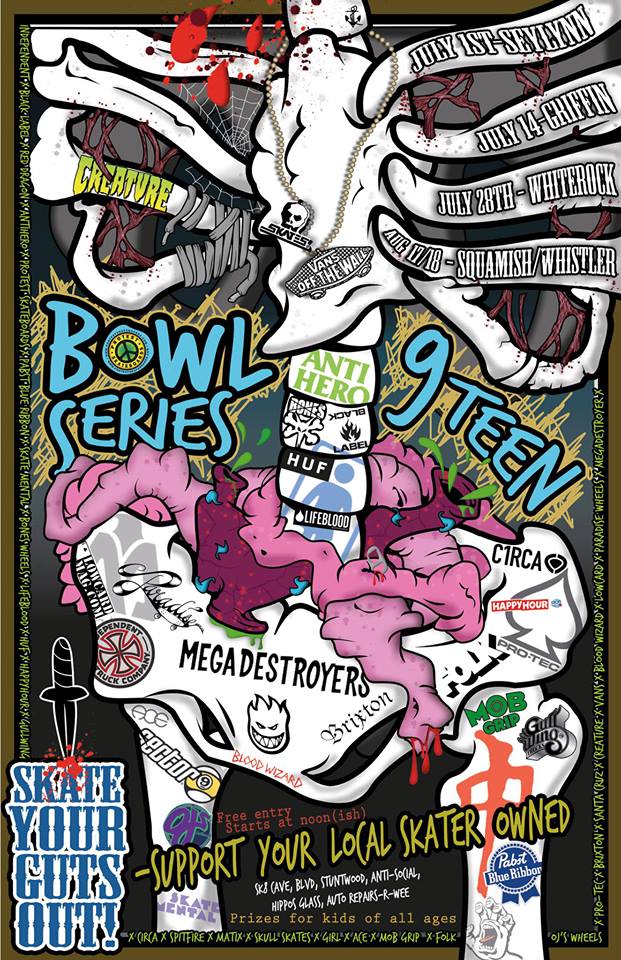 I moved to BC in 1998 with my wife Carrie and was welcomed into the skateboard community here right away with open arms. I met a lot of amazing people right away just through skateboarding in Burnaby, and some of those people are still some of my closest friends, what I consider to be family. But the day that changed my life forever was the first year I went to a Seylynn Bowl Series Contest. I had heard about them for a few years but never made it out, and then when I started riding for Substance Sk8 Shop, Mike McManus took us the Bowl Series contests in White Rock and New West and I saw all these guys that I knew from the Burnaby Park and they were shredding the bowls super hard. I learned the lines quickly and had a great time, I'm pretty sure I even placed 2nd at New West that year. I now knew what The Bowl Series was and understood that I needed to be part of it just for the fun factor. The next year we made it out to Seylynn for the kickoff which is always on Canada Day and there were hundreds of people there. I was stoked!!
Since then, we have never missed a year at Seylynn, and have hardly missed any of the Bowl Series contests at all. Seylynn, Griffin, White Rock, Squamish & Whistler (and New West used to be in there, even Bonsor had it's times a couple years), these are the original parks that made people like Colin McKay, Alex Chalmers, Dave and Rob Boyce who they are today. And Eve Feaver and Bushman have been repping at these parks forever as well, that's how I met them, and now they are on the Protest Team. It became a lot more than a series of skateboard contests every year, it became a family reunion, especially Seylynn. Canada Day is the day I think about most of the year, just for that reason. You know the people you're going to see there, you know the positive vibe that will fill the air, and you know that there's gonna be some serious talent to watch skate too.
To all the legends of Seylynn Bowl Series – Seb, Cuz, Carver Don, Dave Priest, Stevie D, Johnny B, Hippo, Langer, Jamie Sherrat, Jay Balmer, Mike Strato, Surrey Clint, Clinkhammer, Mitchy, Big Jay, The Faulkner Twins, Bushman, Eve, Stu & Drew, Andy Anderson, Giver, Adam Tagg, Dave Boyce, Alex Chalmers, Rosie and Trevor, McCallum, Pidgeon, Adam Hopkins and so many more. Legends from every era all coming together every year to kick off this event and make it what it is.
This is where I belong, and these are the memories that we make as a family to remember forever. Bowl Series – Year #19 starts July 1st, 2013 at Seylynn Bowl. Who will show up? Who will win? Who will end up this year's King of the Bowls at the end of the series? Only one way to find out…..
Here's some footage from last year's kickoff put together by Dennis Regan from Rollingbonespodcast