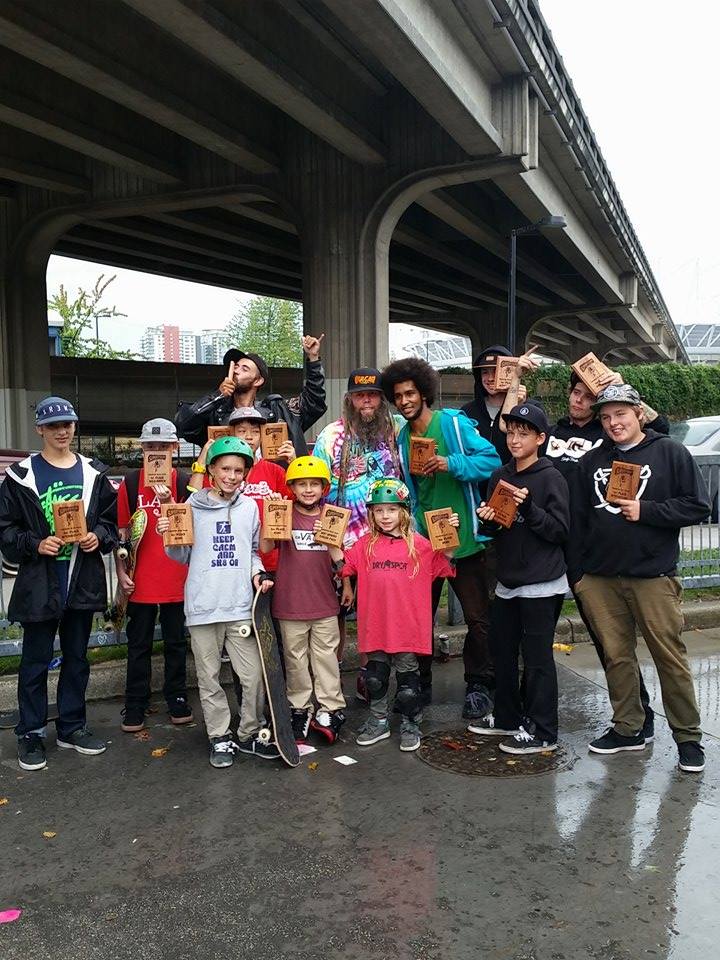 Waking up to a torrential rain storm the competition was initially cancelled and postponed until the next day, but the sun popped out around 9:30am and Hippie Mike changed his mind and decided to run the event and risk the weather issues coming back. Ironically there ended up being a massive wind storm throughout the Lower Mainland knocking down trees and poles and leaving tons of people without power for days. But down at The Vancouver Skate Plaza the crowd of eager skateboarders were somehow protected by all the surrounding buildings and the Finale of Hippie Mike's Super Tour 2015 began and finished in style….
Starting about an hour behind schedule the contest got underway with a small group of Mini's that all wanted to win a special Plaque. Little 7 year old Presley Huska stepped up the game right away as he tried to ollie the big 7 stair over and over landing it every time and just slipping out. He rode away in the finals jam and the crowd was pumped up for the day. 5 year old Kaelen Faux shredded the whole park in Mini with style and skill, and 10 year old Aidan Eastman took advantage of his final time competing in Mini by throwing down everything he had on the table and taking home another 1st place plaque for his collection.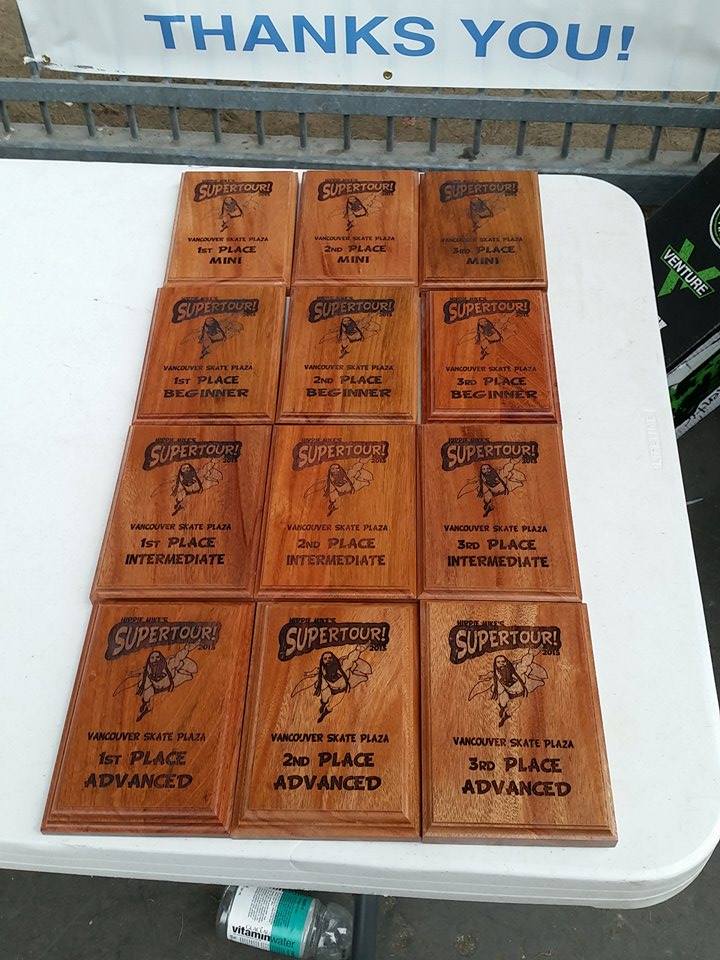 The Beginners had to skate hard after seeing the Minis. Everybody came out flying but the first runs were owned by Olek Khrystoyev as he kickflipped and varial flipped everything in site but in the Finals Fletcher Chan took it to another level with huge gaps and solid landings. No one could keep up with the Park Local though who even had a shirt saying PLAZA across the chest – Joey Livingston as he destroyed the park and lit up the crowd. At the end of the finals he gapped over the big 3 block and all the loc's went wild – 1st place all the way Joe!
Intermediates came out next and had a small rain delay between runs 1 & 2, but that just created a little extra warm up time for them. Soren Terra, James Graham, Adam McPhee, Josh Lewis all made it into the finals and all made it tough on the judges to do their jobs. But JR Barron owned 1st place all the way. JR has been localizing Hippie Mike contests since he was 5 years old and has a collection of plaques and prizes from over the years, he played it safe and landed everything he tried in both runs, and then kept the consistency alive in the finals. Great job everyone, Intermediate was solid!
Finally getting into Advanced there was a strong list of shredders and it could have been anyone's game. Run 1 was intense as every competitor showed how good they were, then 4 guys into the 2nd run it started raining again. After a 10 minute wait Hippie Mike called it over knowing the rain was here to stay and told the judges to figure it out just off run1. The winner was pretty obvious but every position down from there was a serious decision to make. 4th place tied with Gabe DiNorscio and Jacob Drescher so you know the top 3 threw down. Local boy Trevor Greig aka DGK Trev wasn't even going to enter but Hippie Mike put him in the contest anyway and he ended up taking 3rd place, finishing his run in style with a hat transfer through the legs while he ollied the 7 stair. Everyday Local Ty Koeller laid it down like he always does with huge frontside flips, 180 nosegrinds, perfect noseslide bigspins and more and took 2nd place earning his first ever Hippie Mike Plaque. Along with that he won $30 in a 50/50 draw! But the winner of the day was definitely Noah Eastwood. He came out flying with a vengeance, aired over the big pyramid to flat, hit every square inch of the park with speed and finished his run with some rocket madonna trick down the 7 stair that no one should ever attempt. Killed it buddy!
To top it all off Noah Eastwood was also named the 2015 Hippie Mike's Super King and was even more stoked. 1st place at Plaza, 1st place at Queensborough and 6th at Chuck Bailey Noah put his body on the line at every contest and showed all competitors, judges and spectators that he has no fear. This kid could go far in life.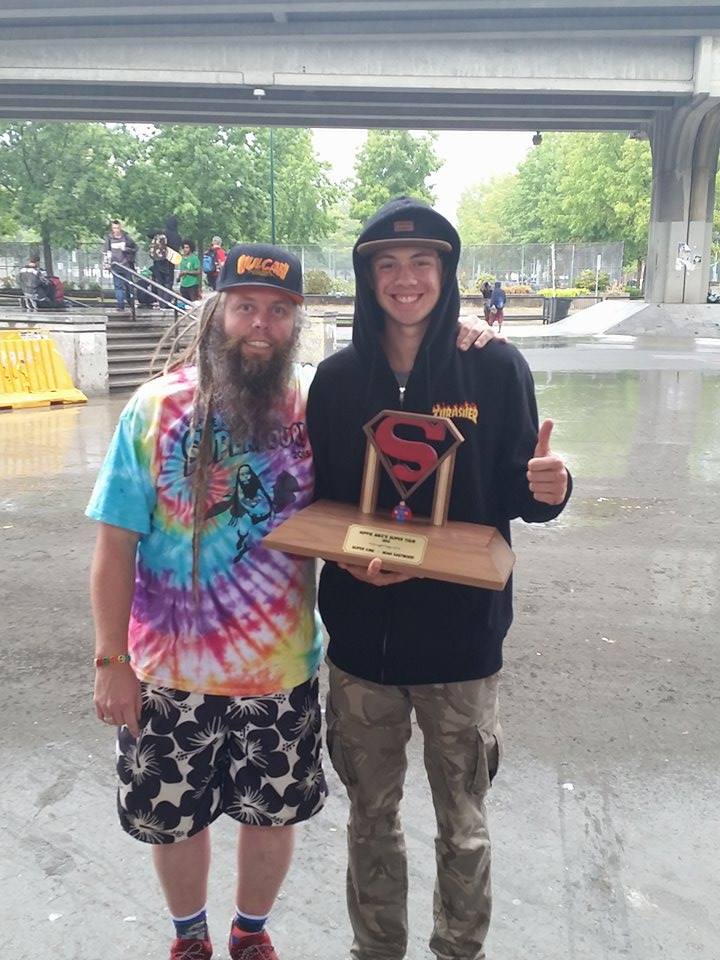 Another great summer of events, Great job to all who came out to the 2nd year of Hippie Mike's Super Tour, next year we will be hitting 4 different parks so be ready, go out and practice, and remember to have fun – that is what skateboarding is really all about….
Results:
Mini: 1. Aidan Eastman; 2. Presley Huska; 3. Kaelen Faux; 4. Tyrus Manlig
Beginner: 1. Joey Livingston; 2. Fletcher Chan; 3. Olek Khrystoyev; 4. Austin MacBeth; 5. Sean Loney & Isaiah
Intermediate: 1. JR Barron; 2. Adam McPhee; 3. Soren Terra; 4. James Graham; 5. Josh Lewis
Advanced: 1. Noah Eastwood; 2. Ty Koeller; 3. Trevor Greig; 4. Gabe Di Norscio & Jacob Drescher; other competitors: Travis Davie, Chadd Sinclair, Kalib Morin, Grant Faithful, Doogie Lester, Riley Antonicic, Jordan Repin
Best New Competitor: Fletcher Chan
Most Improved Skater: Kaelen Faux
2015 Super King: Noah Eastwood
Thanks to all sponsors:
Protest Skateboards
Authentic Board Supply
Skate Centric
Vulcan Bolts
DC Shoes
Burn Bros. Wax
Fury Trucks
Mobile Bandit
Emerica
Altamont
Grizzly Grip
Bones Wheels
Diamond Supply Co.
Chance Skateboards
Kitsch Skateboards
HUF
Youth Unlimited
Kr3W
Spitfire Wheels
Cliche
Almost Skateboards
Lakai
Happy Hour Shades
Shake Junt
The Hundreds
Monke Skateboards
RDS
Independent Trucks
Girl Skateboards
Baker Skateboards
Toy Machine
InStance Socks
Supra Footwear
Deathwish Skateboards
Folk Skateboards
Vans Off the Wall
Fallen Footwear
New Line Skate Parks
Spectrum Skate Parks
Concrete Skateboarding Magazine
Concrete Wave Magazine
King Shit Mag
The Dry Spot Indoor Skate Park
Auto Repairs R Wee
Woodsmith Custom Cabinets