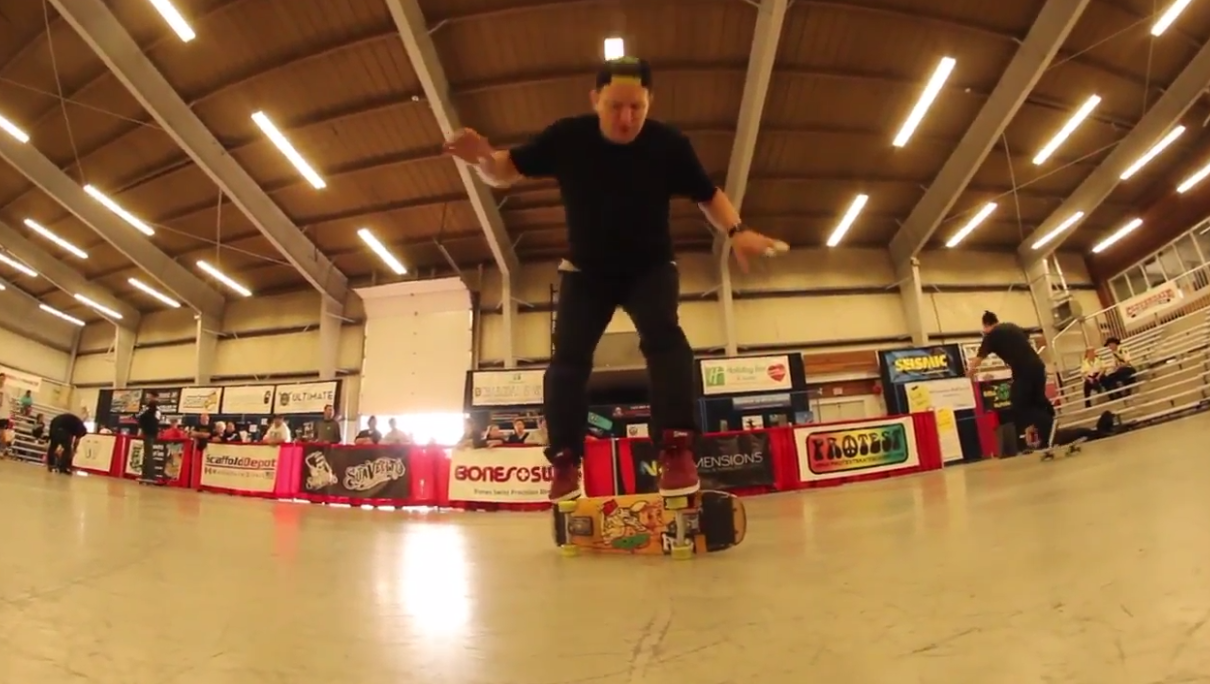 The 5th year of The World Round-Up Freestyle Skateboarding Championships, hosted in Surrey, BC Canada by legends Kevin Harris and Monty Little, has come to a close. It was an amazing milestone to make it to year 5 and it was great to see so many of the faces of people who have been there every single year.
The Freestyle World is pretty tight considering how small it really is and how spread out around the globe everyone is, competitors came from 11 different countries, including Marius Constantin from Romania making his first trip to this Canadian contest. There were a bunch of new faces this year, everyone was stoked to be there and all competitors brought huge bags of flow and tech tricks to showcase all weekend long to keep each other, and all the crowds of spectators pumped up.
In the Amateur division local boy Andy Anderson was looking to repeat his win from last year, and with smooth style and perfectly executed choreographed to the music runs, he managed to pull through and somehow defeat the 2 young Brazilians Diego Pires and Kaue Araujo. Both of them came out with a vengeance to take the title and it was a close call between all 3. These guys are really good.
In the Pro division there was serious competition and a bunch of guys that hadn't been to the round-up before which definitely makes it more interesting for those of us who have been to all 5 years and know the top guys and where they usually place. Young 13 year old Isamu Yamamoto from Japan was fresh off a 1st place finish in Pro at Big Rio and wanted to take his first 1st in Canada. He fearlessly led the competition all weekend and blew minds with all 3 of his runs in the semi-finals, but he slipped up a tiny bit in the finals which means a lot with the calibur of competitors that were skating. Dudes from Spain, England, Brazil, Japan, Sweden, Australia, Germany and more flying into Canada to win this thing and it was anyone's game. The usual guys that are tough to beat were on their game like usual. Guenter Mokulys, Mike Osterman, Per Canguru, Stefan "Lillis" Akesson…. All legends of Freestyle, but this year belonged to American newcomer Connor Burke as he came out with his 2nd run in the finals and laid down a fast, furious and flawless performance beating out Isamu by 2 points. It was awesome!
The World Round-Up isn't just about who wins the competition though, it's really more about having fun and putting smiles on kid's faces and this year it did just that. A new feature was added to the event called "Pro for a Day" where a kid under 10 gets to be included in the contest by hanging out with all the pros all weekend and even performing demos for the crowds 2-3 times a day. This year the little dude was 6 year old Kaelen Faux from Sunshine Valley, British Columbia. He shredded for the crowd every time and totally progressed each day to the next. It was great to see him smiling and having fun living the life of a pro, watch for a video coming soon recapping Kaelen's awesome experience being Pro for a Day. And be ready to promote it for anyone you think should try and be the Pro for a Day next year.
As the weekend wound down and the bones of all the competitors began to ache it was time to call it a day for the 5th annual World Round-Up. Once again everyone came out to have fun and that's what they did. It's a great family. Enjoy this recap video and feel like you were there!
See you in 2017