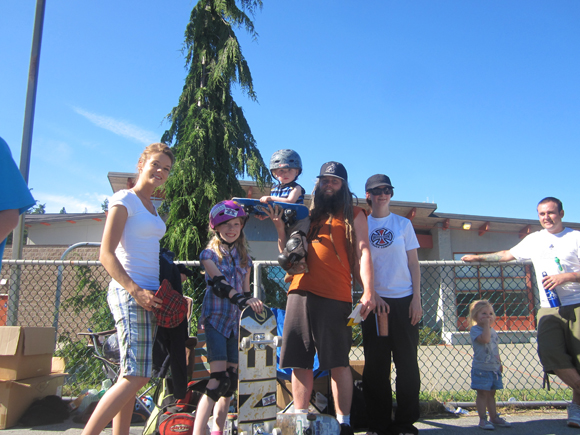 Hippie Mike`s Tour de Surrey 2011 – South Surrey Finally! – Summer has arrived.
It was so different being out in the hot sun, but everyone was loving it. A beautiful day, and the park was jumpin`. There was already 30-40 people in the park when I arrived at 11am. I could tell that it was going to be quite a contest by the faces that I recognized. Luke and Cole Thodus, Jaden and Shayle Dahl, Mike Groves, Dominic Devries, Fighter, even Damon Kerr was in the house, and of course the park local Andy Anderson.
I`ve taught a lot of people a lot of tricks over my 26 years of skateboarding, but I think Andy is the one that learned the most. This kid rips any tranny and now he`s totally hittin`up street obstacles all the time too – and all on a fat nasty 1989 style board; rails, risers, rat bones. Andy goes straight from rail sliding the big rail and the double kink rail right into the bowl for a complete demo of tricks. He`s one of my favorite skaters to watch and I`m proud to have been a part of his life as he grew up.
The contest was insane, 15 kids in the Mini section, 17 in Beginner, and they`re all killin`it. JR and Josh Lewis skated really solid in the Mini category following each other up. They both skate Chuck Bailey all the time, so it was good to see them out at a different park. But all eyes were focused on Luke, Kai, Shayle and Jon. It was tough judging between these kids. They were all ripping, but Kai took it home with Jon and Shayle right behind him, somehow leaving Luke in the dust. Hard thing to do.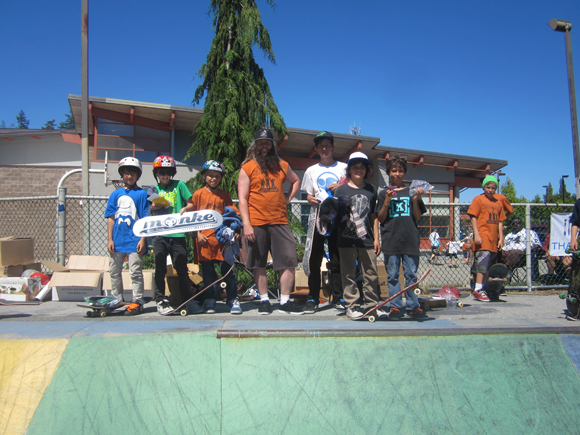 The Beginner category was just as tough.
So many kids had awesome runs, Max Stephans layin`down tricks all over the park, Jeff Williamson hittin`the gravitron frontside, Matthew F. smith grinding around the corner quarter pipe, Jaden Dahl with his heelflips all over the place and Riley Allen just flying out of the bowl. But all of those kids still coudn`t catch Matthew McCauley, Ben and Cole. For Beginners, these kids are amazing. Can`t wait to see what they bring to the table at Fraser Heights…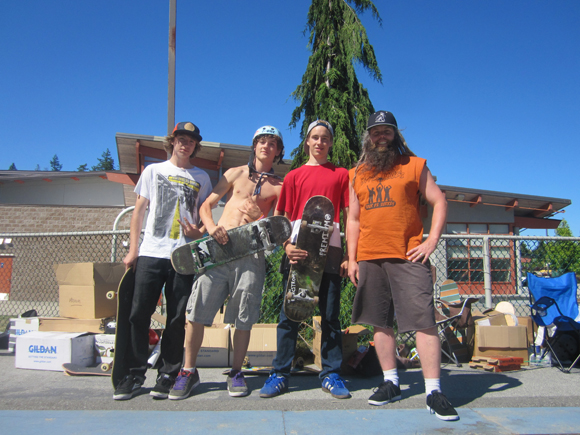 Things slowed down a bit during Intermediate, maybe they were all still in shock and stunned after the anialation session that the Mini`s and Beginners put on. Best dudes to watch were Cody G., Coddi R. and Mike Groves. Both Cody`s ripped it hard, but Coddi Ryane was inventing his own insanity on the quarter pipes, boneless fastplant seran wraps on the J wall – What! But still, tough to beat the park local Mike Groves. I remember when Mike used to come to my City Sk8 Camps back when I taught them. He was one of those quick learners who practiced a lot and you can tell he keeps with it. Lots of creative and technical tricks around the park. Good job man.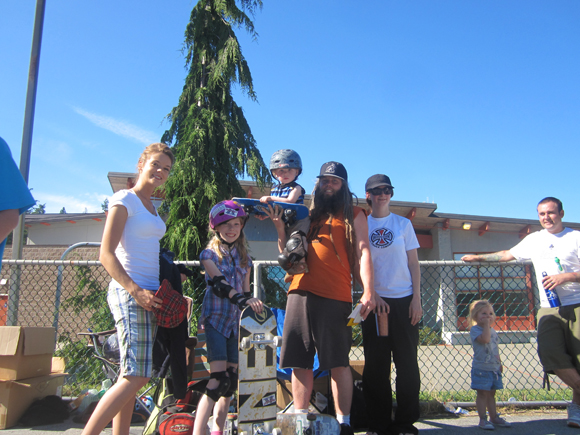 We had a Ladies Section. Sarah Bennett, who was in Jaden`s Sk8 Camp all last week in Cloverdale was there all day practicing. My guess is she is around 8 or 9 years old and had just started skateboarding. Carrie showed up around 3:30 and had to borrow a pair of shoes from the Jigga, which were 2 sizes to big, and then try to compete against Sarah in her first ever competition. Andy`s sister Alex, another one who took lessons from me many years ago, jumped on a board as a late entry and we actually had a contest. Unbelievably, Sarah won it all, taking home a fresh new Protest Deck. Awesome!! I`m guessing we`ll be seeing more of her. Then came Advanced – Da da da Daaaaaaa!!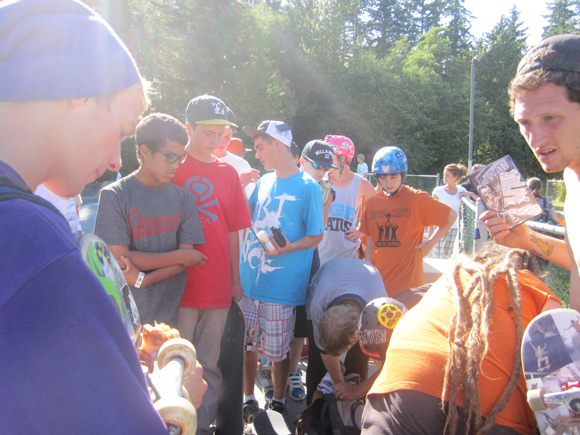 A lot of big time guys that are tough to beat, Dominic, Andy, Jay Mykyte, Quinn, Jaden, Damon, Fighter, the list goes on. All guys totally skate different from the others too so the judges had a serious task on their hands to decide the top 3. Unquestionably, Andy Anderson had the whole place beat, probably didn`t even need to do a second run his first one was so good. So it was really a competition to see who else could win prizes. A few people choked a bit in their first runs, but all seemed to come through strong in the second heat. You`ll have to read the results below to see who took second and third. All I know is my favorite trick that went down in Advanced was Allen Handley – backside boneless out of the J wall quarter foot on the top deck of the blue wall behind and leaping all the way back into the quarter. Nastyyyyy!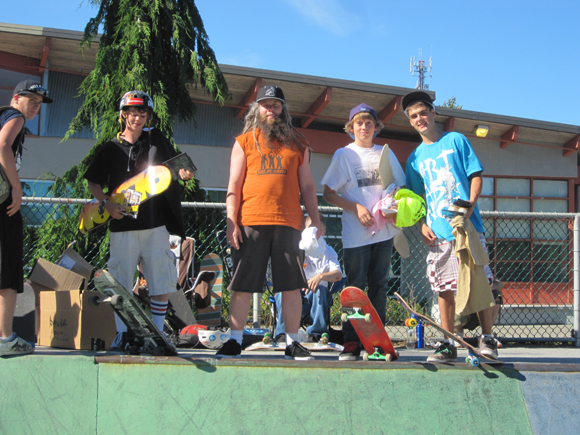 We had a Best Trick competition too on the entire centre section, ledges, rails, wedges. The prize was a Coastal Riders Deck and a Gary Coleman T-Shirt. These kids don`t even know who Gary Coleman is, What`chu Talkin"Bout Willis… Nate almost had it with a Frontside Lipslide pop to Front Board pop out on the bump to ledge, but Dominic stole it all with a Feeble to 50-50 down the big rail. Until next year, that`s the way it goes…
Results
Mini 1. Kai Searle; 2. Jon Schrack; 3. Shayle Dahl; 4. Luke Thodus; 5. JR, Cody Laing, Aiden; 6.Justin Fiorante, Josh Lewis; 7. Jacob Gallocher; 8. Tyler Dickson, Tristan G. ; 9. Preston Bitzer, Jack Stroud
Beginner 1. Cole Thodus; 2. Ben Schultz; 3. Matthew McCauley; 4. Jeff Williamson; 5. Max Stephans; 6.Zurri Vanerich; 7. Rob Schrack, Jaden Dahl; 8. Matthew Major, Riley Allen; 9. Matthew Forcier; 10. Brandon L.; 11. Jacob Drescher; 12. Brody Taylor, John Farquhar; 13. Luke "Dino Surf "; 14. Alex Savage, Max Arntzen
Intermediate 1. Mike Groves; 2. Coddi Ryane; 3. Cody Grunow; 4. William Savage; 5. Jacob Lubberts; 6. Malek Salem; 7. Tanner Hawthorne Girls 1. Sarah Bennett; 2. Alex Anderson; 3. Carrie Williams
Advanced 1. Andy Anderson; 2. Dominic Devries; 3. Weston Granger; 4. Brad Muscat (Fighter), Jaden Easton-Ellett; 5. Matt Whatley; 6. Allen Handley; 7. Jay Mykyte; 8. Quinn Morrison, Nate; 9. Damon Kerr (Pike Bibby); 10. Sacha Shams
See you in 2 weeks August 13th – Fraser Heights (then Element Demo at Chuck Bailey 5pm)