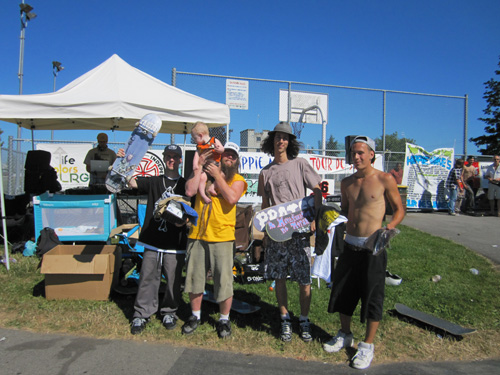 Once, again, the only time you will see this many people at Kwantlen Park is Hippie Mike's Tour de Surrey each year. I showed up at 11:00 and there was already about 80 people around. I like Kwantlen Park because there always seems to be random groups of people that come out and watch on their way to and from the pool and playground. The same group of girls was there for the 3rd year in a row checking out the scene and getting their collectable Hippie Mike's Tour de Surrey Tshirts. I like to see people that don't skateboard checking out the contests and enjoying themselves, it means that we must be doing something right.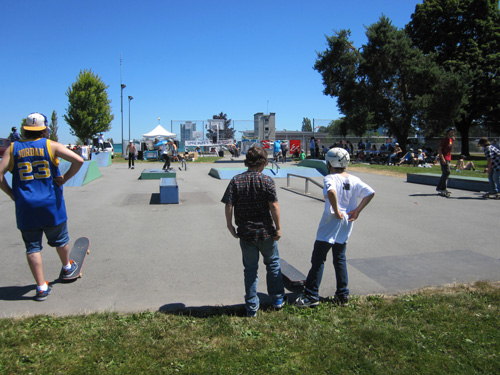 Kwantlen Park is a tough park for the little dudes, because there aren't too many obstacles there that you don't have to ollie to use. And for a Mini kid or 50% of the Beginners, even the small ledges and rails are high. But the kids try their hardest and incorporate the skills that they have into making it work. The Mini category was interesting. It was a new page opening up for Shayle Dahl in the first runs. This kid always comes out, but never does all that well in his runs. But this day, something had changed. Shayle ripped around the park with confidence and consistency. He landed pretty much everything he tried too, and if it wasn't for his brother Jaden busting out the heelflips everywhere, I think Shayle would have won it. Keep trying buddy. Jaden is just so hard to beat in this category, he does super hard tricks for a Mini and rarely messed up. Very impressive young skater. 3rd place was a tough call between Keinan and Desmond. Keinan utilized the quarter pipes with lots of creativity, but Desmond went bigger and was hitting ledge tricks. He even blasted a suitcase over the pyramid.
In the Beginners, there was lots of variety. Beatbox Sean was there reminiscing the old days when he used to skate there all the time. A lot of kids landed a lot of tricks, but most standouts were Austin Beattie, Kory Laan and Alexander. These kids all have very consistent tricks and all 3 seemed like they came out to win it. Everyone else skated good too, but it was tough to compete against these 3. They just seem like they have a little bit more confidence and experience. And when you land all your tricks, you have a good chance at winning.
Carrie actually had another female participant to skate with. Chelsey joined the contest and rode around the park to the best of her ability. She had fun and so did Carrie.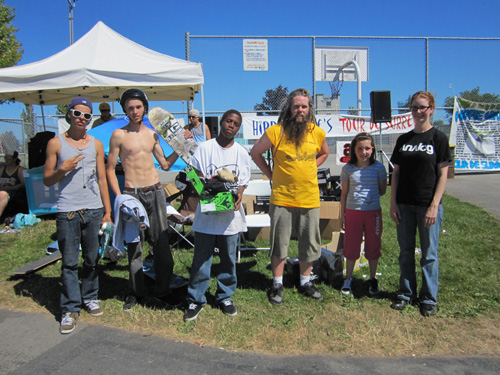 The Intermediate division was where it got tight. Tough to judge it when everbody is landing everything they try, and they all skate totally different. Trevor Greig started things of with a super good run utilizing all of the obstacles, rails ledges and quarter pipes. Curtis Clements ripped up the park with his old school specialties. Anthony watkins threw down some unique tricks on the big quarter pipe and Francois LeBlanc tortured us all by skating to brutal Girlish Dance Songs, but still managed to land quite a bit considering he was laughing his entire first run. Everybody skated well, but it came down to Trevor, Jonathan Kampen and Ryan Gillanders. Jonathan skated good landing lots of flip tricks and ledge tricks. I think it was the pop shovit grind nollie shovit that made him place though. And then there was Ryan. Ryan's first run was untouchable. this kid's got some real talent and obviously likes skating ledges and rails. His second run wasn't as perfect, but the few tricks that pulled off were enough to keep him in the lead.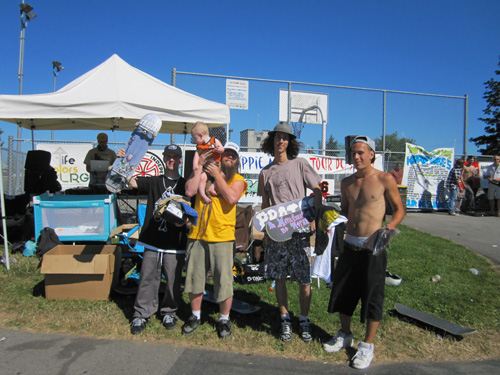 And then it was the Advanced. This is probably the toughest conetst to win in Advanced because everyone always land everything they try. And all the Advanced riders are really good. Fighter threw down some pretty cool quarter pipe tricks, but was missing on the ledges a bit, Calvin and Ryan both had really good first runs, but no so good second runs. Same with Brandon Baba. I mean, you miss a trick or two against these older guys at Kwantlen Park and you pretty much fall right down the pole in the standings. Jordan repin killed it like usual, Jigga Jay Mykyte rode the whole park like he still lived down the street, but no one could catch Cisco Gooding – pretty much Flawless. Ledge tricks, Rail Tricks, Flip tricks, Quarter Pipe tricks, Unique gaps, and Big Airs, and landed it all.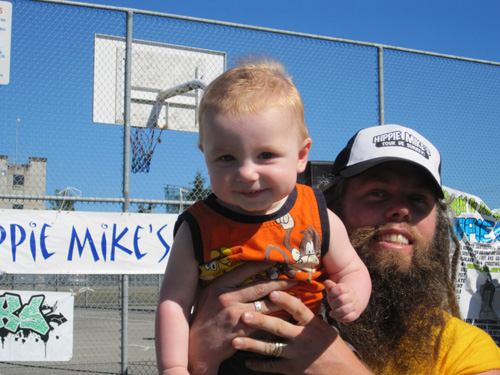 The Best Trick contest was on the big quarter pipe. Fighter started it off with a sick 3flip to fakie, and then continued to throw down trick after trick. Unfortunately, like I always say, it's not a Most Trick competition, it's a Best Trick. Allen took the lead right away with this crazy Madonna Rock to fakie. Never seen this one before and definitely don't want to learn it. Nasty! But then Shameless came out of nowhere and stole the lead with a Double Kickflip Feeble stall. Tiiiiiiiiiight! It was by accident, he was going for rock and roll, but sometimes that stuff happens. You take what you get, and this time it was the top prize. The 3rd person to take a prize was Dominic DeVries with a Superspin Flip. Tough call between that and Fighter 3flip, but I had to go with the more technical trick.
RESULTS
MINI: 1. Jaden Dahl; 2. Shayle Dahl; 3. Desmond Risher; 4. Keinan Joss; 5. Aiden Eastman; 6. Sam Stephans; 7. Nick Logan, Kai Searle; 8. Brandon Bateman
BEGINNER: 1. Alexander; 2. Kory Laan; 3. Austin Beattie; 4. Parker, Trevor Coon, Ryan Siemans; 5. Max Stephans, Nathan Gladue; 6. Tyler Olson; 7. Cory Weis; 8. matthew Major; 9. Bryan Sauder, Jacob; 10. Beatbox Sean; 11. Riley Allen; 12. Michael Solberg
GIRLS: 1. Carrie Williams; 2. Chelsey Clements
INTERMEDIATE: 1. Ryan Gillanders; 2. Trevor Greig; 3. Jonathan Kampen; 4. Curtis Clements, Francois LeBlanc; 5. Darcy Roadnight; 6. Anthony Watkins; 7. Robert Wylie, Peter Kelly
ADVANCED: 1. Cisco Gooding; 2. Jay Mykyte; 3. Jordan Repin; 4. Ryan Prasad; 5. Fighter; 6.Calvin Dignard; 7. Cory Gibson, Kyle Johnston; 8. Dominic DeVries; 9. Brandon Baba; 10. Dylan Clark; 11. Allen Handley
See you at Cloverdale – August 7th.