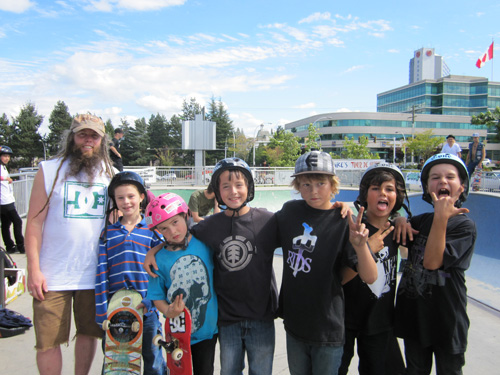 I only have one word to describe this contest – Crazy!
There wasn't the usual amount of people there, but it was the Long Weekend. The cool part was that majority of the people there were in Advanced which meant it was going to be a tough contest to judge, but an awesome event to hang out and watch. Only 3 kids in Mini, and Matthew McCauley owned it. Started off the entire contetst with a perfect kickflip over the 2 block, and it didn't end there.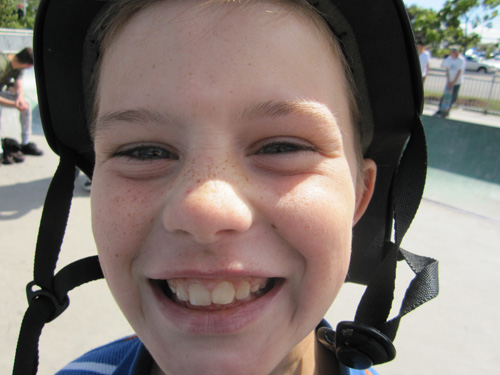 Just demo'd the whole park. This kid's got some definite talent, especially for 10 years old.
The Beginners category was pretty close all around, but Matthew Major took it home for his first ever win. Matthew used the entire park and was the only beginner to roll into the bowl. Say no to tail drops. All the beginners showed off everything they had and they all did great.
The Intermediates were also on it. Everyone had a good first run and then the second runs told the story. Trveor Greig utilized all the big gaps, while Jaden Easton-Ellett toar up the bowl with creativity. Brendan Neilsen showed us how to skate ledge and rail and Sean LaFontaine joined him, and Jonathan and Rbert skated as much flatground as they could find. The funniest part is how much all the kids avoid the Bowl, except for Jaden. So when it was the Ladies' turn, which Carrie Williams was the only lady there, all she skated was the bowl. She showed all those Intermediates how to rip it and even finished her run off with a fakie shovit on the crazy taco corner. Should've just entered Intermediate.
Everyone had a good first run and then the second runs told the story
We had 2 Best Trick Contests by this point, 1 down the 2 Block which Cisco Gooding won with a Switch Varial Flip, and then Ollie North put on their own down the 6 stair setup which Adam Fontaine easily won with a Switch Tailslide down the hubba ledge. Dominic DeVries came a close second in both. The Advanced guys were now all registered and ready to win. They all had talent and they all wanted the gold.
After the first runs, the judges were dreading their jobs. Everybody killed it. Dale Kind skated around with manuals and styley tricks everywhere, Jordan Strong ollied over everything, Justan Heddle skated as hard as he could in the bowl with a Josh Evins tribute song on, and Kyle and Dominic both ripped it too.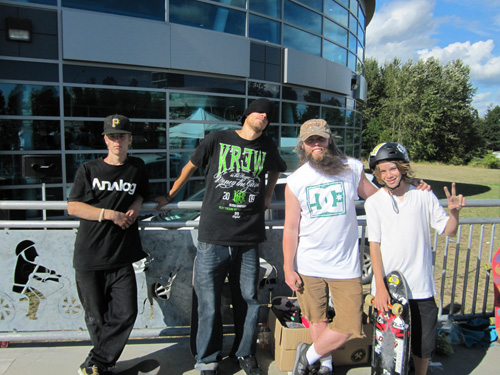 The names that were in contention though were Cisco Gooding, Adam Fontaine, Allen Handley, Brad Muscat (Fighter) and Andy Anderson – all landing everything. Brad crooked grinded down the rail of the double set which points directly into the corner of the building and rode out perfect to end his second run. It was tiiiiiiiiiieeeeeeeeeet! Allen was tearing up the bowl but choked a bit in his second run. Too bad, because his first run was soooooo good. This kid's got some hardcore tranny tricks, and he lands 'em. Cisco skated really good too but had a couple struggles this time. Adam Fontaine had a perfect first run just hitting tough tricks down the hubba and the handrail over the stairs, but also choked a bit in his second run. It left the door wide open for Andy Anderson to put on a show. This kid rips bowls, and loves the Guildford one. Andrew landed everything he tried, skated the bowl hard regular and switch stance, and finished the second run off with a sick gap to lipslide on the extension corner. Not bad for 14 years old. If you missed the contest, you can come and check out Andy's skills at the Bowl at The Youthfest Demo on September 25th, 4:00pm. The annual Andy Anderson Guildford Bowl Destruction Demo.
After handing out the prizes we had one more Best Trick Contest on the Taco. It was close between Kyle and Allen and Justan. Allen landed a hurricane grind to fakie and a huge backside Judo Air. Kyle did a sick Frontside Feeble Grind over 2/3rds of the taco – tough trick. But Justan won it for Josh with a backside 360 indy, stomped.
Thanks to everyone that came out.
RESULTS
MINI: 1. Matthew McCauley; 2. Sam Stephans; 3. Nick Logan
BEGINNER: 1. Matthew Major; 2. Max Stephans; 3. Desmond Fisher; 4. Riley Allen & Matthew F.; 5. Jacob Drescher; 6. Matthew Zegar
INTERMEDIATE: 1. Trevor Greig; 2. Jaden Easton-Ellett; 3. Brendan Neilsen; 4. Sean LaFontaine; 5. Jonathan Kampen; 6. Robert Wylie
GIRLS: 1. Carrie Williams

ADVANCED: 1. Andy Anderson; 2. Fighter (Brad Muscat); 3. Adam Fontaine; 4. Cisco Gooding & Allen Handley; 5. Dominic DeVries; 6. Dale Kind, Jordan Strong & Kyle; 7. Justan Heddle; 8. Robin; 9. Ryan Barron
See you all at Bear Creek Park – September 11th! Be prepared to be ther all day.