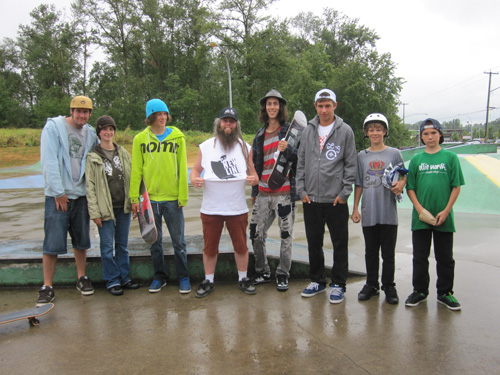 It's Hippie Mike's Tour de Surrey – Rain or Shine. And unfortunately it seems to always be Rain every year in Cloverdale. I think this is the 4th year in a row where it rained there, maybe the 3rd, but either way it sucks. I used to always complain how it was always sooooo hot and desert-like and would beg for a day that was cool, now I would really like one of those hot days again. Hopefully next year I guess…
But Rain or Shine, the show must go on. So lots of little dudes showed up at the usual time and we got things rolling around 12:30 with the Minis and Beginners. It was definitely dangerous out there, and there had already been some horrific crashes just during warmup. Matthew McCauley definitely took "Bail of the Day" with a sack on the handrail and then full face plant. He was a little scraped up but fine. Then he skated really good in his runs. Since there wasn't as many kids as usual and not many older guys, I gave all the competitors 2 2minute runs with the park to themselves. This also helped avoid any collisions since the park was dangerous. It was battle between Luke Thodos and Jaden Dahl, both amazing for their age. They both completely ran the show, landing everything they tried, gaps, boardslides, grinds, fliptricks, everything. Luke took it this time, but it was close. Third place was also close between Matthew and Justin, but I gues Justin landed more tricks and took the prizes.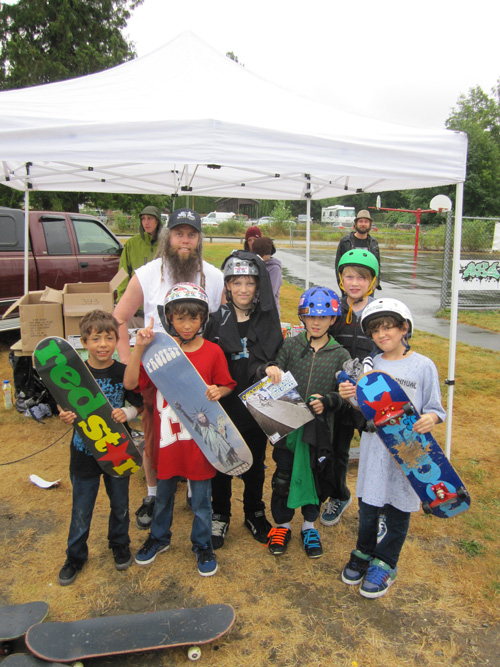 The Beginner was good too. Cole Thodos, Luke's older bro, toar the place up – unstoppable. Cole is really, really good. I think we're gonna have the next Decenzo brothers in the near future with him and Luke. Second place went to Riley Allen who utilized all the obstacles, his creativity, and also the wet concrete. I like watching Riley skate because he doesn't just do all the same stuff everyone else is doing, he does his own thing, makes stuff up, and most importantly – commits at all times. 3rd place was kind of a toss up, but it went to Niall Proctor. Some new faces at this event. Hope to see them at more.
It was still pouring rain so I threw out some stickers to the youngsters and encouraged them to find their wet parents. We were down to 6 competitors – 3 for Intermediate, 3 for Advanced. Carrie Williams skated in the Intermediate category since it was only fair. All competitors were guarenteed prizes anyway, but they all ripped it up. Jaden started things off like the King of Surrey should slashing through the puddles with tons of grinds and slide tricks – No Fear of the wet! Quinton Salter landed about a million tricks in his first run mainly using the legdes and rails and Carrie skated just like she always does, landng everything she trys. It was tough judging after the first run, but the second runs spelled it out for us.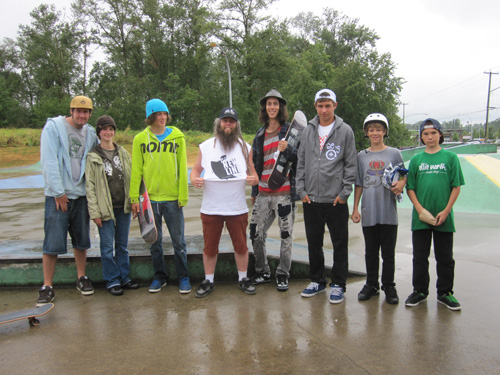 Advanced was also good times. Dakota Dahl started it off well and did his best, but he had some super tough competition – Park Local Brendan Neilson, and The Unstoppable Cisco Gooding. Cisco is known for his Flawless runs in competition and he doesn't try too many easy tricks. And Brendan is really solid on ledges and rails and is just very very consistent. They all skated good, but Cisco still won, I believe that's 3 for 3 – didn't show up to South Surrey. The favorite stunt of the day went to Cisco who ollied over the big pyramid and shot his board out because of the wet landing full side into the super deep puddle. Thanks for the laugh. He did get up and land it though.
RESULTS
MINI: 1 Luke Thodos; 2. Jaden Dahl; 3. Justin Fiorante; 4. Matthew McCauley; 5. Shayle Dahl; 6. Carter Nickel; 7. Cameron Nickel
BEGINNER: 1. Cole Thodos; 2. Riley Allen; 3. Niall Proctor; 4. Andrew Goodier, Alew Wilkinson; 5. Donte Gullickson
INTERMEDIATE: 1. Jaden Easton-Ellett; 2. Quinton Salter; 3. Carrie Williams
ADVANCED: 1. Cisco Gooding; 2. Brendan Nielsen; 3. Dakota Dahl
See you at Fleetwood – August 21st.