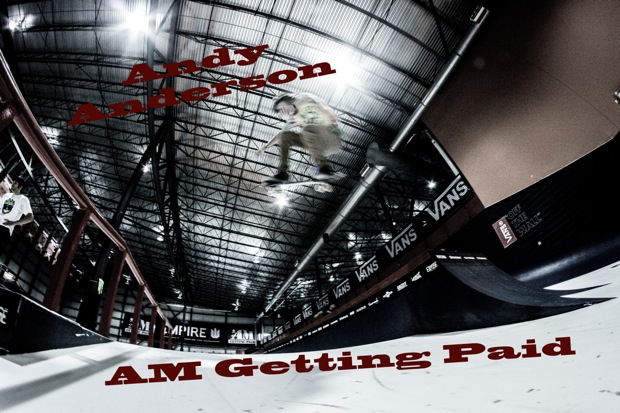 When Protest rider Andy Anderson got the email invite to AM Getting Paid, it was a must for him to go. These guys recognized his performance at Damn AM Costa Mesa and knew that he would come to put on a show for the crowd. When Andy's parents asked me to go with him and give him some coaching how could I say no, so we headed over to the party town of Canada – Montreal…
It was gonna quick, fly over night on September 10th/11th and come back right after Finals on September 14th, so I made a solid plan of how to fit in a lot of stuff in between the contest runs. I was pretty certain that Andy would make it through to round 2 no matter what so we knew where we would be on the Sunday. We showed up Thursday morning and hopped in a rental car from the airport only to be led around the city in the rainy rush hour traffic by that annoying GPS girl. Arriving at the hotel 5 hours early left us with plenty of time to find some street spots in China Town and we hit them up quick between showers. First we found some awesome breakfast served by a girl with hair almost as long as mine, then after Andy did a few freestyle demos outside the mall we found a sweet kinky flatbar on the corner of some intersection and Andy just rode over and 50-50'd the whole thing. Somehow he got out of there unscaved with a solid smith grind around the kink corner and 180 back out to the sidewalk.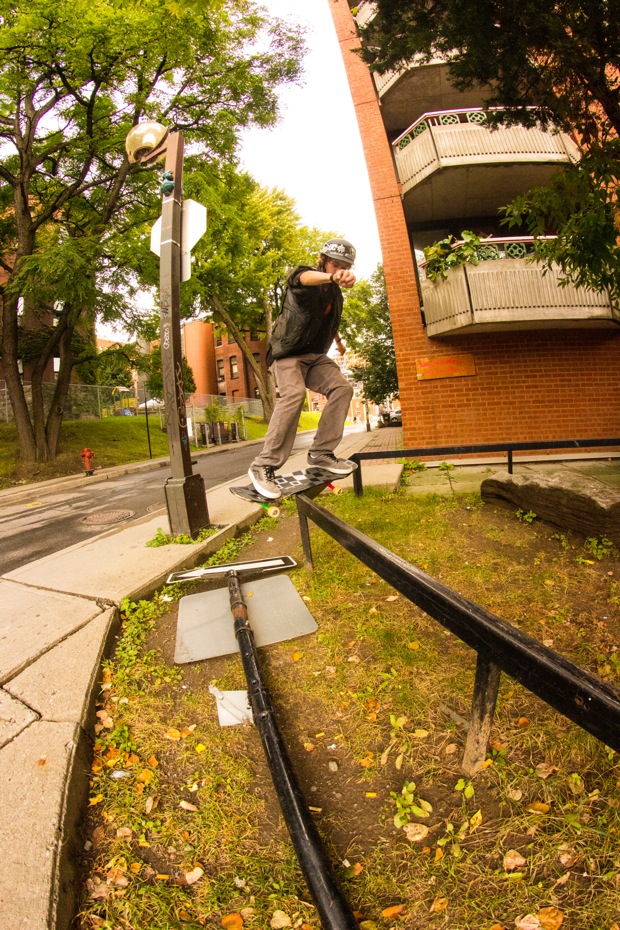 Off we headed to that tall A-Frame ledge and Andy boardslid the whole thing while a Freight Truck almost took out some pedestrians right beside him. The rain came back sudden and fierce and we headed back to the hotel. They let us check in, we threw down our bags and busted out to Le Taz, the place where the event was held – AM Getting Paid.
When we rolled up there was only about 7 people skating inside and the park was brand spankin new, it was sick. Both of us started skating and eyes quickly turned on Andy. I could tell right away that he was going to do well in this comp. The park was awesome filled with ledges, rails, launchers and quarter pipes and everything wanted to grind. We skated there for quite a while before heading back to the hotel where we met up with Benny Stoddard from King Shit Magazine and hung out before dinner. The next day was Qualifiers and this old guy still hadn't slept so it was early bedtime…
We rolled in early to the Taz for warm ups and Andy was on fire, he had already learned so many tricks and lines from the day before so I just started filming him right away before the crowd showed up.
The music was sweet with Barry Walsh (Spoon Bee) mixing it up with Vinyl Ritchie, it doesn't get much better than that. When the competition began I had given Andy the best advice, "go out there and skate like yourself, hit all your basic bangers on the rails and ledges and throw in those funky tricks in the middle every chance you get. If you can steal the judges eyes, you win…" And that's what he did, it was funny because afterwards I honestly had no idea who else was even in his heat, the MC's were only talking about what Andy did. He stole the show on Day 1 and let everyone know his name finishing in 7th place out of 76 dudes. Check it out
We both left super stoked, and so did everyone else that was from the BC Crew…The day was still light out so we headed out to Montreal's most famous skate spot The Big-O. Now knowing this pipe is not easy to skate and having a super bummed knee I approached with caution. Andy on the other hand walked right up in front of Marc Tison and his friends to throw down an insane first warm up line. They were stoked on Andy for sure. He was fearlessly hitting up the gap in the wall with pivots, slashers and airs. Big-O crossed off the list of things to do, damn…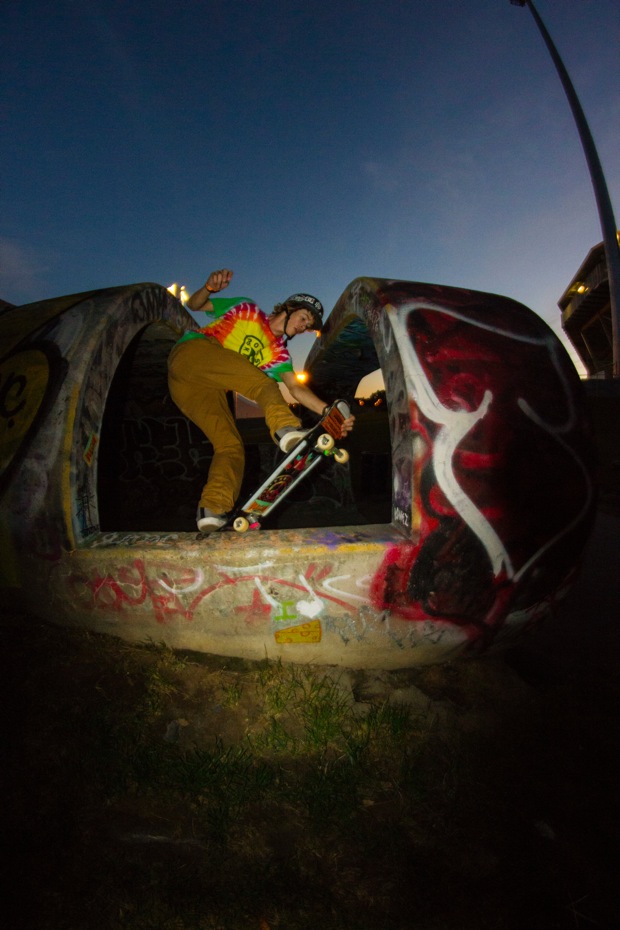 The next day was supposed to be Best Trick at P-45, the sick-ass DIY spot in the back yard of Le Taz, so we woke up early, grabbed Benny and headed out to skate this school with the 3 Boobs, this place was sick. Everyone threw down a line or 2 but Andy definitely owned it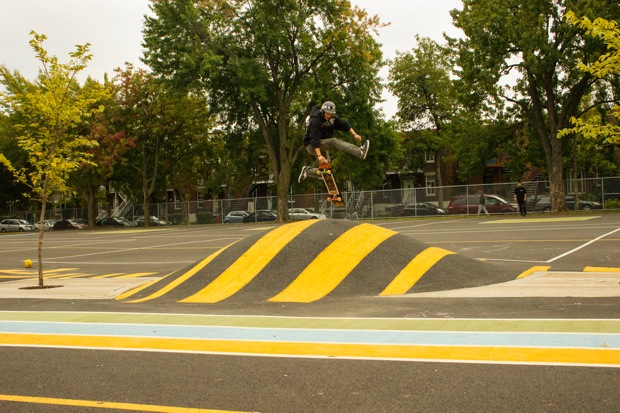 It started to rain and we had to leave, unfortunately the Best Trick contest was postponed as well so we headed back to the hotel to figure out what to do. Benny took a nap while we went to get some much needed Poutine and Andy told me that he really wanted to skate something, bad… I texted Raj Mehra from Mehrathon Trading to ask where the magic secret indoor pools were hiding and he replied right away with an address. Off we headed to the Backyard Party Bowl owned by Eric Mercier and we couldn't have been more stoked. I said to Andy after we left that I think I could skate that place for 2 hours and not even care to touch coping, the speed was insane. Both of us ripped it up with grinds and airs and I somehow convinced Andy to learn these Frontside Bigspin Melons off the extension into the 5foot.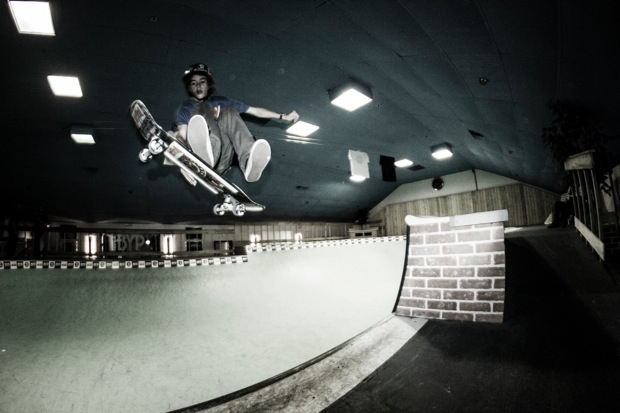 We got some footage for the Authentic video, met some awesome dudes and had as much fun as we would've had in my own backyard. Thanks for the tip Raj!
The next day was go time and little man was feeling the pressure. We headed out for a big breakfast with Benny and Dave Birnie, picked up Riley Boland at the hotel and busted back to Le Taz for Semis. Everyone was on their game. I gave Andy the same advice and pointed out what others were doing wrong that would hurt them in their runs. He was on his game for sure but in the heat of the moment forget to throw in all those creative tricks that make him Andy. Still he did awesome putting down a close to flawless run which was more like a full 4 minute line. Andy is so fun to skate with and even better to sit and watch, you never know what he's gonna try next but you can be certain he will most likely land it first try. Andy finished in 21st place at this event which was sick. We were all super proud of him and almost every person at the event, competitors and spectators, made a point to come over and let him know how much fun he brought to AM Getting Paid. Here's his Semi Final run
After the Finals, and the winners were announced we headed out back to Project-45 for the Best Trick contest. We literally had to catch our plane in 2 hours so we had to make it quick. In 30 minutes Andy skated away with a fresh $100 in his pocket and we hi-fived our way to the parking lot. The trip was quick, the people were great, the skating was awesome and the memories will last forever.
Until next year Montreal….