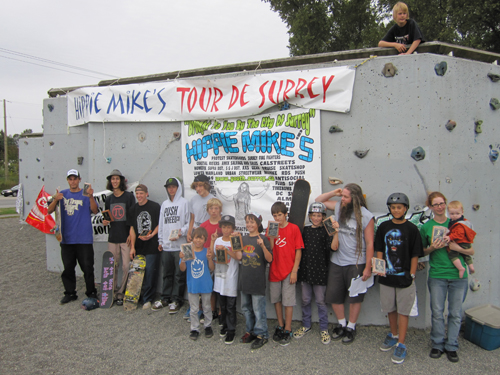 I know a lot of people are sceptical of skating Bear Creek, and some hate the fact that I always save it for last every year. But Bear Creek is such a unique place, and if you actually go there and practise, you can find a lot of funky lines to do. And every year, the contest runs are always amazing. It was a good day, a little lengthy, but not raining. We had our annual show from the band "The Pimpin' Kings" which I thought was great. You can check out the Pimpin' Kings in the latest edition of Ear Goggles at www.eargogglesdvd.com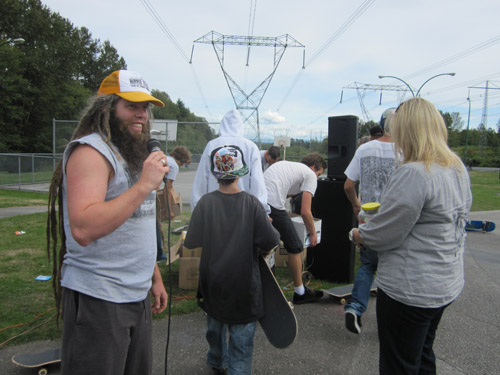 We also had 2 Best Trick Contests, handed out the King of Surrey Trophy, and donated all proceeds for this year to the Surrey Food Bank – a Grand Total of $755.59 and 400 lbs of food, much appreciated.
It was an eventful day. Cisco Gooding took the King of Surrey Trophy along with the 1st place plaque and a bunch of prizes in Advanced and then another Deck for Best Trick down the 4 stair set up – Nollie Inward Heelflip Front Boardslide down the ledge. 6 contests in total this year for Cisco and he finished with five 1st places and one 4th. Not bad.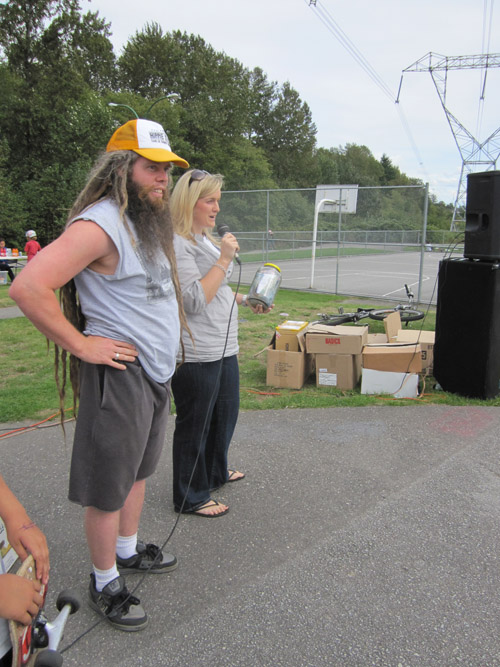 The Minis and Beginners all skated really hard, everyone killing it. Desmond Fisher finally took home Gold in the Mini. Skated his best all day and landed a ton of awesome and difficult tricks. 2 solid runs. Luke Thodus skated pretty good but missed a couple tricks taking 3rd and Tomas Pustovalov took a big 2nd place. Kai Searle just missed placing in this one, he skated really good, but Luke barely beat him. 4th is still something to be proud of though. Good job dudes. The Beginners were all pushing for Gold. It was a tough call between Niall Proctor and Riley Allen for 3rd, but it went to Riley. Lots of funky old school style tricks and tricks that you can tell he is inventing on his own. Jacob Drescher took 2nd, which was a surprise to me because he had 2 killer runs, practically flawless, but Cole Thodus is one tough kid to beat. He was doing grabs over the big gaps grind down the ledges and kickflips down the sets. 1st place again.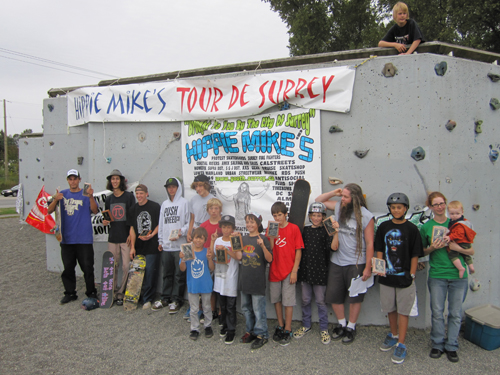 The ladies category was alright, Carrie and Ilesha, just like the old days. It was great to see Ilesha show up and still try her best to ride the park. She's very tiny and just rides around and does her best while Carrie lands as many tricks as she can. Good times. The Intermediates put on quite a show for the crowd, all landing tons of tricks. Trevor Greig and Jaden exploded out of gates with fierce energy and you could tell it was going to be between them for 1st place. Jaden had more creative tricks, but Trevor went bigger and took gold. 3rd place went to the Old Schooler, Curtis Clements over Brendan Neilsen. Brendan just had a tough second run, but he did good all year so he couldn't be too upset.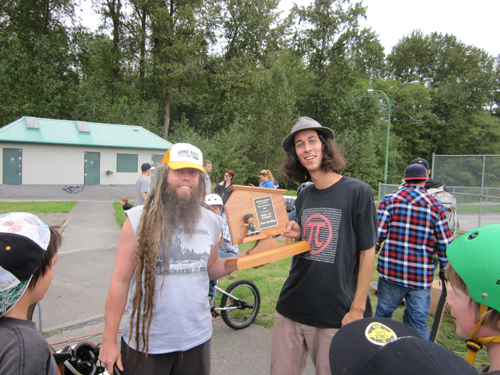 Best Trick on the quarter pipe went to Dominic DeVries with a kickflip frontside 50-50 to fakie and Allen Handley took a close second with kickflip back smith 270. And Russia had the trick of the day when he launched the quarterpipe pyramid to flat with a huge Mute Grab and broke Barry's board. Still rode away, but broke Barry's board. Onward to Advanced where everyone was on fire. Cisco had 2 pretty much flawless runs with lots of variety, ledges, rails, flip tricks, switch tricks and tranny, Adam Fontaine demo'd the rails regular and switch, and Fighter went huge over all the gaps and hit up some rails and quarter pipe, Dominic Devries had an amazing 2nd run landing a ton of difficult tech tricks, but Shameless was on all the tough obstacles and beat out Dominic and Fighter to hold onto 3rd place. It was a tight contest, everyone skated really good all day, and I'm glad that rain held off until it was over.
Thanks to everyone who came out to participate all summer, thanks to all the parents for transporting the kids all over Surrey, and thanks to all the sponsors. It was definitely an awesome series.
RESULTS
MINI: 1. Desmond Fisher; 2. Tomas Pustovalov; 3. Luke Thodus; 4. Kai Searle; 5. Justin Fiorante & Schuyler Jimmie; 6. Aiden Eastman & Rene Rosie 7. Kaelen Faux
BEGINNER: 1. Cole Thodus; 2. Jacob Drescher; 3. Riley Allen; 4. Niall Proctor; 5. Alex Pace; 6. Ryan Siemens; 7. Matthew Major; 8. Matt Phillips & Dante Gullickson; 9. Andrew Goddlet & Billy Shouting; 10. Corey Weis & Biyan
GIRLS: 1. Carrie Williams; 2. Ilesha Szerepi
INTERMEDIATE: 1. Trevor Greig; 2. Jaden Easton-Ellett; 3. Curtis Clements; 4. Brendan Neilsen; 5. Andre Bissonnette; 6. Cam Head; 7. Jonathan Kampen & Justin James; 8. Barry Blatter; 9. Robert Wylie & Ross Somerville
ADVANCED: 1. Cisco Gooding; 2. Adam Fontaine; 3. Shameless; 4. Dominic DeVries & Fighter; 5. Jay Mykyte & Allen Handley; 6. Dale Kind; 7. Keegan Anderson; 8. Jordash Bouchard
MOST IMPROVED SKATER: – Shayle Dahl
KING OF SURREY: – Cisco Gooding, who won 5 Advanced Contests!
See you all next year…