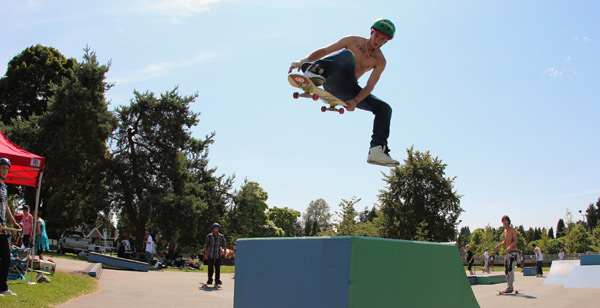 It's the 9th year for this series of skateboard competitions and I love that I still see a bunch of the same faces as the first year. I kicked off the Tour for 2012 at Kwantlen Park. It's a tough park for lines, but always a good park for contests. It seems like everybody lands so much in their runs at this park, maybe because the obstacles are basic and small, not sure why. But either way, it worked out great.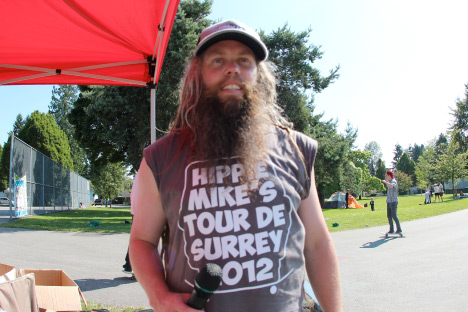 The sun was blazin' hot and the humidity was definitely hanging around, but it was still bearable enough to skate. Surprisingly for the first time in many, many years, there were more Advanced riders that Beginners. I assume because it was Kwantlen. When I started seeing some of the faces showing up for the Advanced Category, I knew it was gonna be a good show, and a tough contest to judge. With Surrey Locals like Calvin Dignard, Jay Mykyte, Andy Anderson, Jordan Strong, Brad Muscat and Ryan Barron, they were all in the running. But they would have to beat the guys that travelled there, like Ryan Prasad, Lil' G and of course, "The Dominator" – Dominic Devries.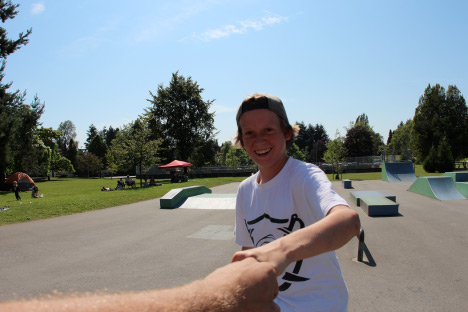 It was anyone's guess who was going to come through on this one, only time would tell.
Only 4 kids in Mini this time around, but I knew that JR Barron was pushing hard for this win, since it was his final Mini Contest ever. He turns 11 years old next Sunday, so time to move up buddy! He took advantage of his skills and tore up the park landing almost everything he tried, including the only kickflip in the Mini Category. Parker Sherwin was right on JR's heels though with a huge bag of tricks of his own and tried really hard to not let JR win. It was a close call…
The Beginner Category was just as tough with Kai Searle on board. This kid has some serious talent for his young age and lands a lot of tough tricks, with style. There was actually a 3 way tie for 4th place, just to tell you how close this competition was. The surprise of the day though was Dante Gullickson who came out strong in his first run and then blew the crowd away with a flawless second run which was one long consistent line. Awesome!! That doesn't happen often in Beginner. He almost won but Kai's tricks were just too good and scored way bigger points. It was tight.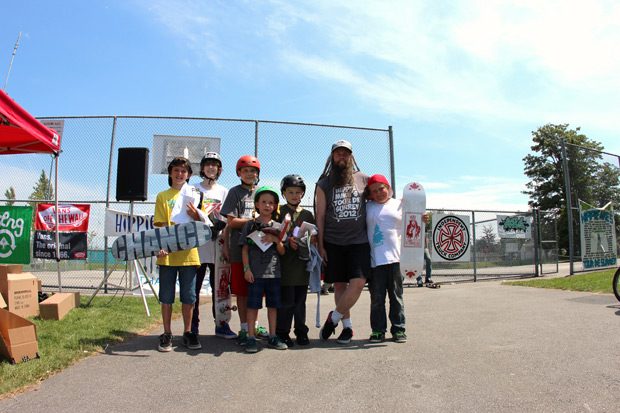 The Intermediates wasn't so tight. Tyler Olson killed it all day during warm up, I can't even think of a time a looked over at him when he didn't land a trick, and was trying some pretty technical tricks. But sometimes when the helmet goes on for your run and the pressure of having the park to yourself happens, people choke. I think the rest of the category was happy Tyler had trouble, because I thought he was gonna win it for sure after watching him in warm-ups. But the prize went to 12 year old Mathew McCauley who landed a ton of rail tricks and gap tricks wherever he could squeeze them in. This kid knows how to skate hard, and takes it very seriously. He can bust tricks down huge gaps at any time, but also has a pocket full of tech tricks too. It was a blow-out win for him.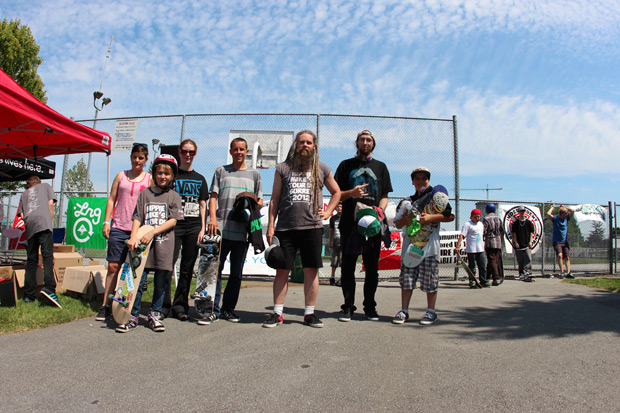 The ladies were hyped up too, Brianna Palmer is just starting out in the contest world so I'm sure she was nervous when she saw the competition that she was about to face. Carrie Williams is finally back in Contest Mode after a few years of missing out, so she brought out all her shovit and 180 skills and landed a ton of tricks. And then Heloise Wathelet showed up with Lil' G, she's visiting for the summer from Belgium. This chick's got some serious talents and it looks like they might take her somewhere. Flip Tricks and Ledge Skills. Check out this video I found of her on Youtube.
[youtube id="7oj6XHc2PSY" width="620″ height="360″]
It was close but Heloise took first. Hopefully we see her at a couple more of these events.
Then came Advanced. Like I said earlier, it was anyone's contest to win. Really depended on who landed what. It was very close between the Top 5 except for how obvious it was that Dominic won. This kid has constant flow combined with super solid style and lots of hard tricks. I've said it before and I'll continue to say it over and over, watch for him in the big leagues in the future. I'm gonna be hosting a segment of Glory Daze with Hippie Mike on Dominic soon.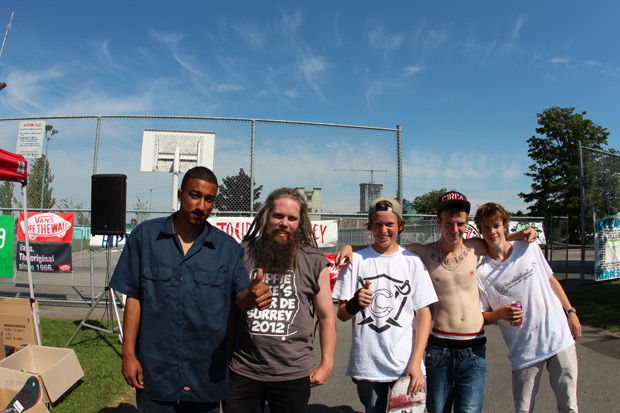 My favorite tricks that went down in Advanced were Calvin Dignard's nollie tailslide 270 on the flat ledge, Andy Anderson's bluntslide fakie on the down rail of the pyramid, Ryan Barron's feeble 180 up the same rail, Fighter's Benny Hanna over the quarter pipe and of course anything that Ryan Prasad landed. There's another name to watch for in the near future. Sick skater!! Cisco Gooding came out and had 2 solid runs too, but they weren't of his usual "Flawless Run style" so he didn't make Top 3, and the surprise of this category was that Jay Mykyte didn't place at Kwantlen Park. I guess there is a first time for everything. Better luck next time Jigga…
We did have a Best Trick Contest on the big pyramid rail and it was a 3 way tie all going up the rail – Ryan Barron Feeble 180, Andy Anderson Bluntslide and Dominic Devries with a frontside tailslide fakie. Sick. Ryan was close to taking it all with a Boardslide to Feeble, but just couldn't quite put it down. RBS…
Results: 
Mini: 1. JR Barron; 2. Parker Sherwin; 3. Aiden Eastman; 4. Ry Forrester
Beginner: 1. Kai Searle; 2. Dante Gullickson; 3. Riley Allen; 4. Nick Bachmeier, Weston Huchkinson, Matthew Major; 7. Bishop Rosie; 8. Patrick Jonas; 9. Andrew Goodlet; 10. Ethan Tessier; 11. Ben Walsh; 12. Cameron Nelson
Intermediate: 1. Mathew McCauley; 2. Andre Bissonnette; 3. Eric Pedersson; 4. Malek Salem; 5. Tyler Olson
Girls: 1. Heloise Wathelet; 2. Carrie Williams; 3. Brianna Palmer
Advanced: 1. Dominic Devries; 2. Calvin Dignard; 3. Brad Muscat (Fighter); 4. Andy Anderson; 5. Cisco Gooding; 6. Jordan Strong; 7. Allen Handley; 8. Ryan Barron, Sean Cuddeford (Lil' G); 10. Alexander Savage; 11. Jay Mykyte; 12. Shadd Trepp
Best Trick: 3 way tie – Ryan Barron, Andy Anderson, Dominic Devries
See you next time at
Fleetwood – July 28th 2012