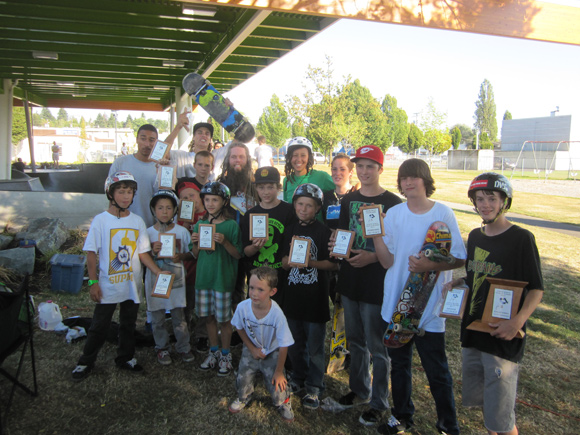 So it's finally over, but what a great summer for Hippie Mike's Tour de Surrey, hard to believe that this was the 8th year and there are still some of the same people showing up to all the events. Awesome.
This day was long anticipated by so many people, the first ever full lenght contest at Chuck Bailey. Since I work there, and part of my job is to be outside in the park, I skate it quite a bit. And every day there are multiple people of all ages there skating hard, and constantly learning. So many of them wanted to be the first to win at Chuck Bailey Park, I knew we were in for a wicked show…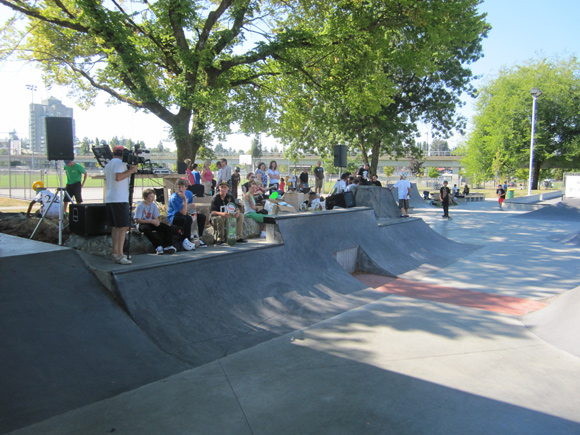 The day was sweet, one of the nicest days of this so called summer of 2011. There was between 100 and 150 people at the park and they were all having fun. The Mini's started off the competition in style by shredding everything in sight.
JR went off in his first run pumping up the crowd, so awesome to have him back. I missed JR soooo much last summer when he had moved away. He spent all summer at Chuck Bailey skating with Adam and Josh Lewis and they all ripped it up at the comp. The big surprise in this category was Justin Fiorante who came out flying over the 3 block and ended by almost kickflipping it. I love seeing that point where a kid all of a sudden gets real good. Justin always had a bit of talent, but I could tell at the last few contests that he has made it to a new level in his skating. Sick runs buddy, and I believe his first ever win!!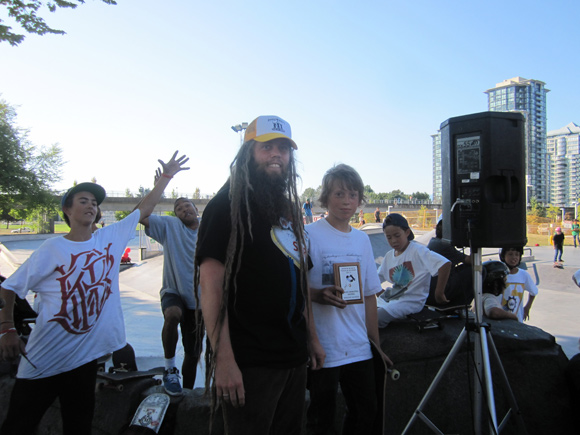 The Beginner category was owned by Luke Thodus, undoubtably. 180's over the 3 block, gap lipslide on the ledge to ledge, and some mighty big boardslides for a tiny dude. Killed it. The rest of the 27 Beginners also had amazing runs. There were so many tricks landed in Beginner, we could've gone home right then – show over.
The Intermediates got to skate one at a time, lucky for them.Sky and Brandon both showed that they've been hanging at Chuck Bailey every day for the past couple months, Cole Thodus impressed all with his super skills and big ledge and rail skating and Tanner and Jackson Hawthorne both came out with solid practically flawless runs both times. Sick category, tough to win. The ladies all skated together – Brianna, Cali and Erin trying there hardest to show there skills, and Gen and Sam carving the place up. Not many tricks, but still a good competition. Too bad Carrie was sick and coudn't skate.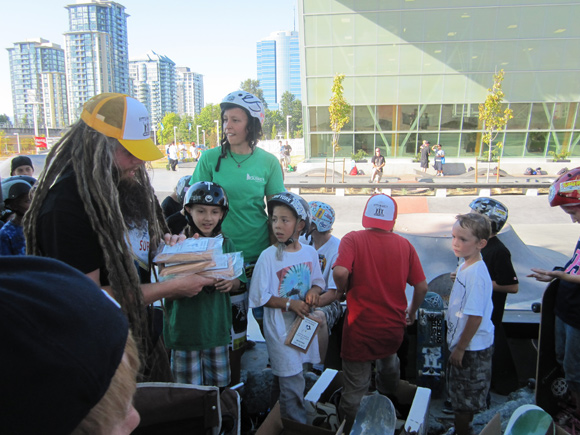 Then finally came Advanced – 20 people all wanting to be the first ever "Champion of Chuck." Fighter and Calvin got to start it off together, and start it off they did. Both of them tore the park up completely different from the other. Calvin demo'd on the rails and 3 block while Fighter went fast and huge everywhere. It was already ineveitable that being judge in this category was going to seriously suck. Baba, Coddi, Ryan Barron, Nick, Cisco, Jaden, Brendan, Dominic, Damon, The Jigga, Giver, Jordan Repin, the list goes on telling you all the people that skated amazingly and still didn't place. It came straight down to the king of switch stance – Adam Fontaine, and the outright King – Andy Anderson. Adam hits hard switch tricks on the rails and even I have to double take to confirm that it wasn't regular – because of how flawless he skates. Switch back tails, back lips, back smiths, whatever. But Andy was untouchable. He camped out the night before at China Creek for the Jacks Contest, but skytrained to Chuck to compete in Advanced. Both of his runs were amazing and if the Original Bones Brigade was looking for a sixth, Andy woud've been the one. Untouchable!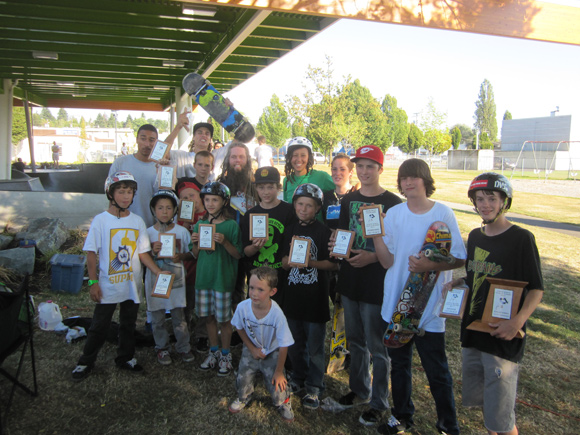 The standings were announced at the end, the plaques were all given out, the food and money was donated to the Surrey Food Bank (385 lbs of food and $425.75), the Most Improved Award was given to Dominic Devries (The Dominator), and the King of Surrey was named for 2011 – Andy Anderson – placed top 3 in all 5 contests, and also won King of the Bowls this year, a Historic Moment. The bad part for all the others is that, unlike Bowl Series, at Hippie Mike's Tour de Surrey, you're allowed to win the King Trophy more than once. Can Andy be the first to do that one, we gotta wait a whole year to find out…
See you then.
Results
Mini 1. Justin Fiorante; 2. Josh Lewis; 3. JR Barron; 4. Aiden Eastman; 5. Jon Schrack; 6. Sam Stephans; 7. Isiah Stroud; 8. Jack Stroud; 9. Ethan Clark; 10. Alex Mager; 11. Dylan Rossi
Beginner 1. Luke Thodus; 2. Matthew Major; 3. Morgan Skinner; 4. Matthew Forcier; 5.Adam Lewis; 6. Rob Schrack ; 7. Billy Shouting; 8. Max Stephans, Noah Eastwood & Riley Allen; 9. Matthew McCauley; 10. David Martin, Bailey Flecks, Jacob Drescher & Mitch Hudson; 11. Scott Cresine; 12. Kevin Tran, Riki Mockizuki & Evan Way; 13. Sage Van Hatten & Trystan Briggs; 14. Colton Routtenbourg; 15. Mark Melyukov, Andrew Goodlet & Austin; 16. Hayden Gordon; 17. Nikki Thomas
Girls 1. Genevieve Lawrie; 2. Sam Maiers; 3. Cali Martin; 4. Brianna Brownrigg; 5. Erin Beynon
Intermediate 1. Jackson Hawthorne; 2. Tanner Hawthorne; 3. Cole Thodus; 4. Brandon Poland; 5. Sky Clow; 6. Peter Kelly; 7. Austin Shelton & Mick Bey; 8. Alex Savage; 9. Aaron Marshall; 10. Robert Wylie
Advanced 1. Andy Anderson; 2. Adam Fontaine; 3. Calvin Dignard; 4. Dominic Devries; 5. Cisco Gooding; 6. Brendan Nielsen; 7. Jay Mykyte & Fighter (Brad Muscat); 8. Brandon Baba; 9. Jaden Easton-Ellett; 10. Jordan Repin; 11. Matt Cook & Allen Handley; 12. Ryan Barron; 13. Damon Kerr; 14. Giver, Ryan Soug & Coddi Ryane
Most stickers on their helmets – Tie between Aiden Eastman & Jason the Scooter Kid
5′ tall or shorter Best Trick on the Quarter – Luke Thodus – Heelflip Rock and Roll
Best Trick on the 3 Block Set Up – Calvin Dignard – Double Heelflip over the 3 block
Highest Wallride – Brad Muscat
Most Improved – Dominc Devries
King of Surrey – Andy Anderson