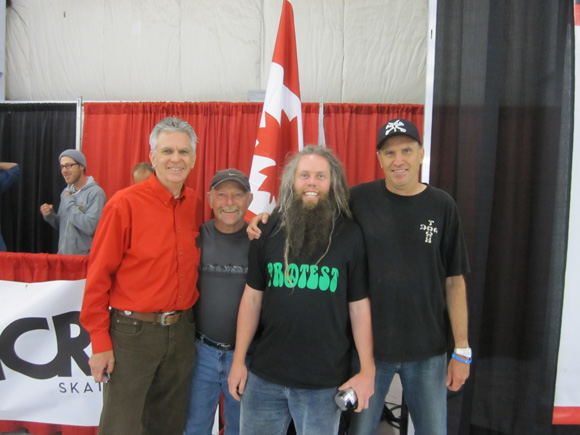 What an awesome event. Presented to you by 2 of the most memorable names in the skateboard industry, Kevin Harris and Monty Little, with assistance from Kai Dunkel, a freestyle skateboarder out of Germany. Unfortunately, Kai could not be there for the event but his presence was strong. For those who don't know, Kevin Harris was and is the Number 1 freestyle skateboarder of Canada, and still rips up the surface. He's the owner of Ultimate Distribution, Concrete Magazine, and has supported the generations of skateboarding over the years with such indoor parks as The Skateboard Ranch, and the RDS Park. Monty is the man behind the scenes of skateboarding who helped to create the entire Contest/Demo acceptance in Western Canada. He was the reason for skateboarding back at Expo '86 and has promoted the sport ever since.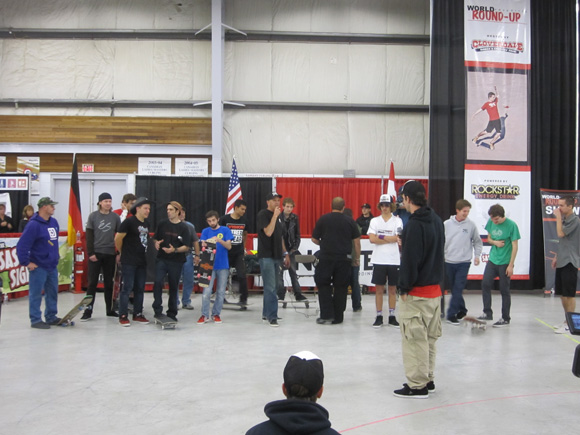 He recently received a Lifetime Achievement Award for his hard work and dedication to the advancement of skateboarding in Canada.
We all thank you Monty.
With a lot of work from these 3 individuals and a ton of collaboration across the world, The World Round-Up was on the way to happening. The top Freestyle Skateboarders from around the world were invited to come and compete in Surrey, BC, at the annual Cloverdale Rodeo. With a beautiful indoor surface inside the Cloverdale Curling Rink, the competition was set. Shawn from Ollie North Skateboard Shop in Cloverdale helped to promote the event and then created a Live Streaming of the Finals world-wide over the internet.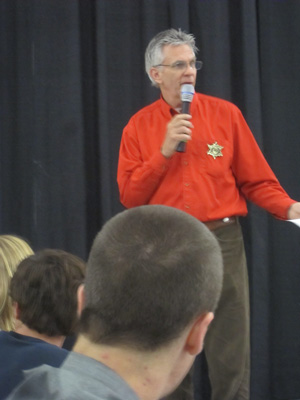 Add one more amazing name to the list of Generals running the contest – Russ Howell, one of North Americas first skateboarders starting at age 9 back in 1958, and still to the day, the world record holder for Most Consecutive Spins on a skateboard with 163 rotations. Crazy! At 62 years old, Russ was wowing the crowd by putting down the microphone at any given moment and hopping on his board to do some tricks. This man has an incredible sense of balance on his skateboard, but also an amazing library of quotes that he squeaks into his MCing. I was loving the quotes all day, especially the way Russ says them, like he's standing alone on the top of a mountain for the entire world to hear and understand him. He was awesome. With Russ, Kevin and AJ Kohn on the mics, it was a great show.
The crowds were happening, and the skaters were all performing at the top of their games. 2 of my Protest Team Riders were in the finals for the Amateur division – Ryan Brynelson and Andy Anderson. Ryan is super amazing at Freestyle, with tricks like Primo Handstand Kickflips, and a style that represents his mentor Kevin Harris, I knew Ryan would do well. And he did, with a 2nd place finish. Andy on the other hand, is not a freestyle skater, but is a very quick learner and has always practised some freestyle tricks growing up. He was the "Wonder Boy" of the event, showing up on the Saturday and asking if he could enter. They let him, and within moments he had begun to impress everyone. My favorite part of the day was when Jim Goodrich, world respected photographer, came over to Andy and his parents and told him how awesome he was. His exact words were, "You`re an amazing kid and You're stoking up the other skaters to try harder…" I loved it because it was true. But to have someone of Jim's stature come over and tell you this is very impressive, especially for a 16 year old. I'm sure lots of people from the event will be googling Andy Anderson's name to see what he skates like in his actual realm. The Amateurs were all great to watch, and Shaun Gladwell ripped it up with sick style. This guy has a serious sense of balance on his board and demonstrated that all weekend. No one was going to beat him at this event. The other amateur I was really impressed with was Takashi Suzuki. Such a creative and innovative skater, like a feather swirling around on a skateboard. You really need to watch some of his skating to understand how unique it is
[youtube id="EEG4uA1_srk" width="620″ height="360″]
All of the Amateurs put on a great show Shaun, Ryan, Takashi, Andy, Felix Jonsson, Daniel Trujillo, Michael Sterling and the lonesome female, Mic Murayama. They all had unique style, and they all ripped the floor to shreds. Thanks for travelling all the way here for the event.
The Pros stepped it up about 3 levels though. You could smell the experience in the room. Most of these guys are in their late 30`s and early 40`s and have been performing Freestyle Skateboarding for most of their lives. They were all unstoppable.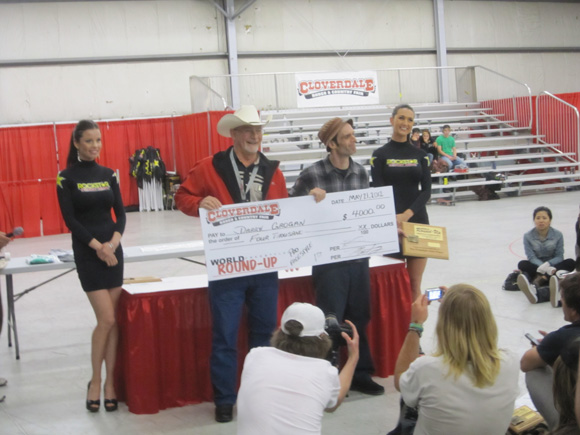 From Gunter Mokulys, Rene Shigueto and Per Caguru, to Stephan Akesson, Darryl Grogan and Greyson Ashton, these guys all blew us away and hovered over the rest of the competition. Mike Osterman was one of my favorites to watch throughout the day because he was super technical and loved to please the crowd. He would toss out some amazing pogo flip ridiculousness and give the crowd a look-back in the middle of it. He was definitely a showman, and with age will gain more experience. Stephan Albert, Jesse Whalen and Sean Burke also all ripped it up the whole day. Everyone`s techniques were very different from one another`s, and it must make for some painful judging decisions, but all in all, they were amazing.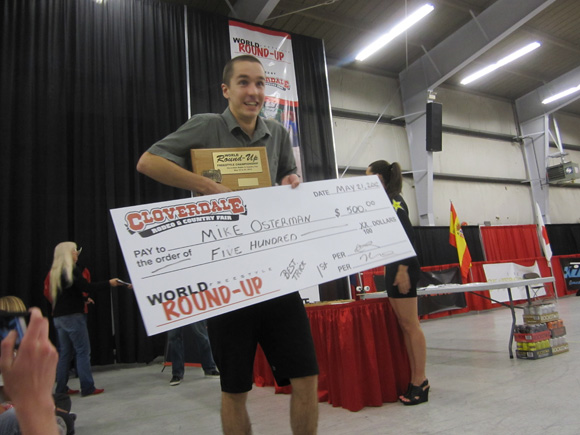 Kilian Martin put on a demo for us prior to the Pro Division that was absolutely mind blowing. This kid is the next biggest name of Freestyle Skateboarding. He has already surpassed Tony Hawk for the most hits on Youtube and is not slowing down. Stay tuned for his newest video release coming up on May 29th…
Results:
Pro:
Am:
Andy Anderson
I loved this event. I still can`t get over the support that was present behind the scenes. Kevin Harris, Monty Little, Russ Howell, Jim Goodrich, Bill Robertson, even George Powell was there.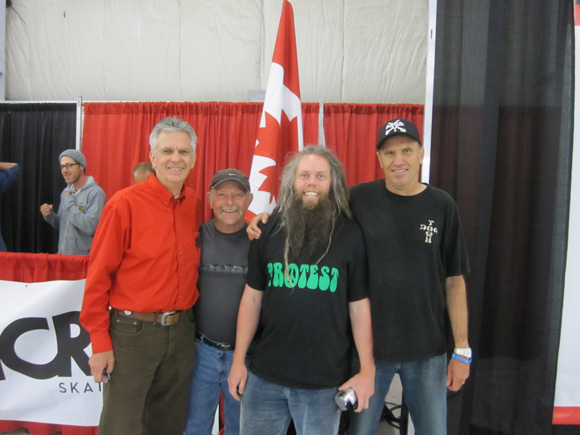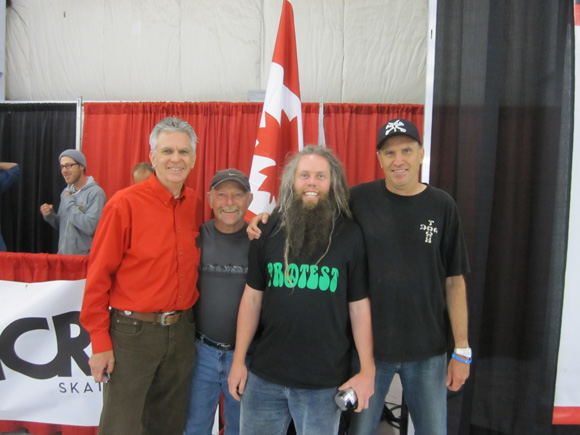 This is what skateboarding is about – building and maintaining a community in which we all support each other and work together to promote the one passion that we all share – Skateboarding…
To me, that`s what this event was all about. Family, and what it means to these older guys to help their "kids" to continue on with the love of skateboarding. Skateboarding isn`t about who is the best at what tricks, and who landed the most that day, it`s about who you meet on your journeys, the experiences you have with those people, and why you love to surf around on a piece of wood on 4 wheels. Anyone who understands this statement knows that your life can be changed by this skateboard, your dreams can turn into reality, and your individual passions can fulfil your soul, all from just hopping on your board and riding down the road…
Here is the Compilation Video of the Finals.
[youtube id="HMnRXf4VSWk" width="620″ height="360″]
Read more about some of the special guests that helped to support this event.
Jim Goodrich
I got into skate photography by accident…literally. After breaking my arm while skateboarding, I started shooting photos of my skateboard buddies. That eventually led to a job as a staff photojournalist for SkateBoarder Magazine. I made a lot of great friends, traveled the world, and experienced things that few people get the chance to do. I've since moved on to other things in life but the skater lifestyle will always be a part of me. – Jim Goodrich
http://jimgoodrich.net/skateboardportfolio.htm
You have to check this site to see how many historic Father Figures of skateboarding Jim has shot photos of, pretty unbelievable – from Stacy Peralta, Shogo Kubo, Tony Alva, to Lance Mountain, Mike McGill, the Gator, even Duane Peters – one of my favorites. Check out his Studio Site to learn more about what this man has done for the world of skateboarding.
Bill Robertson
Dr. Skateboard is Bill Robertson, Ph.D., currently an associate professor in science & technology education at the University of Texas at El Paso (UTEP). Dr. Bill Robertson is no ordinary guy and his identity as Dr. Skateboard comes from his expertise in the fields of education and skateboarding.

A skateboarder for over 35 years, Bill has entertained 1000's of spectators at schools, special events and festivals throughout the United States.
Russ Howell
Just an all around amazing person, and obviously a born genius. At 62 years old with 54 years of experience on the board, this man has been through a lot in his life, and has so much to share.