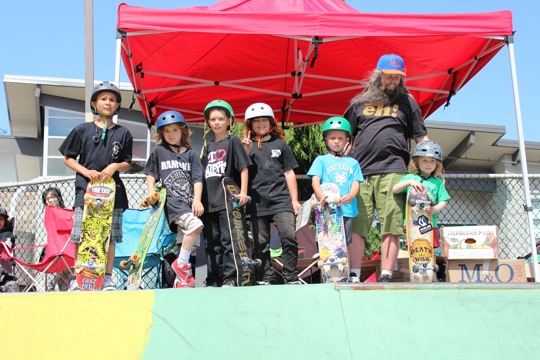 Stop #3 of the 10th annual Hippie Mike's Tour de Surrey took us down South to the South Surrey Skate Park, better known as White Rock Bowl. It was raining in the morning but cleared up nicely before we had to show up for the contest. There weren't that many kids there due to other competitions happening in other places at the same time but the ones that did show up showed up with skills. The Mini Category was great with Theo and Django Caseley thrashing the bowl and quarter pipes and Aiden Eastman sticking right on their tails with tricks everywhere in the park. Little Kaelen actually skated in this contest and ripped it up, for a 3 1/2 year old. He really only hit 2 obstacles and kept repeating his tricks but it was how he was doing it that made it awesome. Great job to all 6 of the Minis.
The Beginners were all crazy kids, majority of them from Chuck Bailey. JR Barron had the crowd roaring as he tore up his first run, Adam Lewis and brother Josh both skated great as well hitting flip tricks, quarter pipes and big gaps, Nick Bachmeier represented hard for Cloverdale and Mark Melyukov owned it the whole time. This kid has some serious commitment when he goes for tricks.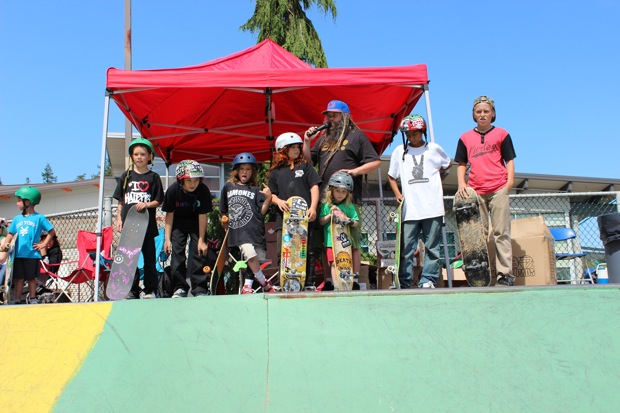 After a little sticker toss I announced that this may possibly be the final year for Hippie Mike's Tour de Surrey and provoke everyone to come out to the Grand Finale on September 7th at Bear Creek park. Take this announcement seriously as there are bigger and better plans for a different Hippie Mike Tour.
The Intermediate was lacking but the top 3 had a Finals Jam as a solid 5 minute long heat and all 3 threw down. Rob Schrack was stomping tricks all over, including a solid kickflip off the big ledge to flat, but he couldn't quite compete with Kai Searle and Riley Allen this day. Riley was definitely leading after the qualifier runs but Kai stepped his game up in the finals and tossed a lot of flip tricks, all solid and fully controlled, while Riley shredded the bowl and the quarter pipes and landed a few airs out of the bowl launch that were about 7 feet high. Kai came through with the win.
Carrie, Steph and Tienna got a 4 minute song to jam out to for the ladies division and all 3 put down some tricks this time. Carrie finished the heat off with a couple tough fakie shovits in the ditch of the bowl.
There was a Bowl Best Trick in between Intermediates and Advanced for a Protest Cruiser Deck and 2 other prizes. Allen Handley stomped a clean Miller Flip in the half pipe and got a Krooked hat, and Odin blasted a huge ollie over the bottom tit landing straight into a frontside gravitron and eft with a set of Sector9 wheels, but the deck went home with Riley Allen for a massive triple airwalk.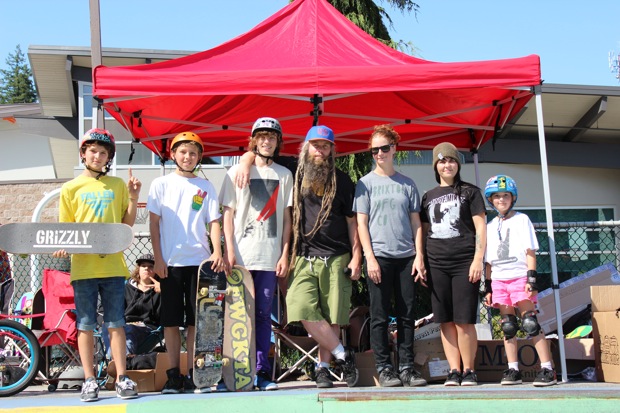 We finally made it to Advanced time and the competition was looking steep. A couple of park locals in the house and then a bunch of rippers that have been around the block a time or two, I knew it was gonna be hardcore. Fighter was skating with a broken arm and still ripping it up, but didn't make finals. Neither did Dylan Dombroski and few others that killed it. Top 5 ended up being Jay Mykyte, Nate Frank, Matt Whatley, Jordan Strong and Weston Ganger. All 5 of these guys slayed it all day, and all in their own unique ways. When it came to finals they each got a 1 minute run to themselves and all 5 of them did the same thing – land a bunch of tricks at the beginning of the run the choke at the end. Jordan and Weston each only missed one trick but the 1st place prize went to Weston Ganger who hit a couple serious tricks on the big rails. He also came right back and won another Deck in the Best Trick on the centre section. Way to go dude, especially after competing in Abbotsford all day and then rushing to get there for this comp.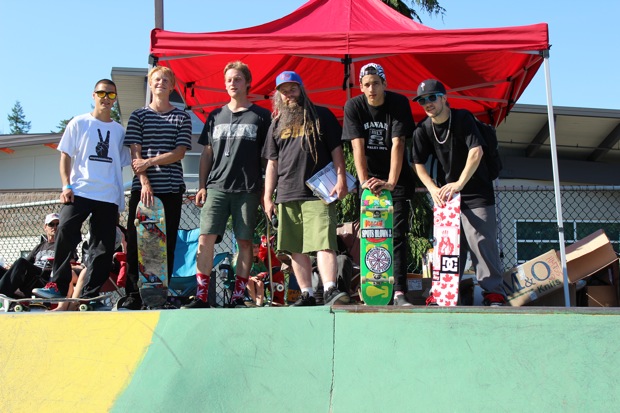 Great job to everyone, and for once there was a new winner at South Surrey other than Andy Anderson, not because he got beat, but because he wasn't there.
See you at Fleetwood in 2 weeks – 
August 24th at noon
Results:
Mini – 1st Theo Caseley; 2nd Django Caseley; 3rd Aiden Eastman; 4th Kaelen Faux; 5th Braedan Nerpio; 6th Rhys Eastman
Beginner – 1st Mark Melyukov; 2nd Nick Bachmeier; 3rd Adam Lewis; 4th JR Barron & Josh Lewis; 6th Bradley Dodd; 7th Lukas Zhanel; 8th Terry Cho; 9th Khalid 
Intermediate – 1st Kai Searle; 2nd Riley Allen-Clerihue; 3rd Rob Schrack; 4th Chadd Sinclair; 5th Robert Wylie & Yubo Wang
Girls – 1st Carrie Williams; 2nd Tienna Rivard; 3rd Steph Martin
Advanced – 1st Weston Ganger; 2nd Jordan Strong; 3rd Nate Frank; 4th Matt Whatley; 5th Jay Mykyte; 6th Andrew Nathan, Yuya Ishikawa & Marcus McSherry; 9th Brad Muscat & Dylan Dombroski; 11th Gavin Goodall; 12th Ryan Barron; 13th Allen Handley; 14th Odin