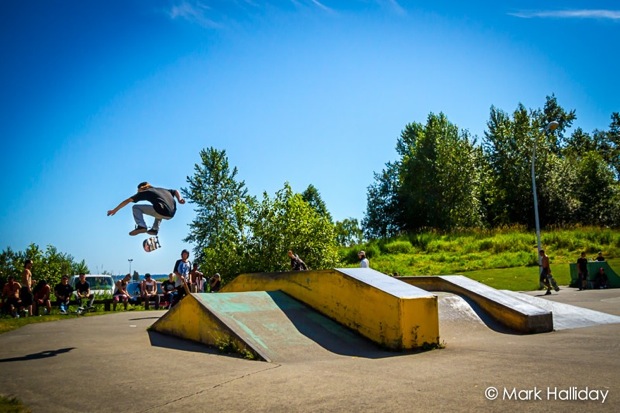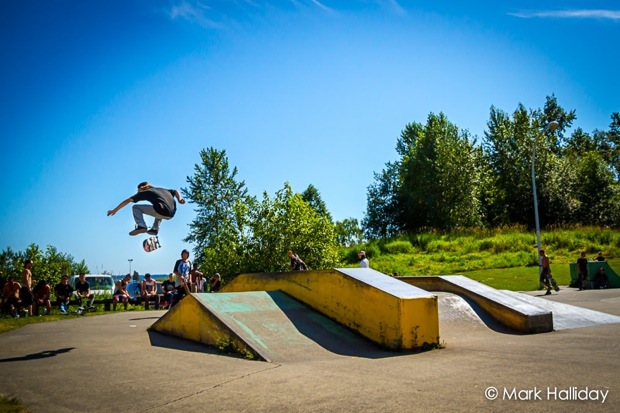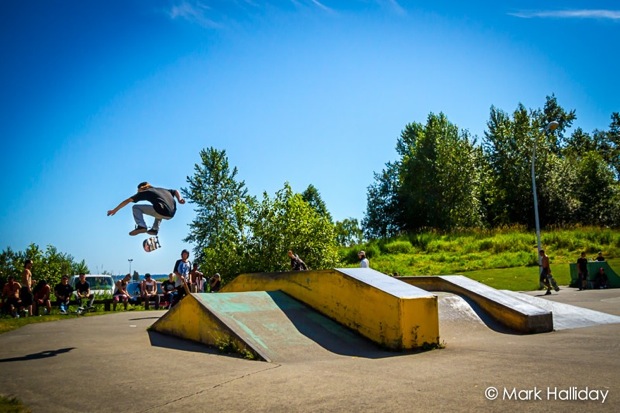 Wow, what an awesome day. So many great people and amazing tricks at the old Cloverdale Skate Park on 64th Ave. This park has had it's times and a lot of kids have grown up in that area through multiple eras of skateboarding so there is always sick skating at a contest there. With this being the 10th year for Hippie Mike's Tour de Surrey I wanted to focus on all the old parks which were stepping stones for parks like Chuck Bailey being built, and since Cloverdale will be getting a new skate park built really soon, this may have been the final contest at the old park before it gets removed. The new park is going to be amazing, but it will be sad to see the old one finally go down, so many great memories I have of that place. I never really liked the park that much but I taught a ton of kids how to skateboard there, and over the years of my competitions and demos, I have so many memories of events – my favourite will still always be the 3rd Annual Hippie Mike's Tour de Surrey when JR Barron showed up on his 5th birthday and him and his cousin Nick Logan ripped around the park all crazy for their first contest runs of their lives. And I look at JR today, 8 years later, still competing at Hippie Mike's Tour de Surrey and pressin' for 1st Place in his category and it just reminds me of why this is the 10th year for this series, and why I have so much trouble letting it end, because of all the kids that give me the feelings of thanks, and love. It was a great day and I was happy to be there…
We started off with the Mini's a little late because I forgot all the registration forms but that just meant they had more time to warm up. And the kids were hot. Little Presley Huska came down from Squamish for his first ever Hippie Mike's Tour de Surrey and learned a lot of tricks at Cloverdale Park, but didn't quite make top 3. Parker Sherwin also had sick tricks in his runs but finished in 4th place. It came down to The East Van Bros with the long hair – Theo Caseley and Django Caseley battling park local and veteran Tour de Surrey competitor Aiden Eastman for the prizes. Theo and Django represented hard in the bowl and half pipe and even hit the 3stair up, but Aiden was committed to win and he shot off the top of the half pipe twice to make sure he did. It reminded me of Andy Anderson when he was 7 years old at his first Hippie Mike's Tour de Surrey and he did the same finisher and won. Aiden is just 8 now and getting better all the time. I loved seeing him jump up and down when I announced that he got 1st place. His first win ever.
The Beginner Category was tight and Beatbox Sean actually came out and skated. Everyone battled to get in the top 5 for the Finals and it came down to Justin Fiorante, Damon Morgan, Mark Melyukov, Nick Bachmeier & JR Barron. JR was owning it in the qualifier runs, and Mark Melyukov was sticking huge tricks too but they both had rough times in the Finals. Justin and Nick stepped up their game and took the top 2 positions away from JR – there was no messin' around in Beginner.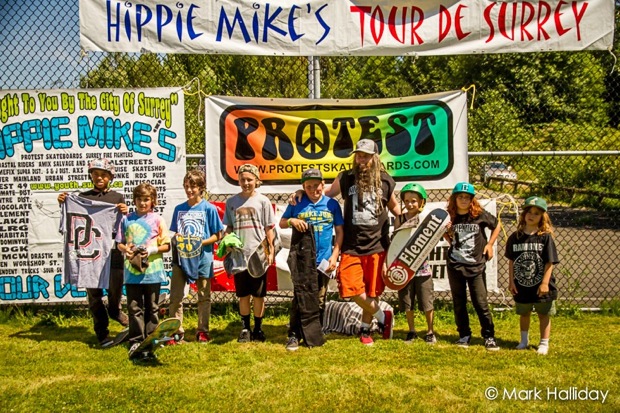 Intermediate came and the pressure was on. Weston Hutchinson was on a mission sticking everything he tried and even kickflipped into the deepend of the bowl, but had some issues in the finals that knocked him down a few pegs. Kai Searle, Riley Allen and Morgan Skinner all moved up to Intermediate this year and made top 5. Zacc Lester killed it as well, but when it came to the Finals Morgan Skinner was untouchable. Emotions ran high in this category, it was hardcore.
The Girls had a good time for their jam, Carrie Williams landed lots of solid tricks including a frontside 180 over the cheese wedge to pump up the crowd. The other 2 are just learning how to skate so don't have much tricks to display but they both did their best. 8 year old Tienna Rivard showed off a few tricks she just learned this week at South Surrey Skateboard Camp provided by the City of Surrey. All the girls did great.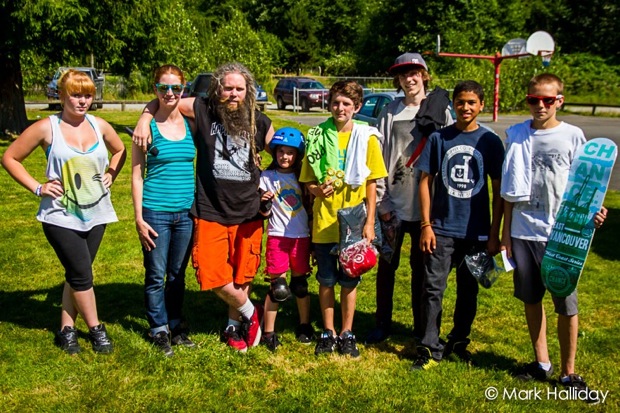 Then it came to Advanced where the real contest occurred. 17 dudes, and all super good. There were about 12 guys that skated good enough to be in the Finals but only 5 made it so it was tough. The top 5 were Shawn Beaupre, Brett Gilchrist, Jay Mykyte, Brendan Nielsen & The Dominator – Dominic Devries. Dominic won the entire the whole day, undoubtedly. He showed why he was the King of Surrey last year. Of course Andy Anderson was not present today due to a Freestyle Demo he is out doing all weekend with Kevin Harris and Ryan Brynelson. But either way, Dominic brought his A+ game skating 3 runs and only missing 2 tricks the entire time. He finished it off with a gap to 50-50 on the pyramid hubba which is a huge ollie. It had been a long time since I seen someone do that one. Sick buddy! Brendan Nielsen was also on fire and stuck a hardflip backside 50-50 down the tall hubba at the end of his run in the finals. And Brett skated so smooth and stylish with flawless runs until his last tricks, he was in demo mode for sure. All the Advanced guys killed it, and that's what I love to see.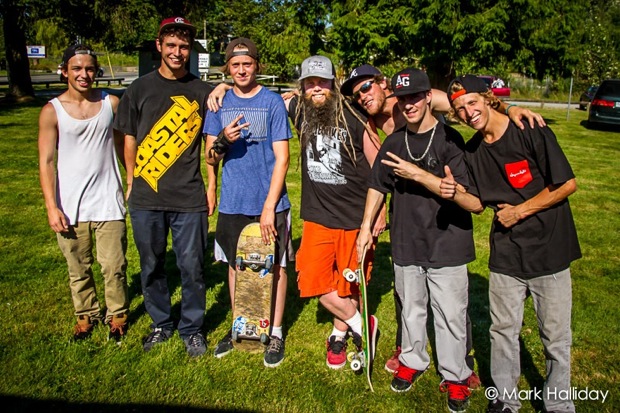 We finished it off with a Best Trick Contest down the 3stair rail and ledge combo and 4 prizes were given away:
Mathew McCauley scored a pair of RDS Jeans for a Feeble Grind Shovit down the rail
Weston Ganger got a NYJAH DC Shirt for a FS Nosegrind Revert down the ledge
Shawn Beaupre scored a pair of Fallen Shoes for a FS Tailslide 270 on the down ledge
and Brendan Nielsen took a Coastal Riders Deck with the classic Jeremy Wray rail trick – Frontside 270 lipslide to fakie. Sick!!
It was a great day, thanks to everyone that came out to compete and to watch, and a special thanks goes out to Mark Halliday from Moonrider Production for filming and shooting photos all day in the desert sun for the Documentary we are making about the 10th year of Hippie Mike's Tour de Surrey.
See you at Fraser Heights on July 20th
Cloverdale Results:
Mini: 1st Aiden Eastman; 2nd Theo Caseley; 3rd Django Caseley; 4th Parker Sherwin; 5th Presley Huska; 6th Austin Macbeth; 7th Ry Forrester & Rhys Eastman
Beginner: 1st Nick Bachmeier; 2nd Justin Fiorante; 3rd JR Barron; 4th Mark Melyukov; 5th Damon Morgan; 6th Nick Kong; 7th Ethan Clark; 8th Devin Christie; 9th Damion Howard; 10th Kaelan Ruinz; 11th Sean Whetstone
Intermediate: 1st Morgan Skinner; 2nd Kai Searle; 3rd Weston Hutchinson & Riley Allen; 5th Zacc Lester; 6th Alex Savage; 7th Noah Eastwood; 8th David Brown; 9th AJ Muhammed; 10th Mathew McCauley; 11th Mike Willms; 12th Robert Wylie
Girls: 1st Carrie Williams; 2nd Tienna Rivard; 3rd Joshlyn Bustin
Advanced: 1st Dominic Devries; 2nd Brendan Nielsen; 3rd Brett Gilchrist; 4th Jay Mykyte; 5th Shawn Beaupre; 6th Calvin Dignard; 7th William LeTourneau; 8th Brad Muscat, Jacob Drescher & Matt Cook; 11th Yuya Ishikawa & Mitch Salter; 13th Andre Bissonnette & Weston Ganger; 15th Will Savage; 16th Daryl James; 17th Ryan Siemens