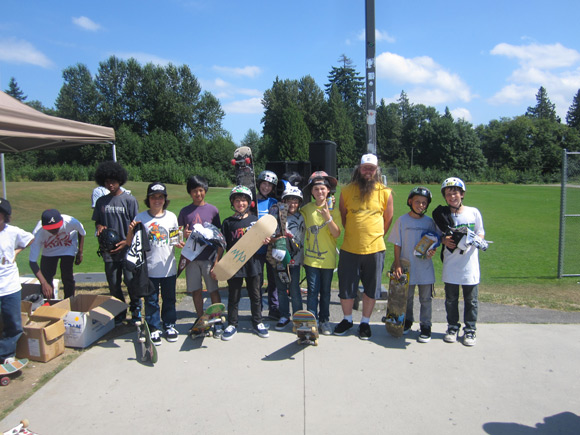 A gorgeous day to be outside, glad I got to be. Sunny, clear, warm, not too hot, beautiful. We deserved a day like this for the day it was going to be. Hippie Mike's Tour de Surrey at Fraser Heights and then straight over to Chuck Bailey for the Element Demo. This meant one thing, that the contest was going to have to be quick, not much time between categories.
It went well. The kids in Mini and Beginner demolished the whole park. It was solid skating from everyone.Shayle Dahl finished off his 2nd run in Mini by blasting a perfect ollie down the 9 stair first try ever. All the kids were stoked, especially him. Max Stephans in Beginner did the same thing except with a Backside 180 – it was out of nowhere and perfect. Matthew McCauley almost kickflipped down it too. It's just crazy to even be talking about a 9 stair in the same sentence as "Beginner and Mini Categories". The City of Surrey is just creating a whole mess of amazing up and coming skaters with all these parks. Seriously.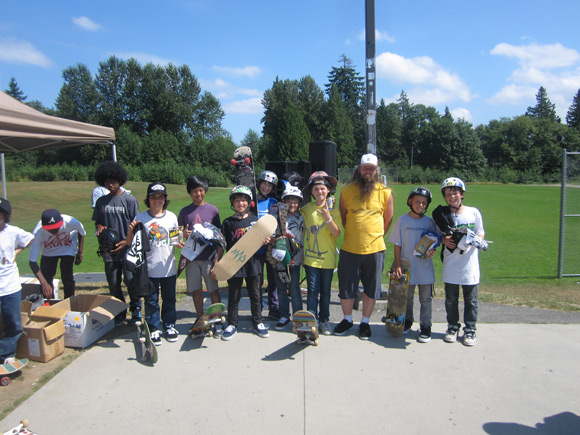 We had a quick break and then got straight into Intermediate and Advanced.
Coddi Ryane has some wild tricks, and let them all out of the cage at once with 2 solid, and innovative runs in Intermediate. But it was Advanced that was hardcore this time, very tight competition. Dominic Devries (The Dominator) is unstoppable in competition right now. I remember when the Decenzos started to get real good and they were at the level that he is at right now, and look at those 2 now, both getting tons of recognition. I love seeing Ryan Decenzo on TV competing against Sheckler and Nyjah and all these amazing skaters. I will not be surprised if I'm watching Dominic competing against those guys on the TV within the next couple years – that's the potential I see in him. He is definitely worthy of the name "The Dominator"…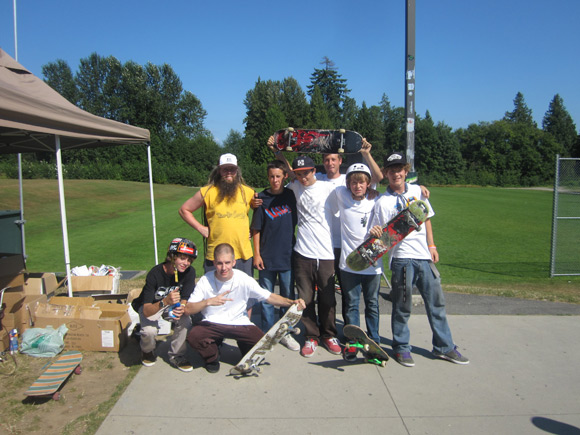 The contest went smoothly and quickly enough to get over to Chuck before the Element Team arrived. The Demo was very successful, everybody killed it. The kids were all stoked and the skaters that came really put on a show. Unfortunately Nyjah was injured and didn't make it out. Maybe next year. Thanks to MARK APPLEYARD, LEVI BROWN, NICK GARCIA, JULIAN DAVIDSON, EVAN SMITH, BOO JOHNSON, BRANDON DEL BIANCO for coming out and to Chad Albert, team manager, for doing such an awesome job organizing and managing the Tour. Well Done!
Results
Mini 1.Shayle Dahl; 2.Cody Laing; 3. Jon Schrack; 4. JR Barron & Aiden Eastman; 5. Josh Lewis; 6. Mitchel Young
Beginner 1. Jaden Dahl; 2. Max Stephans; 3. Josh Almeda; 4. Riley Allen & Matthew McCauley; 5. Rob Schrack; 6. Bryan Benanides; 7. Matthew Major & Jacob Drescher; 8. Adam Lewis; 9. Anthony Harris; 10. Andrew Goodlet; 11. Joey Sinclair
Intermediate 1. Coddi Ryane; 2. Mick Bey; 3. Andre Bissonnette; 4. Zuri Vankevich; 5. Alex Savage; 6. William Savage; 7. Malek Salem
Advanced 1. Dominic Devries; 2. Jay Mykyte; 3. Ryan Barron & Andy Anderson; 4. Weston Granger; 5. Calvin Dignard; 6. Jaden Easton-Ellett; 7. Trevor Greig & Brad Muscat; 8. Dale Kind &Allen Handley; 9. Brendan Nielsen & Barnadon Baba
Best Trick on Bump to Rail – Brendan Nielsen (Feeble Grind Frontside Bigspin)
See you at Cloverdale – August 27th