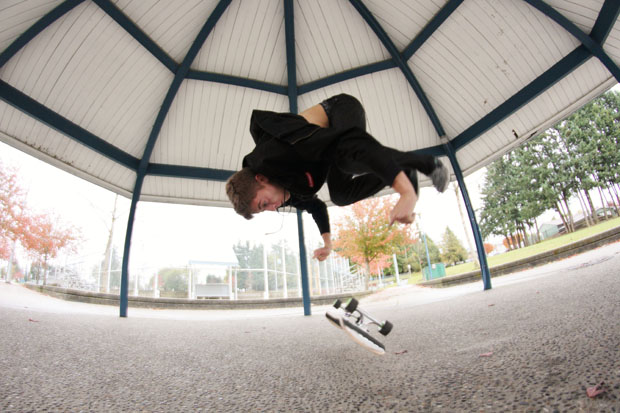 Welcome to Episode 5 of GLORY DAZE with Hippie Mike. Today we are hanging out in North Delta with a very unique skateboarder. He's one of the only Freestylers in Canada, his pockets are overflowing with tricks, and he's always ready to put on a Demo. Sponsored by Protest Skateboards, Kilian Clothing and West 49, he's the Number 2 ranked Amateur Freestyle Skateboarder in the World – give it up for Ryan Brynelson!!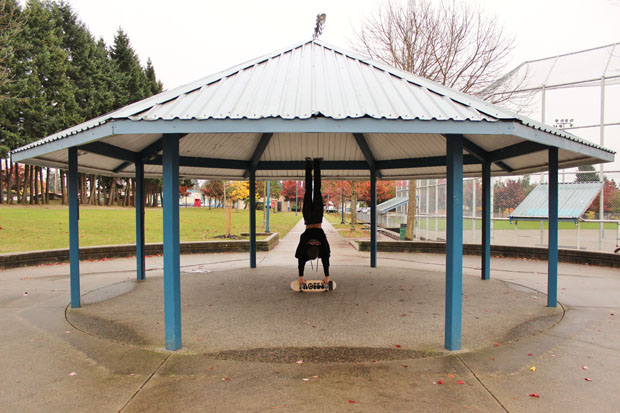 Hippie Mike: What's up Ryan? How's it feel to be on GLORY DAZE with Hippie Mike?
Ryan Brynelson: Oh, I was very surprised when you called me yesterday and asked me if I wanted to be on GLORY DAZE. I thought it was so great, I watch it on Youtube every now and then and I definitely enjoy it, so thank you so much for having me
HM: Cool. First off, can you tell us a little bit about the history of Freestyle Skateboarding and how many people actually still do it?
Ryan: Alright, so Freestyle Skateboarding is the essence of skateboarding. It came out first in the 1970's and people would nail 2×4's to roller skates with clay wheels and they would just kind of ride around on that. It was Freestyle Skateboarding but it was definitely not the same compared to what Freestylers do today. They were mostly just doing tic-tacs and handstands and it was very limited. Then of course the urethane wheel came out and that changed a lot. But it was still pretty much the same. People were still doing tic-tacs, maybe a little more fancy footwork you know if they did have the urethane wheel. And then of course came Rodney Mullen, the Number 1 Freestyle skateboarder in the world ever, the number 1 skateboarder in the world ever in my opinion on the planet. And so what Rodney did was, he sort of saw Steve Rocco doing like 50-50 tricks and then he started doing that, but he made a ton of variations that I'm sure you've all seen in videos like Almost Round 3 and stuff, so, pretty much like all truck variations, caspers, that all came from him and then Freestyle started to become more than just footwork and handstands and people were starting to like ride their boards you know on the truck, on the side, upside down and things like that
HM: So how many people in the world are Freestyle Skateboarders?
Ryan: Laughs… Ah ha, yeah so it's funny, 'cause I get called like the  2nd Top Amateur in the world, but really there is seriously like about 120/150 Freestylers in the world. Very few of us, so…
HM: How old are you, and when did you start skateboarding?
Ryan: I'm 20, and I started skateboarding when I was 8. I got my first board you know like most kids, at some point in their life they get a skateboard for Christmas, and of course it's a Walmart Skateboard, and uh, so I just started puttering around on that. I would just kind of ride around on that you know goofing around and stuff, and then when I was 14 I saw Lords of Dogtown and Dogtown and Z-Boys and something about those movies just made want to start doing tricks and stuff. It showed more of a community in skateboarding for me you know where normally I'd be skateboarding with the kids up the block, but then I was introduced to the Dogtown Movie and I kind of saw more of a community there and it was very attractive to me. I saw that and I thought it was really cool you know.
HM: And that's why you leaned towards the Freestyle?
Ryan: Well part of it. I saw them doing like the Burt Slides and stuff like that, but of course everybody's doing street skateboarding and not many people skate that 70's style and whatever. So at that time I thought, Okay I have to learn how to Ollie, so I learned how to Ollie. So then it was like, now the pressure's on, you know, you gotta learn kick flips and pop shovits, and then I kept kind of going but I didn't really like that aspect myself. I was still just kind of doing Burt Slides and just playing around with that and then I saw Freestyle Skateboarding when I got invited to a barbeque at Kevin Harris's house and it was kind of like a Jam Session for the 2007 World Freestyle Championships of Skateboarding and since then I've just been doing Freestyle Skateboarding and yeah, I enjoy it very much
HM: How much has Kevin Harris taught you over the years and what other influences has he had on your life?
Ryan: Ohhh, Huge, Huge. I mean, you know, Kevin has always been such a great mentor to me. He showed me Freestyle Skateboarding and because of him I am doing this. I would say my spins and any kind of my footwork, flow work, that all comes from Kevin, and then truck tricks and everything after that, you know, that's just me wanting to be just a rounded skateboarder.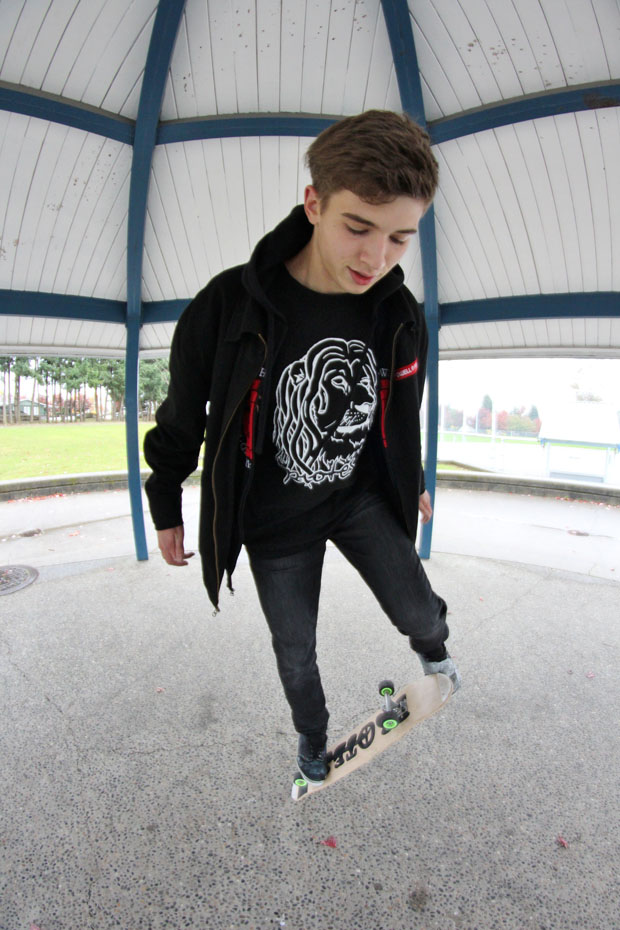 HM: You are very into Japanese Culture. You work at a Japanese Pub, you study Japanese at school, and usually have Japanese girlfriends. What sparked this interest and where is it leading you in life?
Ryan: Laughs… Oh that's very interesting… Well, skateboarding you know, you're always using your body and stuff and I was very into that using my body thing, and then at school my marks were always low and people started thinking I was like stupid or whatever, and um, then I went twice to Japan on Exchange Trips and I liked it very much, so I took a Japanese Course and I decided to make it as much of a passion as skateboarding is to me. So skateboarding, I'm using my body, and then Japanese I get to use my brain and stuff, so I thought it was cool to do both
HM: So therefore you're always learning both
Ryan: Exactly,exactly. Yeah, yeah
HM: And the girls just came with it, right?
Ryan: Laughs… I don't really think of it like that. I just study and stuff. Laughs…
HM: Say your favourite sentence in Japanese
Ryan: My favourite sentence, ohhh, I got a few. それはたわごとの価値がありません。 "It's not worth shit" – Laughs…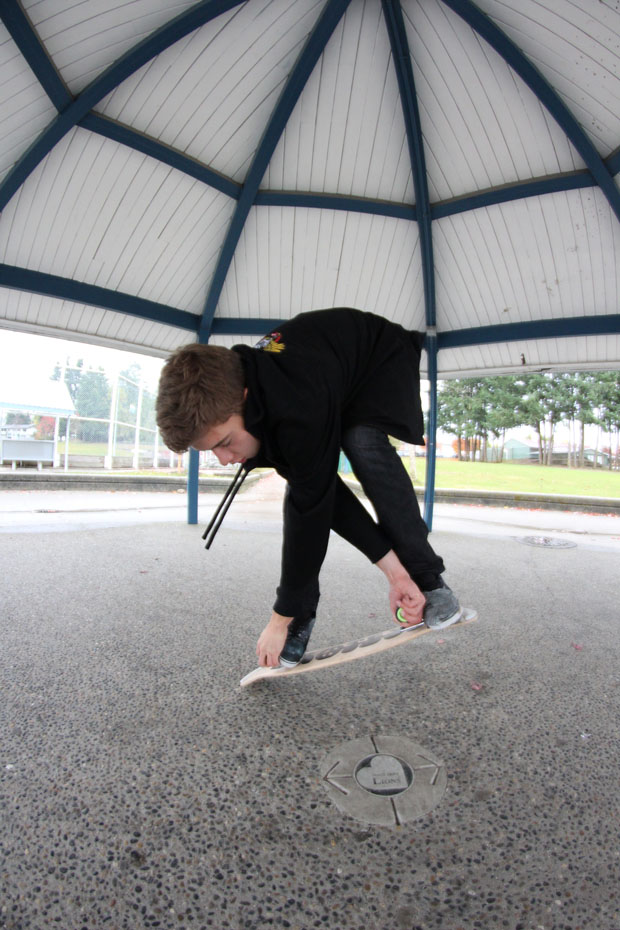 HM: There are so many skateboarders in the world, but so few of them are into Freestyle. It's a whole different way of life. Do other skaters treat you different because your strictly a Freestyler?
Ryan: Yes. They do actually. You know, a lot of it's been very positive, and I go to a skate park and I kind of stand out and stuff. There is times where there is a little bit of a negative side of it and I think that it's kind of weird because so many skateboarders got into skateboarding because society kind of pushed them out and then they started skateboarding. And then I'm doing Freestyle Skateboarding. I'm doing skateboarding, I'm just doing a different style, and then by that group I get pushed out by them because of it. Not all of them, but there is definitely a group for sure and I feel like it's kind of hype-critical…
HM: Right. Do you think people don't respect Freestyle Skateboarding, or is it just a sign of insecurity?
Ryan: You know, I feel like it is a sign of insecurity… I feel like a lot of people respect it, but at the same time, it's not taken as seriously
HM: They don't understand it
Ryan: They don't understand it, that's exactly it. Like when Longboarding came in at first that was very like separated from skateboarding, and this is very much the same
HM: Yeah, except Freestyle created what skateboarding is and Longboarding just….. I mean like, I've skated 26 years and I don't even attempt Freestyle
Ryan: Laughs…
HM: Who's better – Rodney Mullen or Kilian Martin? Right now?
Ryan: Ohhh, that's a hard question… Uhhhhhhh. You know, rodney is just so tech tech tech, and as far as being the tech-master it's Rodney, but Kilian with his creativity. I mean, damn. Honestly I gotta say hands down, my favourite skateboarder is Kilian Martin. I have much respect for Rodney Mullen but my absolute favourite – Kilian Martin.
HM: What do you love the most about life?
Ryan: Life… just so many great people, so many great people.
HM: Alright – Shout out to anyone?
Ryan: Shout out to anyone, oh my gosh, I just want to say Kilian Martin I'm seriously so stoked to be riding for you on Kilian Clothing, thank you so much, uhh, I appreciate all the advise you've given to me before, and um, Kevin Harris, absolutely one of my greatest mentors and it's because of him I'm even doing this, so thanks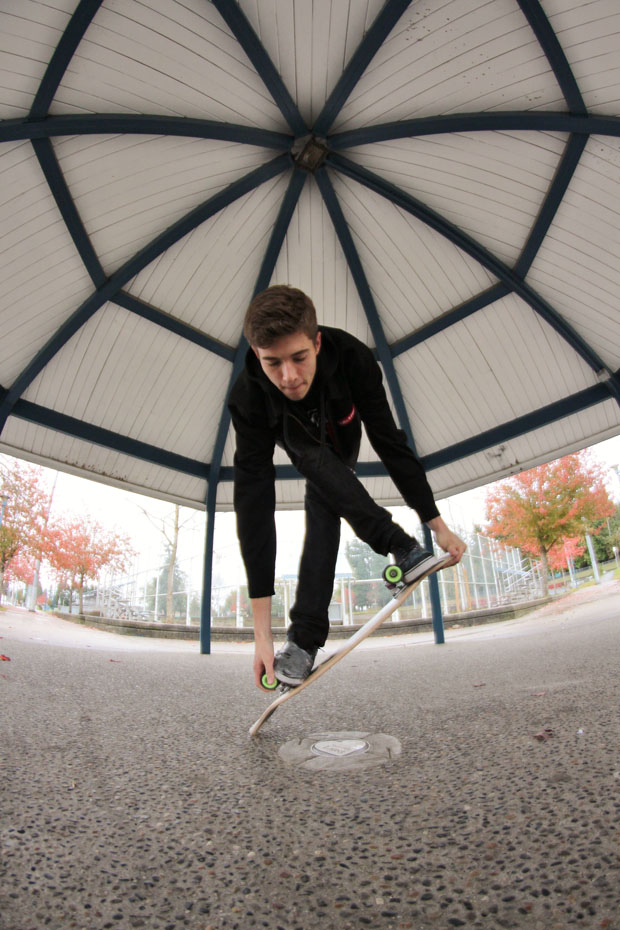 HM: Okay Ryan, I'd like to thank you for being a guest on GLORY DAZE and I'd just like to say I have always had respect for you as an individual. From the moment I met you many years ago you were a Freestyle Skateboarder, and no one was going to change that. You're an artist, you're a solid skater, you're a leader and a role model. A rare fish that swims alone in a massive sea of followers
– Ryan Brynelson everybody…