Welcome to Episode 4 of GLORY DAZE with Hippie Mike. Today we are chillin' in the sunshine at the White Rock Res, a complete Do It Yourself Skate Spot located in South Surrey with the man I simply call The Jigga. He works as a Graphic Designer and owns a clothing company called AXS Gear, and will go down in history as one of Surrey's best skaters of all time, give it up for the King of Style, Jay Mykyte!!
Hippie Mike: What's up Jay? So first off, how old are you and how long have you been skateboarding?
Jay Mykyte: Uhhh, 31 years and been skatin' since like, man, ever since I was a little kid basically, you know since I was 13…14
HM: And why did you become a skateboarder?
Jay: Everything else just seemed kinda boring at it only ot you to a point and then it was just like, over it…you know?
HM: I'm referring to you as the King of Style because that's what I heard Geoff Dermer call you one time, and he's all about styles. How much do you concentrate on the actual trick you're trying, and how much do you think about what it's gonna look like when you stick it?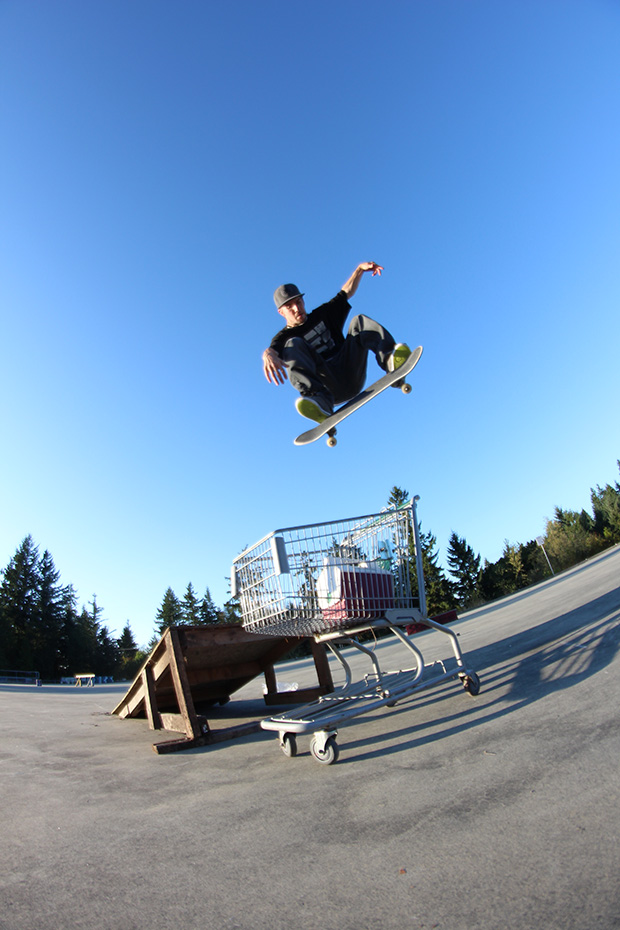 Jay: I think I worry more or less about like the last part, and that's landing it. I try to block everything else out, and then as for like style, I don't know man, I think it's really just the way I do my thing so I don't really think about that either. It's just kind of like, the way I do it
HM: You're a pretty technical skater with lots of hard flip tricks and you can easily demo on a ledge or a mini ramp at any time too, what's your favourite thing to skate?
Jay: Favourite obstacle?
HM: What's your favourite thing to skate?
Jay: Favourite thing to skate… I'd say like anything that's smooooooth, even if it's just like, flat ground. Anything smooth
HM: What's the best trick you ever learned?
Jay: Hmmmm. Probably a manual – 360 flip. I don't know why, but it is
HM: Nice, Kwantlen Park?
Jay: Yeah
HM: AXS Gear has been around for quite a long time but is still pretty underground, tell us how AXS Gear began and what it stands for
Jay: AXS Gear began basically when I started working for the sweatshop. And it was simply about just being an individual, being yourself, not really anything special, it's just about all existing styles. And that's what AXS stands for is "All Existing Styles". It's basically just for everybody that's you know, simple and just likes to do their thing. That's it, plain and simple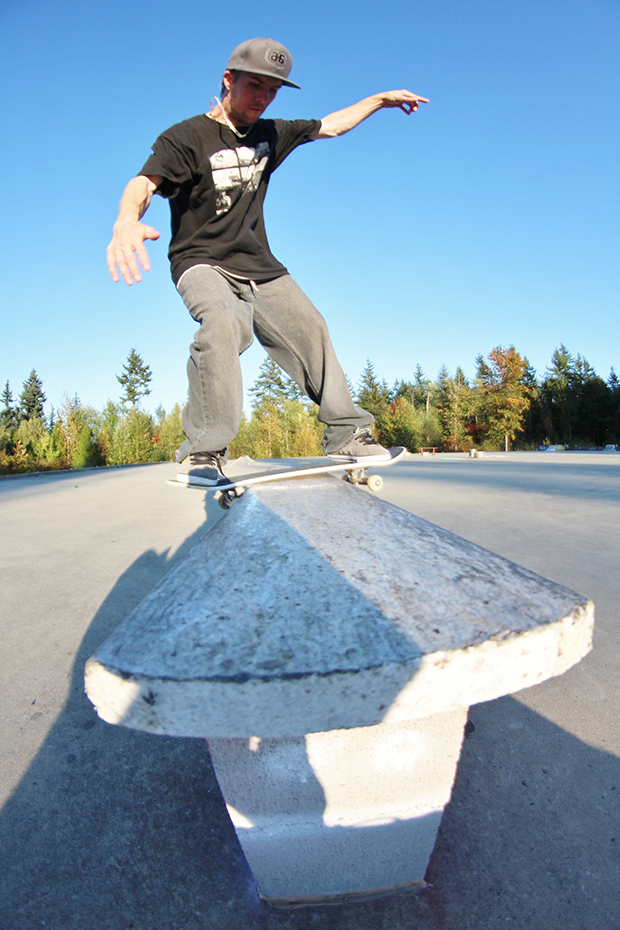 HM: Cool. Last winter you opened a Skate Shop in New West called Royalty Skate Shop. What was that about, and what happened to it?
Jay: Royalty was like an "on the fly" thing. I kinda was gonna start some skateboards or something and was like, oh I'll try this out, you know something that kind of connects everything anyways, and I did it with a friend who had his own business out of there too. I just wanted to try it out and see what it took to try to run a skate shop and after that it was more or less like, there was no support you know. There were people behind it but nothing really holding it together other than the few riders that it was
HM: I heard there were plans to re-open Royalty in Surrey, you think that's still gonna happen one day?
Jay: Yeah, that's like my main goal I'd say, just 'cause I love the scene in Surrey. It's totally underground and nobody cares about it, nobody wants to skate out there, everyone's kind of turned off about it and I kinda like it 'cause of that. It's so big too, there's so much stuff out here to skate, and so many parks
HM: We've been friends for a long time, explain when you met me and how we became so close
Jay: Hmmm. How I met you was just from skating. I remember seeing you at Burnaby Park was the first time I seen you and someone told me who you were, and you'd always be at Confed or Leeside. But yeah, Bear Creek and you were just all up in our faces like , Hey who are you guys? And you know this guy, and I was like yeah, this is Stu and Drew and we just like to skate. I think we just met by thriving off seeing each other skate and were always just pumped so we just kind of connected
HM: Cool. What's the funniest story that you can think of that involves me and you
Jay: Oh man…(smiles)…the funniest…geez, I'd say like, any time we're going to a spot and trying to like, film some tricks there was always some sort of funny bail or like, something, but I don't know, that's a tough one. Because every time we hang out, there's always something funny and hilarious, so I don't know about that one
HM: You sure it didn't involve Colt45??
Jay: Oh yeah, oh yeah. Yeah, that was probably the craziest time I've had, probably with you for sure. Just goin' for it at your house…
HM: (Laughing) Yeah we'll just leave the story out…
JAY: Yeah (Laughs)
HM: So whenever we go out skating somewhere people always notice you and your style. You're super solid and have a big bag of tricks. Do you feel like people look up to you as a skateboarder role model?
Jay: Oh hell yeah, like kids for sure. No matter what, I might be quiet or whatever but they're just pumped. They're like, Hey you do so many tricks and stuff and I'm just like, yeah that's what you do, you just practise everything and eventually you'll just put all the pieces together. Like don't try and learn it all in one day, just worry about just skating
HM: Yeah, and have fun
Jay: Yeah, exactly
HM: A few weeks ago I had the Re-sheet the Ramp Fundraiser contest at my house and you pulled through and won 1st place, beating out tranny destroyers like Andy Anderson and Eve Feaver. How did that feel?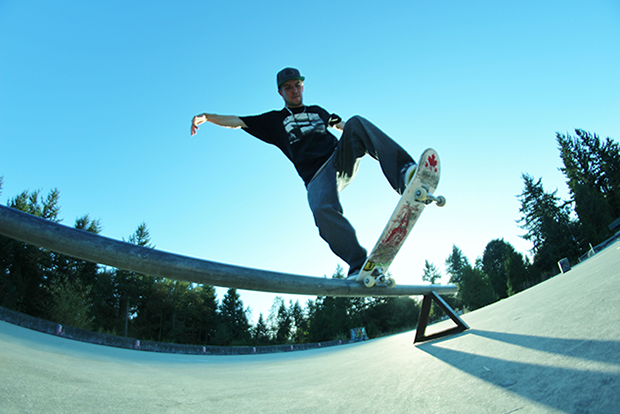 Jay: Pretty rad, I mean, I've never… Well, I've skated my fair share of mini-ramps and went to jams, but I don't know, I think it was just one of those days where you like remember all those sessions and you're just like, you wanna pull something wild just because all those other times, that's what happened
HM: Was that like the craziest Mini-Ramp Contest ever or what?
Jay: It was hectic for sure (Laughs), yeah like I've probably never witnessed such a hardcore jam on a ramp before, for sure, hands down
HM: Everybody in at once (Laughing)
Jay: (Laughing) Everybody, everybody. You name a person and you know they were puttin' in about 150%
HM: What was going through your mind when you were trying to Tail Drop off the top rail into the ramp at the end?
Jay: I just always remember seeing Josh Evin doing tail drops and I'd always see him like, not worrying about the drop just knowing where you wanna land and just ride it. No matter what, just stick it and you'll ride it, and the minute I jumped in I just knew, I got it, I just have to land on it, You'll roll away, you got it
HM: So you stuck that shit for Josh?
Jay: Yeah man, for sure. 'Cause he was, basically, you know, somebody throws something out of nowhere, it's him. You know, he was the guy
HM: Yeah, with bare feet…
Jay: Yeah, in socks, bare feet, yeah, definitely
HM: What was the best Contest you ever won?
Jay: You mean first place, or just winning in general? 'Cause I would say the first one at Langley Industrial. I had like the most ghettoist shoe setup, ghettoist board and somehow I was like, landing everything.
HM: Well you needed a ghetto board to fuckin' skate Langley Industrial (Laughs)
Jay: No it was mint back then, it was brand new
HM: What is the best accomplishment in your life?
Jay: Probably being able to do the one thing I love which is livin' life, having fun, hangin' with my friends, and skating
HM: What was your favourite company that you were ever sponsored by?
Jay: Oh man, favourite company ever…. I'd have to say Bruise
HM: Name the person you look up to the most in life
Jay: In life? Man…….. I would say like, my Mom…
HM: What's your favourite thing to do when you're not skateboarding
Jay: When I'm not skating, creating. Probably creating anything, creating something
HM: If you could pick just one spot to skate for the rest of your life, where would it be
Jay: Hmm. Probably here
HM: White Rock Res?
Jay: Yeah definitely
HM: 'Cause it's gonna keep changin'
Jay: Yeah, I'd say this place
HM: Jay, I'd like to thank you for being a guest on GLORY DAZE with Hippie Mike. It's been a pleasure to hang out with you for so many years and I can't wait to see where we venture together next. You're an amazing skateboarder and an awesome friend, and you truly are The King of Style. Jigga Jay everybody…