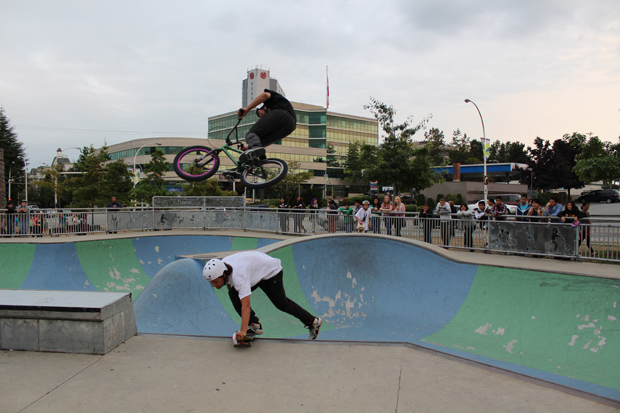 Another classic Youth Fest Bowl demo, but unfortunately, the last one. That's right, I mentioned it before, the Guildford Bowl has to be removed to accommodate the construction of the new pool attached to the Rec Centre. So that made this Bowl Demo that much more special.
It was the Skate vs. BMX Demo with Andy Anderson and James Van de Kamp leading, and me Hippie Mike on the mic. Ryan Brynelson was also there doing Freestyle demos throughout the building. Everybody just rode together in the Bowl having a good time and then at 6pm we started the battle demo. Each Captain chose some Team members from the people that were present and they rode in 10 minute heats getting cheers from the crowd to see who was most loved. The skaters by far were getting more cheers but the Bikers had the most excited females. Lots of good tricks and smooth flow from both teams, and Andy and James were great leaders.
Thanks to everyone for coming out, and glad the skaters prevailed. I had a great time hosting the event, and throwing bananas… You had to be there.
 Skate Team
Andy Anderson
Allen Handley
Brad Muscat
Riley Allen
Josh Lewis
Adam Lewis
BMX Team
James Van de Kamp
Kyle Lee
Wade Danchuk
Tyson Casey