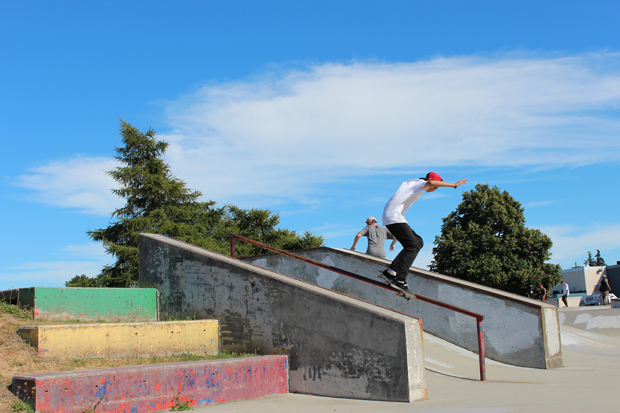 Another gorgeous day in "The Land of the Sun", Tsawwassen. August 5, 2012 was the date of the Tsawwassen Sun Festival and included in the promotions was the annual Skateboard Contest presented by Michael Ray and MC'd by Shadd Trepp. A lot of familiar faces who have localized the Tsawwassen Skate Park over the years – myself Hippie Mike, Cisco Gooding, Justin James, Graeme Betts, Andrew Classon, Cole Thodus, Luke Thodus, and many more…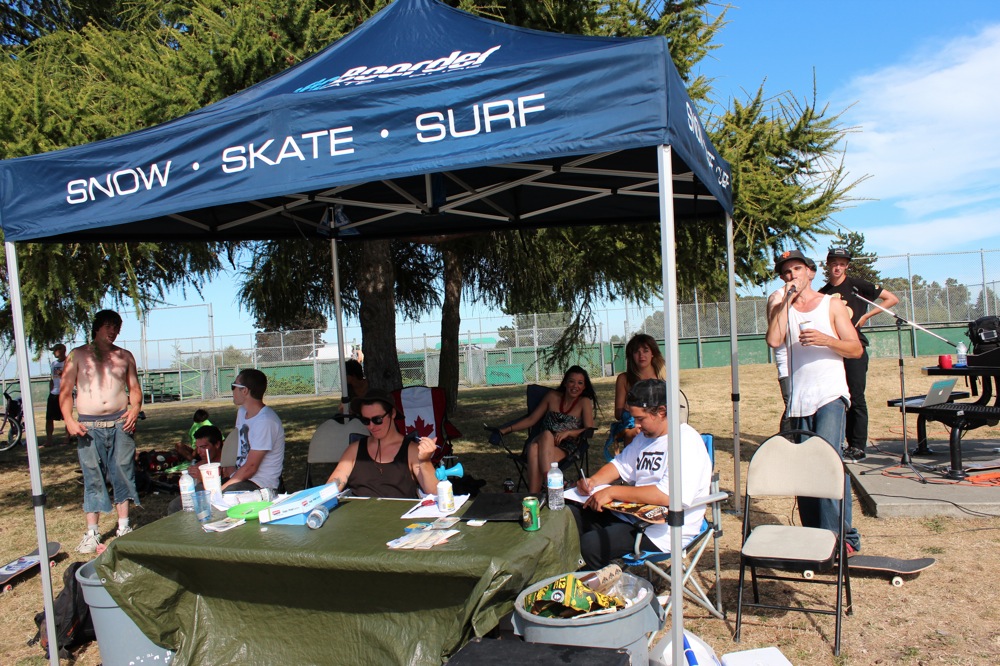 All categories were filled with lots of talent including Beginner. Chuck Bailey local Adam Lewis took the cake in Beginner with a close Parker Sherwin in 2nd. Both these kids have fat bags of tricks, so you know it was tight for the judges.
The Intermediate Category was pretty sick. Team Protest showed up during first runs in Intermediate and it was awesome how people were asking if this was Advanced. That's how crazy the talent level is in Tsawwassen. You know little 10 year old Luke Thodus was trying his hardest to win 2 years in a row, and I'm sure his big brother Cole Thodus did not want  to let that happen. These 2 can really battle for their ages, and they both probably would have done well in Advanced too. Luke came through with another victory!!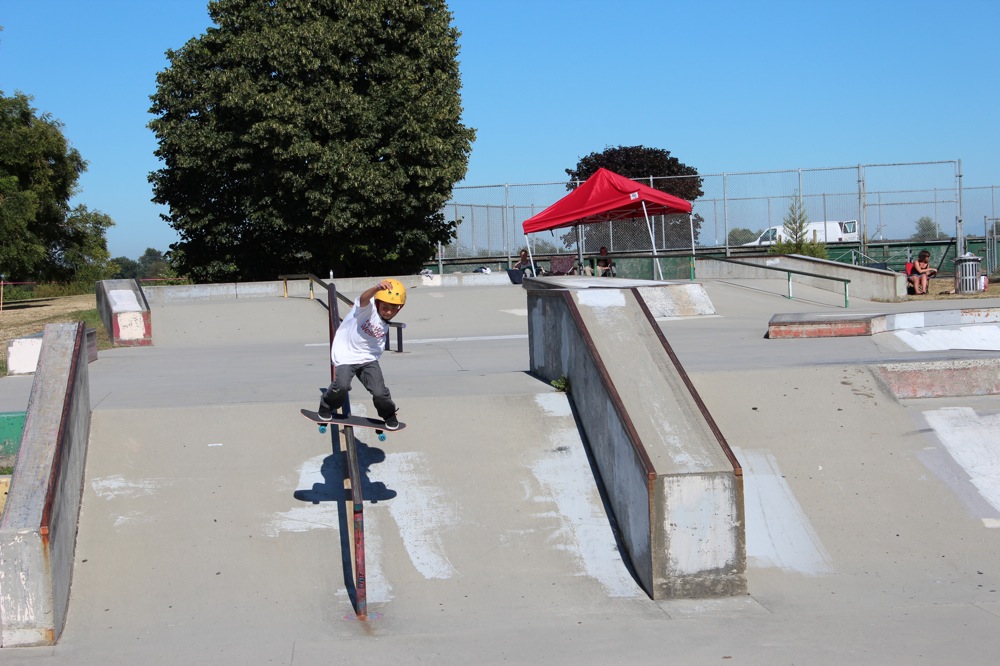 Advanced was packed with competitors of all ages, including myself as the oldest at 33 years of age. Gilbert Turenne was first to go laying down some sick ledge tricks and 3flipping over the 3 block like butter. Fighter was hot, and hitting some nasty tricks down the biggies, crooks and smiths on the red rail, and even a benihana over the 3 block in his second run. Cisco did his usual switch, nollie and combination tricks all over the park, staying low but keeping it tech, and even Jaden competed grinding all the ledges and flying over the cans. Protest always represents wherever we go but this was a tough one to win, Andrew Classon came out in his first run with complete control and determination to win. I've hung out with this kid since he was about 8 years old and he's always been super creative and super solid. He actually rode for Protest Skateboards when he was 10-11 years old. I love the way Andrew gets annoyed about how long the runs are too. He usually lands enough tricks in the first 30 seconds to win, so why should he continue?? Mick Bey was another young dude I was super proud of out there. I met Mick when he was 10 years old working an afterschool drop in program at his school. He was a super talented sporty kid that had a lot of confidence. He moved out to Tsawwassen a few years ago and grew about a foot and a half taller which really helped him with learning all these ledge and rail tricks he has on lock. It's sick to watch these kids grow up from so young, and then actually compete against them. Mick was close to Top 3 but didn't quite make it, but the other really tall dude from Tsawwassen did, Aleka Lang. And John Purcell was definitely representing his skills. This kid likes the rails and has a lot of switch skills. Visiting from Nova Scotia he has taken the opportunity to get his name out there since he's been here, placing in Top 3 in a few contests and winning the Element Make it Count Qualifier at Chuck Bailey a few weeks ago. Good luck on the next stage of that one buddy, hope you do well. And I hope we hear more about this up-and-comer in the future.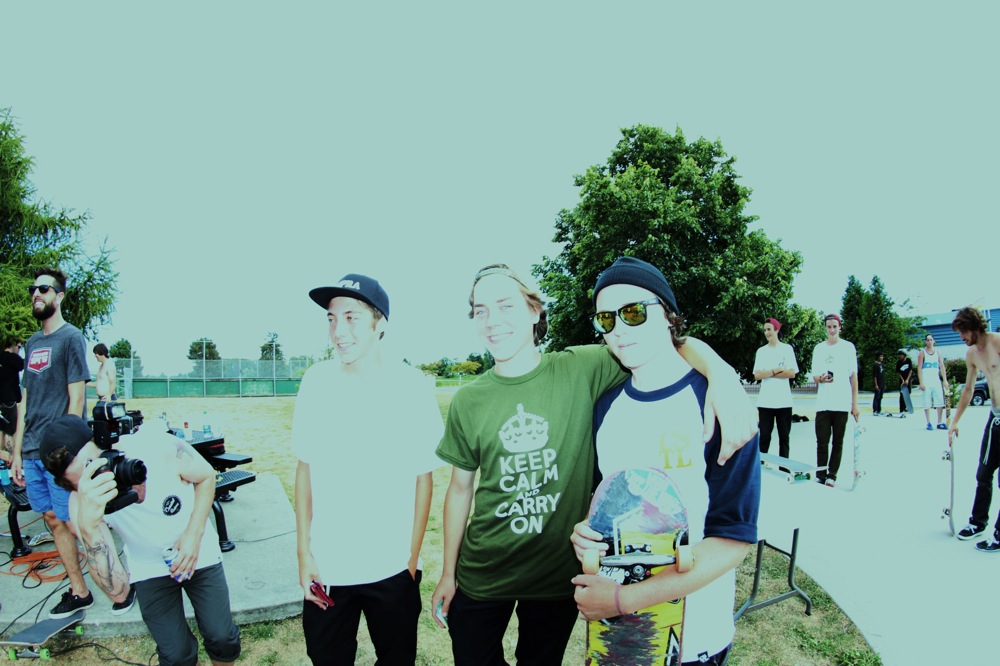 So many people to congratulate and compliment from this contest, but I have to throw mad props out to Shadd Trepp on the mic for being the most enthusiastic MC off all time. Such a fun guy to be around. Shadd gets just as excited about a powerslide as he does about a 3flip lipslide. So awesome buddy!!
And best I saw all day was Graeme Betts nosebluntslide and switch lipslide a table out of the smallest bank in the park, both like butter. Graeme didn't compete, but he doesn't need to. True Blood Park Local forever brother.
That was Tsawwassen for this year, here's the results
Beginner:
Adam Lewis
Parker Sherwin
Luke Zhanez
Intermediate:
Luke Thodus
Sam Gror
Cole Thodus 
Advanced:
Andrew Classon
Aleka Lang
John Purcell