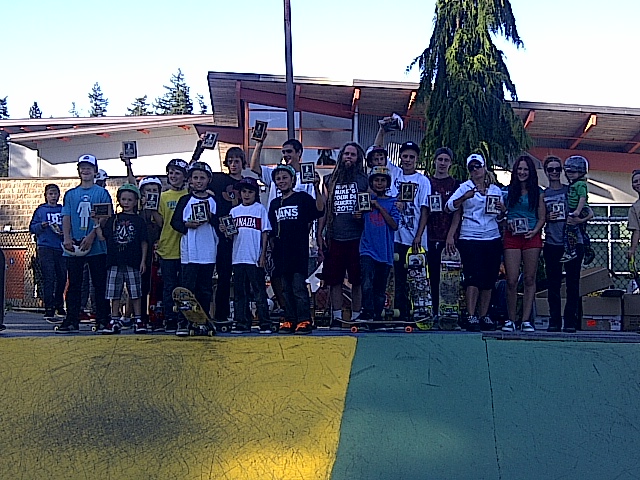 ell it was another successful year for Hippie Mike's Tour de Surrey and it's finally over. 9 years strong for this Series and sometimes it wears me out a bit, but I enjoy every minute while I'm there.
We mixed things up a bit and ended the year off at South Surrey Park which basically meant we would be ending the year off with an Andy Anderson Demo, since he was born and raised there and hasn't placed less than 1st place at that park in one of my contests in years. We started off with the Mini's and they were all giving it there all. Jon Schrack was on a mission to win, but so were Parker Sherwin and Marc Melyukov. All 3 of these kids were stretching the limits of what could be done by kids 10 years old and younger, and they went even crazier in the Finals.
There were 17 Beginners waiting patiently to go for gold and 6 of them made it into the Finals. Top names of the day would be Kai Searle, Adam Lewis, Rob Schrack, Riley Allen, Cody Laing & Connor, followed closely by Zacc Lester and Justin Fiorante. All 8 of these guys dominated the Beginner Category with flip tricks, huge airs and big gaps, but only 1 could be King.
The Intermediates were kind of disappointing this time around. There were only 6 guys and not much got landed except by Mike Groves and little Luke Thodus. Mike tore up the quarter pipes and flat banks with some serious White Rock Loc styles and Lukey threw down some wicked ledge grinds and rail slides. Luke is only 10 and about 4 feet tall, so when he grinds the big hubba ledges no problem , it looks amazing. He also gapped out to 50-50 to the flat section of the triple kink ledge in his run and stuck it. He won.
The Ladies Category consisted of Carrie Williams and 2 girls I requested to participate, Sasha Clerihue and Deena Z. They both know how to skate around, just not really trick masters. Either way, we had a Ladies Category and no one got hurt. Better than nothing.
Then we got to Advanced. It was Dominic Devries's mission to beat Andy Anderson at his home park, but it's always Andy's mission to never lose, so it was definitely gonna be a battle. They both destroyed everything that no one else skates, the big rail, the kinked rail, the channel gap, spine and barricades. Both were unstoppable, but it was Andy's game the whole time. Weston Granger also killed it and ended in 3rd after the Finals. This guy blows me away every time I see him skate, so unique. He nosegrinded down the long hubba, did some airwalk late hand hardflip, and finished the Finals with an ollie up to gap tailslide ledge to ledge in the flat section. 4th and 5th were Giver and Jigga Jay, both skated awesome, both couldn't keep up with the Top 3 during the Finals Jam.
Marilyn Herrmann showed up from the Surrey Food Bank to accept the donations and give a little appreciation speech. It was a slower year than most, but with all the kids going away on vacations and having to decide between 3 competitions to go to every Saturday we still did pretty good. In total for this year, we raised $280 and 300lbs of food. Great job guys!!
I announced all the winners and gave out plaques to the Top 3 in each Category. I announced the Most Improved Skater of the Year which was Aiden Eastman from the Mini's, and handed over the King of Surrey Trophy to the Dominator himself Dominic Devries. He won 3 out of 5, placing 2nd in both the others. Dominic is one of my favourite kids to skate with and to watch progress. He kills it wherever he goes and can skate everything, which is awesome for someone who's only 15 years old, plus he's super humble and appreciative. Can't wait to see you in X Games some day buddy….
Results:
Mini: 1. Jon Schrack; 2. Parker Sherwin; 3. Mark Melyukov; 4. Aiden Eastman; 5. Lukas; 6. Bryce
Beginner: 1. Kai Searle; 2. Adam Lewis; 3. Connor; 4. Cody Laing; 5. Rob Schrack; 6. Riley Allen; 7. Zacc Lester; 8. Justin Fiorante; 9. JR Barron; 10. Khalid; 11. Josh Lewis; 12. Desmond Fisher; 13. Chandler; 14. Jake; 15. Bachouch Michael; 16. Alex & Matthew Lalim
Intermediate: 1. Luke Thodus; 2. Mike Groves; 3. David; 4. Mathew McCauley; 5. Yubo; 6. Jackson Hawthorne
Girls: 1. Carrie Williams; 2. Sasha Clerihue; 3. Deena Z
Advanced: 1. Andy Anderson; 2. Dominic Devries; 3. Weston Granger; 4. Michael James (Giver); 5. Jay Mykyte; 6. Allen Handley & Travis; 7. Brad (Fighter) Muscat & Cole Thodus
Most Improved – Aiden Eastman
King of Surrey – Dominc (The Dominator) Devries
So that's it for the 9th Annual Hippie Mike's Tour de Surrey. Thanks for everyone who showed up at any or all of the events, and thanks to all the sponsors that make these fun times possible:
Protest Skateboards
Coastal Riders 
Amix Recycling
Vans
Our beach Studio
Folk Skateboards
Royalty Shop
West 49
Have 2 Skate 
New Line Skate Parks
Surrey Food Bank
BLVD 
Anti Social
Monke
The Dry Spot
Ollie North
Ultimate Dist
Centre Dist
Time Bomb Trading
S&J
Faceshots
Supra Dist
Dc Shoes
One Love
Mosaic Skateboards
Chance Skateboards
Element Skateboards
Thunder Trucks
Independent Trucks
DGK
Analog
Autobahn
Sour Skateboards
Chocolate Skateboards
Gravis
Hard Times
Hubba Wheels
Bones Wheels
Girl Skateboards
Spitfire Wheels
RDS
Fallen
Axion
Circa
Almost Skateboards
Kutwax Klothing
DVS
Axs Gear
Kitsch Skateboards
ATM Skateboards
Lakai
Matix
LRG
Meridian Golf Par 3
MCW Custom Woodworking
Woodsmith Custom Cabinets
Ear Goggles
and The City of Surrey
For those that notice there are no photos in this story, my camera went missing after the contest. If anyone has information please contact me through the site.
Thanks