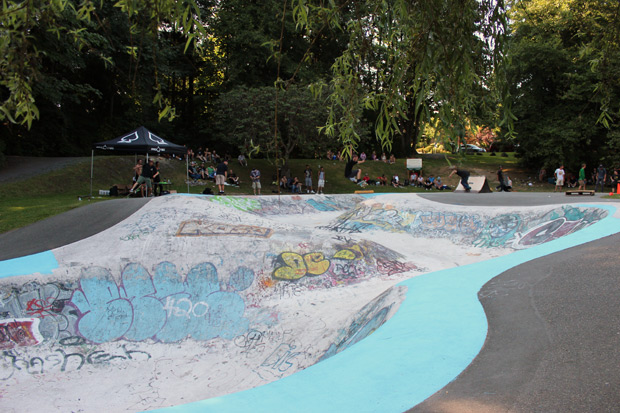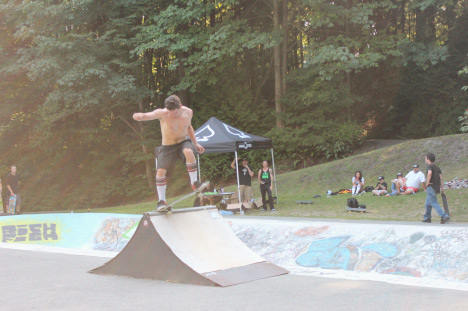 Another classic Bowl Series contest, it was a wonder if we were going to get to have one at Griffin this year as it had already been rained out twice, but the weather was definitely allowing it today.
Griffin is usually the quietest location of the Series, it's pretty unique and tough to skate and not as fun for speed lines as the other 3 parks, Seylynn, Whistler and White Rock, but as the crowd that showed up today proved, it can still be shredded. Even Alex Chalmers was ripping it up in the competition which is always great to watch. There was a wooden spine on the course and a manual table which was leaned up on an angle against the spine like a wallride and a couple yellow curbs were pulled out of the parking lot and added to the top of the bathtub ditch. It changed the whole scene at Griffin and everyone had a blast. People to watch were Adam Hopkins, Andy Anderson, Eve Feaver, Danny Hagge, Alex Chalmers, Simon Pigeon, and Tony and Giet from China Creek. They were all killing the park anyway but during the finals someone pulled the spine over to the side of the bathtub and it turned into a whole new competition. Nosegrinds, smiths, 360's and back lips, this thing got demo'd.
Not much to say about the contest except, if you weren't there, you missed out…
Sick competition!!
1st – Adam Hopkins
2nd – Danny Hagge
3rd – Giet Rolan