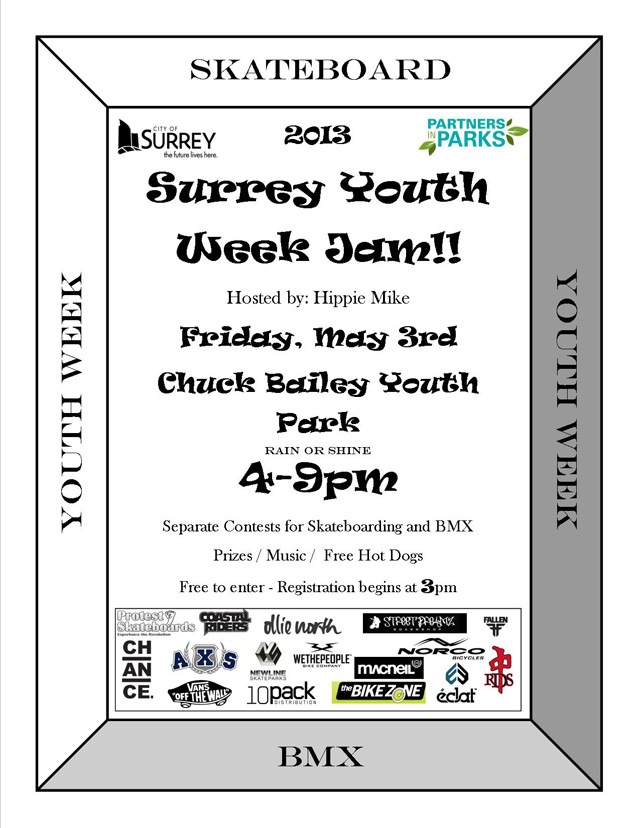 Another year of skateboard contests is about to begin and you know that the City of Surrey hosts more events than any other city around. This will actually be the 3rd event at Chuck Bailey Skate Park in the year 2013 but it will be the first full contest of the year.
Youth Week runs nationally every year on the first week of May – May 1-7, and every year Hippie Mike hosts at least one big event in Surrey. This year it will be at Chuck Bailey Youth Park – 13458 107A ave – and there will be 2 separate competitions, one for skateboarding and one for BMX. Friday, May 3rd at 4pm the event will begin with qualifying heats for both activities in different age groups 9 & under; 10-13; 14-18; 19 & over. The qualifiers for each category will make it to the finals later in the evening where they will compete for the prizes.
Registration starts at 3pm so get there right after school or work.
And the Surrey Firefighters will also be present running a Free BBQ and participating in some Basketball Tournaments happening inside the Rec Centre.
So come out, have fun, and bring your helmet if you got one.
Let's celebrate the Youth of Life together.