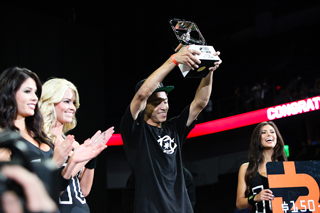 It's coming like a thunder storm, nothing can stop it.
Street League 2012's third stop is in Glendale, Arizona this weekend – July 14-15. Nyjah Huston has already proven himself to be the Top Dog of Street Skating after taking 3 out of 4 competitions last year (2011) in the Street League Series winning hundreds of thousands of dollars at such a young age, and this year has already reminded the world why he gets paid to skateboard by winning the first 2 competitions. Stop 3 is ready to start and you can be pretty sure Nyjah is mentally prepared. Can anyone beat this kid??
Ryan Sheckler, Chaz Ortiz, Sean Malto, Chris Cole, Paul Rodriquez – are you out there??
Who can stop the Nyjah Train?
Only one way to find out, ESPN…
Stop three: July 14-15
Jobing.com Arena, Glendale, Ariz.
Live on ESPN2, July 15, 7:00 p.m. ET
Championship: August 26
Prudential Center, Newark, N.J.
Live on ESPN2, August 26, 5:00 p.m. ET
Watch the highlights from Stop 2 – Ontario, California
[youtube id="rIU_eUIL3cQ" width="620″ height="360″]