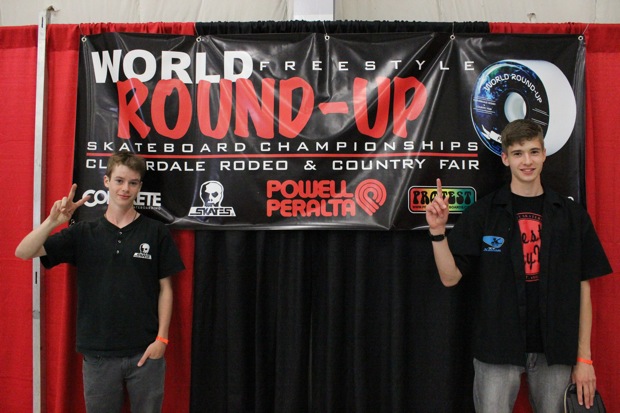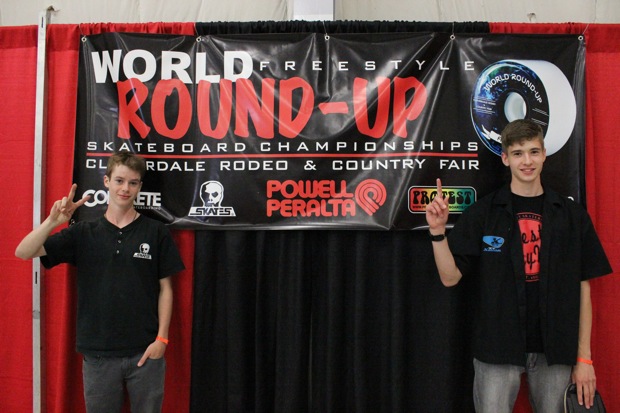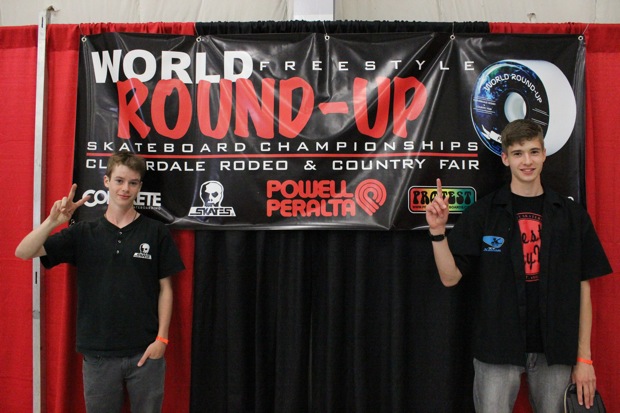 Well, the 2nd day of The World Round Up was definitely insanity. This was the Semi-Finals and it was crazy – so many people were throwing down everything they possibly could imagine trying to try and make it in the Top 10 for their categories to be in the Finals on Sunday. Even Kevin Harris couldn't get over how unbelievable the tricks going down were. But this is to be expected since we are looking 40 of the best Freestyle Skaters in the World. Japan, Brazil, Germany, USA, Slovakia, Costa Rica, Sweden, United Kingdom and Canada are all being represented in full effect. And one of the coolest things happened today, PD from Skull Skates was on site and awarded every competitor with a custom made Kevin Harris/Skull Skates Deck and they were all i awe. So awesome!!
The crowds were huge today, there was a 5 minute demo by Kevin Harris, Kilian Martin and AJ Kohn that may have been the best demo I ever saw, and the the competition was insane all day. The best part is both of Protest Skateboards Team Riders are in the Finals for Amateur in the top ranks – Ryan Brynelson in 1st and Andy Anderson in 2nd. This is amazing, and all we can do now is hope they both keep skating as good and as consistent as they have been already and keep these positions after the Finals. I think they can do it and I'm stoked to have them both representing for me.
The Pro category is gonna be the tough one for sure. I can pick out 6 guys I know will make the Top 10 but that leaves only 4 spots out of 17 more skaters. I would hate to be a judge, and these guys gotta recognize that even if they don't make the finals, they still did amazing jobs and wowed some massive crowds today.
Sunday May 19th is the day you need to be at this event. Shit is going down for sure so come out to Cloverdale and support your locals Andy and Ryan, and be prepared to see the craziest skateboarding you have ever seen. $10,000 in prize money leaving the building tomorrow.
Amateur Finals @ 11am-12:30pm
Professional Finals @ 4pm-6pm
Here are some photos from today