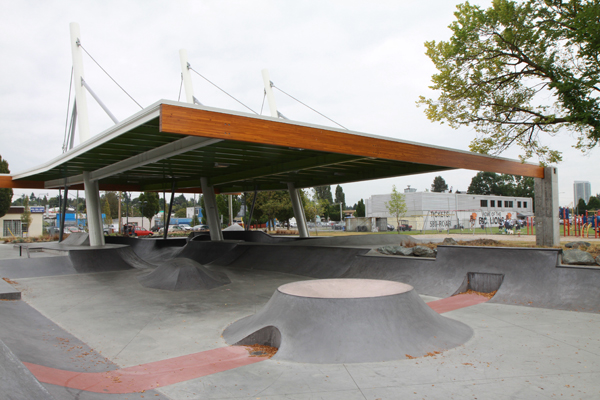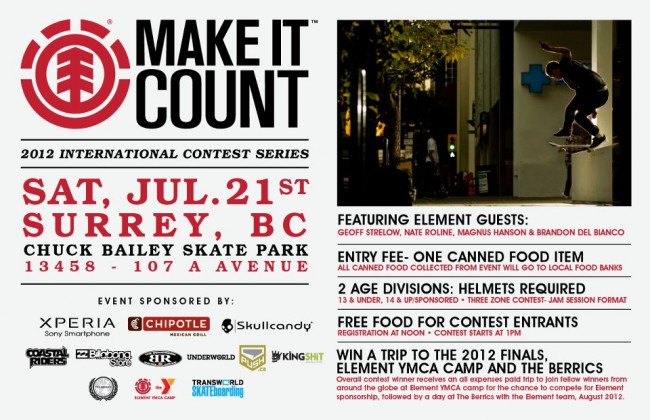 Only a couple days left before the Element Make it Count contest is at Chuck Bailey Skate Park in Surrey. It starts at 1pm. As it says on the flyer, "Win an Experience of a Lifetime." With special guests from the Element Canada Team, it should be a good time. All you gotta do is show up and skate hard, and maybe you'll win….
All info is below:
 ELEMENT MAKE IT COUNT | INTERNATIONAL SKATE CONTEST SERIES WIN AN EXPERIENCE OF A LIFETIME
SATURDAY, JULY 21ST
SURREY, B.C.
CHUCK BAILEY SKATE PARK
13458 – 107 A AVENUE
FEATURING ELEMENT GUESTS:
BRANDON DEL BIANCO, GEOFF STRELOW, NATE ROLINE, AND MAGNUS HANSON
ENTRY FEE: ONE CANNED FOOD ITEM
ALL CANNED FOOD WILL GO TO LOCAL FOOD BANKS
TWO AGE DIVISIONS:
13 & UNDER • 14 & UP/SPONSORED
THREE ZONE CONTEST • JAM SESSION FORMAT
FREE FOOD FOR CONTEST ENTRANTS
REGISTRATION AT NOON • CONTEST STARTS AT 1PM
WIN AN EXPERIENCE OF A LIFETIME, A TRIP TO THE FINALS AT ELEMENT/YMCA SKATE CAMP AND THE BERRICS!
OVERALL CONTEST WINNER RECEIVES AN ALL EXPENSE PAID TRIP TO JOIN FELLOW WINNERS FROM AROUND THE GLOBE AT ELEMENT/YMCA SKATE CAMP, FOR THE CHANCE TO COMPETE FOR ELEMENT SPONSORSHIP, FOLLOWED BY A DAY AT THE BERRICS WITH THE ELEMENT TEAM, AUGUST 2012