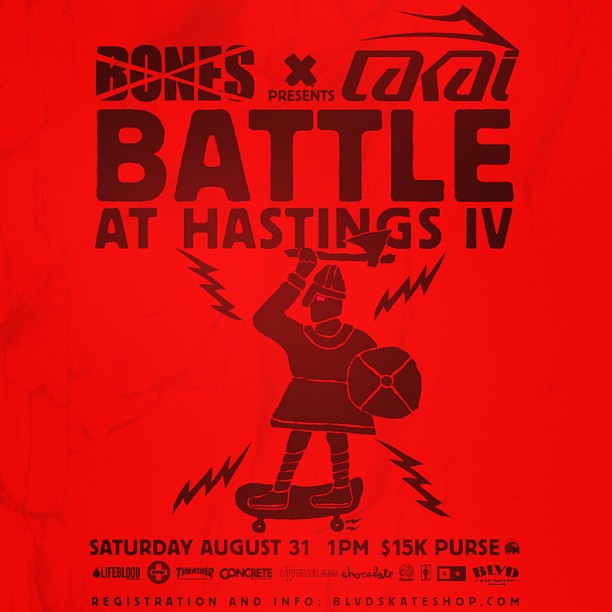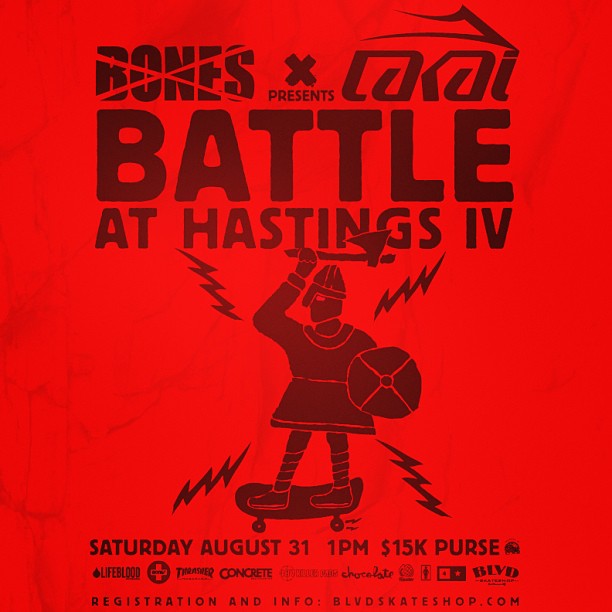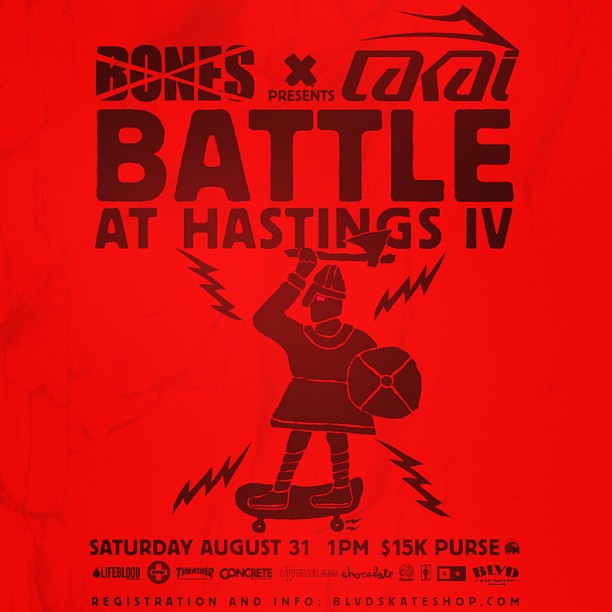 This Saturday marks the 4th Battle at Hastings, a solid hardcore bowl contest put on by Kevin Kelly and BLVD Skate Shop. All 3 of the first years were amazing and this year Kevin has World Cup Status which means a bunch more pros will be heading north to Vancouver for the event. $15,000 in prize money will be handed out amongst these shredders throughout the day. But the question is who will be the ones pocketing it?
Here's the list of competitors:
Andy Anderson 
Adam Hopkins 
Adam Richter 
Alex Sorgente 
Anthony Hancock 
Aiden Dansey 
Brad McClain 
Bryce Stark 
Chris Klich
Chris Connolly 
Conlan Killeen 
Cody Lockwood
Charlie Blaire 
Danny Tumia 
Danny Hagge 
Elijah Burle
Frank Shaw 
Frank Faria
James Clarke 
John Morgan 
Johnny Turgesen 
Keegan Sauder
Mike O'Friel
Mason Merlino
Nick Peterson 
Riley Boland
Rick McCrank 
Raven Tershy
Stevie Denham 
Steve Reeves
Sky Siljeg 
Last year Mason Merlino took the gold, but this one is gonna be super hard to repeat that. If you've ever been to Hastings Bowl then you know exactly why I say that. This bowl can take you out at any moment, as it proved last year by breaking Dave Priest's knee and separating Adam Hopkins' shoulder. It's gonna be interesting to see if the Ams can keep up with the Pros this year as well, but most of the Ams are local to Hastings so they definitely stand a chance. Our eyes will be on our team rider Andy Anderson along with some other locals like "Frontside Kid" James Clarke, Conlan Kileen and the 2 Adams, but at the same time it's gonna be tough to beat the skills of Keegan Sauder and Rick McCrank.
Of course there's also that guy named Raven Tershy showing up…
The only way to know how unreal this contest is gonna be will be to show up and watch it.
Battle at Hastings IV
Saturday August 31st @ 1pm