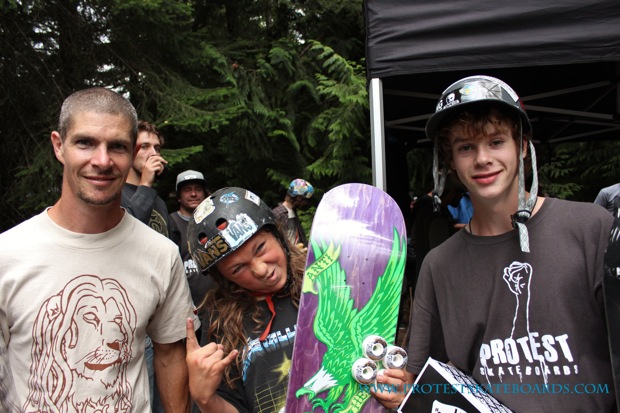 The day has come when we have a new King of the Bowls and this one was definitely a first.
It was another crazy weather day and everyone that was driving betweenSquamish and Whistler was sure that the competition would be cancelled  since it was raining mist in the valley, but low and behold Whistler Bowl was dry, and luckily stayed that way right until the end of the contest. Things got rolling at a normal time but with Crank Works happening around the corner a lot of people missed the Beginner Category because they were trying to find parking. It was war out there in the parking lots and also in the bowl. The little dudes shredded the best they could mainly sticking to the bathtub at the top of the bowl. The crowd was behind them as usual and everyone had fun which is all that matters. The Intermediates stepped it up by busting tricks on that barricade in the bathtub and some of them tried to utilize the entire bowl as best they could. Little Rylee Wong showed his carving skills by hitting every tough line he could throughout the bowl carving both backside and frontside super smooth and he was the only kid that could make it all the way back up to the top from the bottom without pushing. He finished in 2nd place just beating out Jake from the island who had a lot of awesome tech trick all over the bowl, especially on the barrier. But neither could keep up with old purple pants Riley Allen who knows how to fly. Airwalks, Salflips and Bonelesses everywhere, Riley showed he knows how to work the old bowls. 1st Place representing Surrey, way to go buddy!
The ladies division was dominated by Carrie Williams & Krystal Clear. Carrie laid down a tons of tricks in the top section of the bowl as well as the deepend, but Krystal showed how to hit the gravitron frontside and took the win.
When we got to Advanced it was announced that there were a lot of "Heavy-Hitters" in this one and that was no lie. Tons of Local boys that you only see at their park were in the house, but it was the dudes that travelled there that would take the medals. A new kid to Bowl Series Merrick Orr out of Sooke on the island has been wowing people all summer in the contests and kept it going hard at Whistler. This long haired slayer shows his fearless side all day long as he pops ollies over every hip going down the bowl and throws down a ton of tricks everywhere he rides. At 13 years old he is making a name for himself, and took home 3rd place at this finale. Good job Buddy! When it came to the Top 2 it was 2 that have been running this series all summer. Both these guys were looking like they would be King this year for sure except for 2 conditions – 1. They both missed one event this year and 2. They have both been King already and you can't win it twice. But Andy Anderson and Eve Feaver reminded the crowd why they were royalty at this one. Eve is killing it this year at 41 years of age and he works hard to keep up to these young bucks, he dominates the deepends of the bowls and carves lines that others fear, while Andy shows how he is only getting better with age at 17 and lands every single trick he tries whether it over a hip, on the barricades, out of the bowl or something freestyle incorporated into the bowl. The best tricks Andy tossed at this one that no one had ever seen before was a pop to pogo on the 3rd corner wall and pop back in, and then he finished the run off by casper stalling the deep end – that was insane… I'm very proud to have both of these shredders on the Protest Skateboards Team and they repped hard all summer placing in every bowl series ad sharing the wins. Andy Anderson took 1st place at this one.
When it came to announcing this year's King of the Bowls not too many people had a clue who it would be since most of the rippers had already won it before and others didn't make it to every comp this year so they didn't qualify. Strato got on the mic and made a humble speech about the fact that this year's King would be from the Intermediate category and would also be the youngest Kingso far at 9 years old.
Bowl shredder Rylee Wong is the 19th King of the Bowls!!
Rylee got woken up from a nap  the car to come and claim his trophy and join the historic list that many dream of being named on. He had no idea this would happen and was super stoked. Next year he will be forced to compete in Advanced and defend his title. Give it up for him, and be stoked on another successful year of the King of the Bowl Series.
Andy Anderson
Eve Feaver
Merrick Orr
King of the Bowls – Rylee Wong
Special Thanks to Mark Halliday and Moonrider Productions for shooting photos and filming at each stop of the Series this year. There will be a video Documentary out soon of Bowl Series #19. Until then, enjoy the photos from the final stop…
http://www.flickr.com/photos/moonriderpro/sets/72157635166738530/