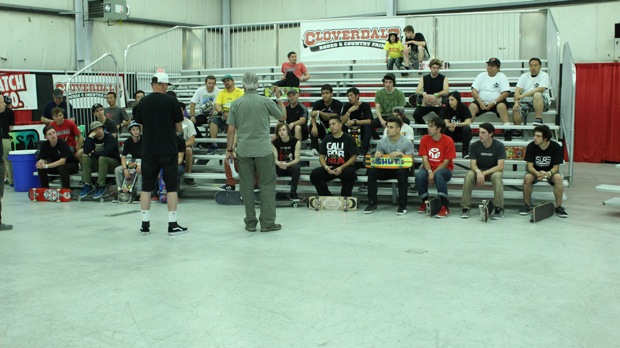 After the first 2 days of the 3rd annual World Round Up Freestyle Championships it is no doubt that this year has the craziest skating going on. With a flock of new Amateurs and a couple old time Pros showing up it is definitely different from last year. All the competitors are stoked to be in Canada again, or for the first time for some, and the positive vibes fill the room. This year's highlights include a barely 11 year old prodigy child from Japan named Isamu Yamamoto who so far has been blowing away the audience as well as the judges with his pure skills and straight confidence, he is a natural skateboarder and showman for sure. He will be heading into the Finals in 1st place position and will be trying his hardest to continue his successful runs and finish on top of the Amateur division. Right on his tail though is local boy Andy Anderson who is trying a little harder in this his 3rd year at the event. Last year he finished 3rd in Amateur and I'm sure he wants to keep it in the top 3 again. Andy's skill level, creativity and consistency is awesome and gets all the other competitors excited, especially the Pros.
Another cool factor is that lasts year's Amateur winner Ryan Brynelson has moved up to the Pro division for his first Pro contest, and so far he's sitting in 6th Place against some true legends of Freestyle. A good chunk of the Pro division riders are in their 40's and 50's and are fully trained to never miss a trick. With guys like Guenter Mokulys, Lucio Lima, Rogerio Antigo, Per Cangaru, AJ Kohn & Stefan Akesson on the floor the crazy lines never stop.This year's Finals is going to be amazing and right now it is anyone's chance – top 15 are in there with 20 year old Mike Osterman and 50 year old Guenter Mokulys battling out first and second place by 1 point. Right now the reigning champion from last year Guenter is in 1st but Osterman really wants his chance to be the champ at the 2014 World Round Up.
Below are some photos from the first 2 days.
Finals happen Sunday May 18th 11am- 5:30pm inside the Curling Rink at The Cloverdale Rodeo
Click here for more details: http://www.theworldroundup.com/