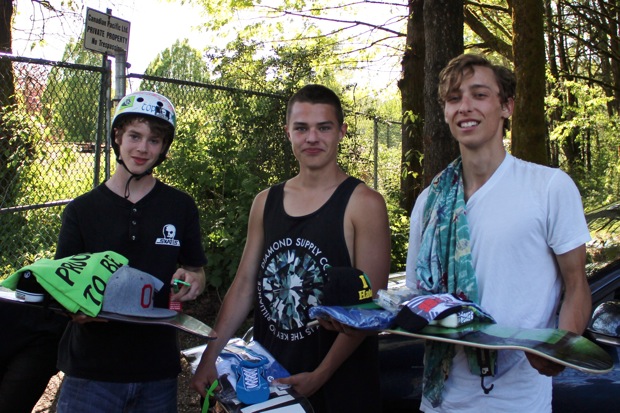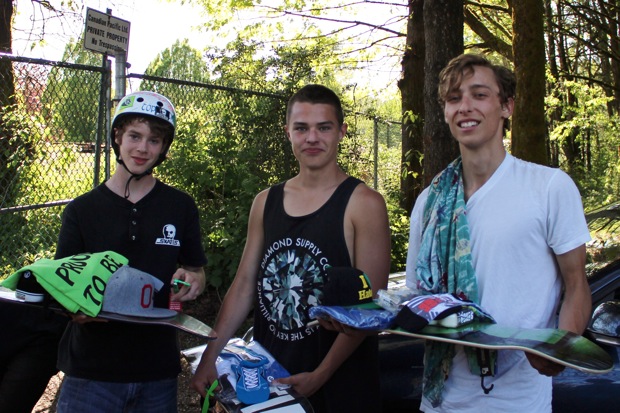 Wow! What a contest; what a weekend….
All 3 events were Youth and Child based and really displayed the intensity and insanity of the skater kids that are 18 or under in the Lower Mainland. Andy Anderson only went to Plaza and Railside which is a shame since he could've probably beat Dominic Devries at Chuck Bailey too and taken first place at all 3 events. But either way between Brad Muscat and Andy Anderson, Protest Skateboards was well represented at each one. There are many reasons these kids are on Team Protest, one being that Hippie Mike has mentored both of them for many years and taught them each a lot of what they know about skateboarding, but also because they are both fearless and amazing skateboarders. Today's contest was a great display of how many kids around here are so good at skating. Even in the super-mini categories, it blows your mind even just what you see the kids try. We gotta thank New Line Skate Parks right now for playing such a huge role in changing the face of skateboarding, making skate parks a part of the demand of every city, and helping skateboarders and skateboarding become more accepted by society. And while all this progression is going on behind the scenes, the kids that skate these "Training Facilities" end up being the next Ryan Shecklers.
I don't have too much to say about this Poco contest except it was really well done. Giver, or as he likes to be called – Michael James – put it all together with the City of Port Coquitlam and did a great job organizing it and running it. All the kids had fun, they all felt good even if they didn't win, and there were no negative vibes. Rippers of the day were Lukasz Brodowicz, Parker Sherwin, Aiden Eastman and little Presley from Squamish who all destroyed it in the 9 & unders; Kyler, Jonathen and Mathew McCauley took the prizes in 10-13's and the 14-18 category was untouchable. Fighter was killin' it for Protest on his last day as an 18 year old, but also almost killed himself a couple times slamming straight to his side on flat from the top of the big handrail, but he still Benihana'd the 9 stair and the Double Set, Gap to Front Tail up the step up rail, and crooked the nasty rail down the big bank. But he didn't place Top 3.
Travis put on a showcase of tech and creative trickery on the sets, the hips and the rails while Gabe Dinorscio showed why he is one of the next big up and comers from Vancouver area with kickflip grinds down the kinked ledge, solid tricks on all the ledges and hips, and a big 360 flip down the step up and over the bank, but no one could keep up with the AA Battery Andy Anderson. Andy reps for Protest and does it well. We are about doing what you want, being different and creative, and showing pure style on the course, and Andy easily takes care of that everywhere he goes. Airwalks down the 9 stair, feeble down the double kink rail, front foot impossible up the step up and a whole lotta ledge and rail tricks. I love how Andy effortlessly and undoubtedly won this competition and didn't even touch the bowl.
Solid contest, solid weekend, Thanks to all who supported Youth Week
Now here are some photos