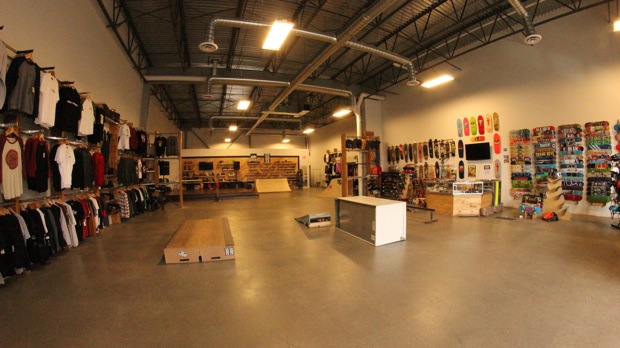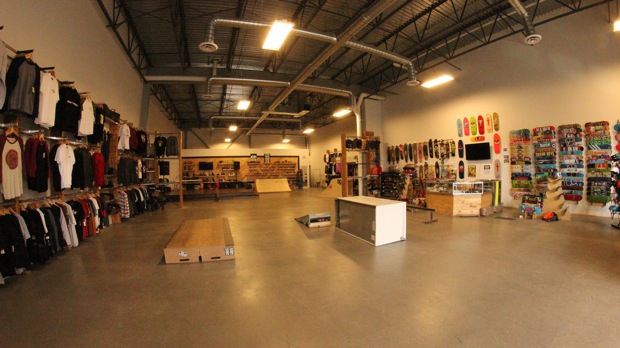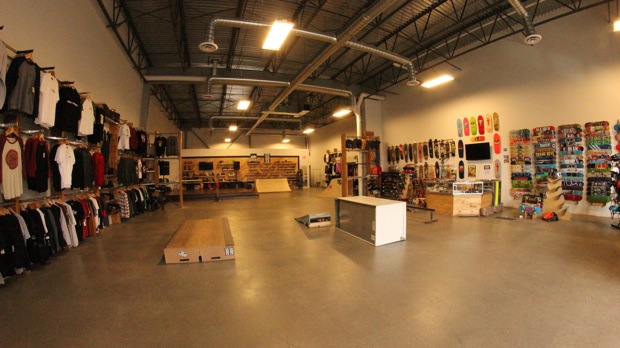 It was one of the nicest days outside so far this year but it was time to enjoy the day inside of a big ol' skate shop in Langford, BC called Heritage Board Shop on the Langford Parkway. This contest came together fast and had full support from every skateboard distributor out there instantaneously. How often does anyone run a skateboard contest inside of a skate shop?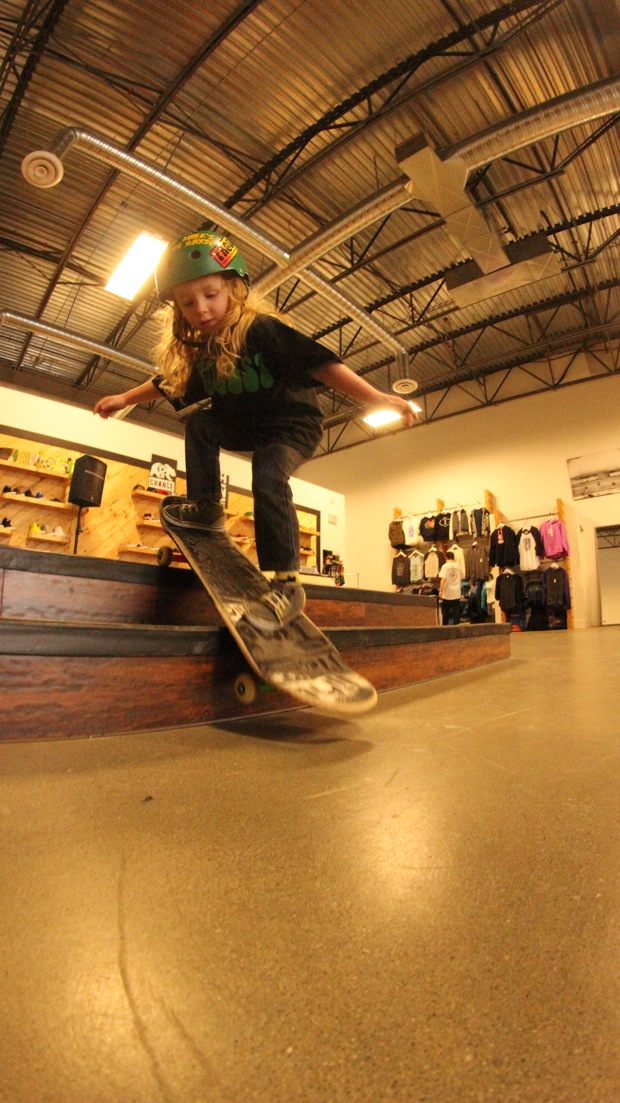 Since the Surrey Slamma was such a hit back in February I thought it would be great to run another event like it and this venue was perfect. It was in a smaller town where a lot of sick skating has been happening for a long time and this shop is huge. So we built some ramps, and borrowed some more and together myself, Joel Luyt the owner and JD Fetherstone the shop manager made it happen, along with help from many others. Free hotdogs, $10 entry fees and $1000 in Cash to be won, it was a given that this thing was gonna go off. And by the looks of how many people were warming up before noon I knew it was going to get crazy.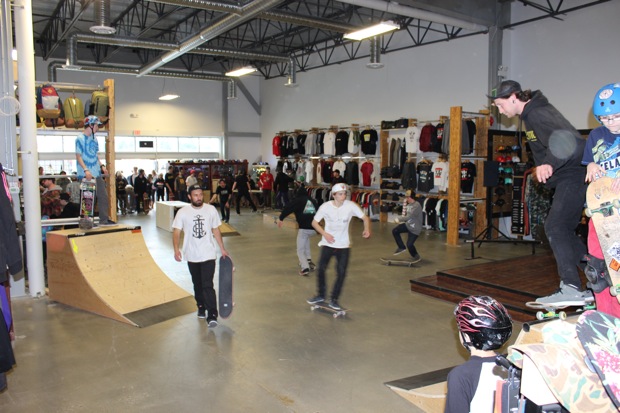 Over a hundred people showed up and hung out all day long and with much surprise a whole whack of people in all categories showed up from the mainland and represented hard. We started off with the Mini and Beginner divisions and kids were jumping off the 2 stair stage, hittin' coping on the quarter pipes and even trying crooked grind the rails. These kids worked super hard and had a great time for sure. It was a perfect start to the day. After handing out some prizes and $$'s I took a little break to rest my knee that happened to dislocate a bit earlier in the day and then got ready for the craziness, 18 people in Intermediate and almost 30 in Advanced.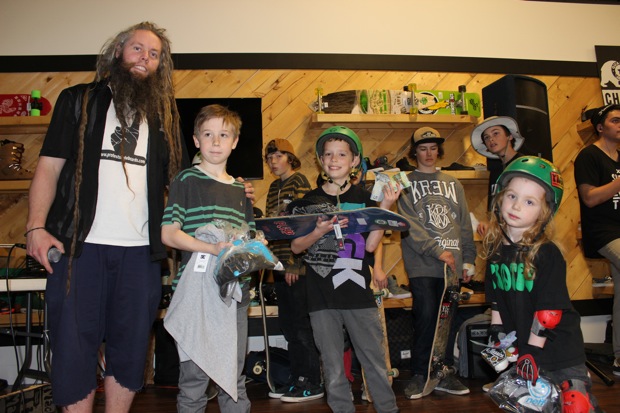 The Intermediates were putting on a show right from the get go, Kai Vander Veen came out with almost all switch & nollie runs, little Jacob Johnson was pumping up the crowd, Riley Allen from Surrey rocked his blend of old and new school hard, Connor Knight laid down the tech, and local boy Cam Blaney had the most cheers. These were the 5 that made the finals but all the Intermediates killed it!
So before Advanced we put on a Best Trick Contest on the Quarter Pipes which was for a $100 gift card to 4More Tattoos. Sooke/Langford shredder Merrick Orr climbed up on top of the shoe wall and tried to Tail Drop into the quarter. It was about an 8 foot drop to the transition and the first try hurt him bad. The maniac he is, Merrick kept climbing back up and crashing again and again but staying on his board every attempt.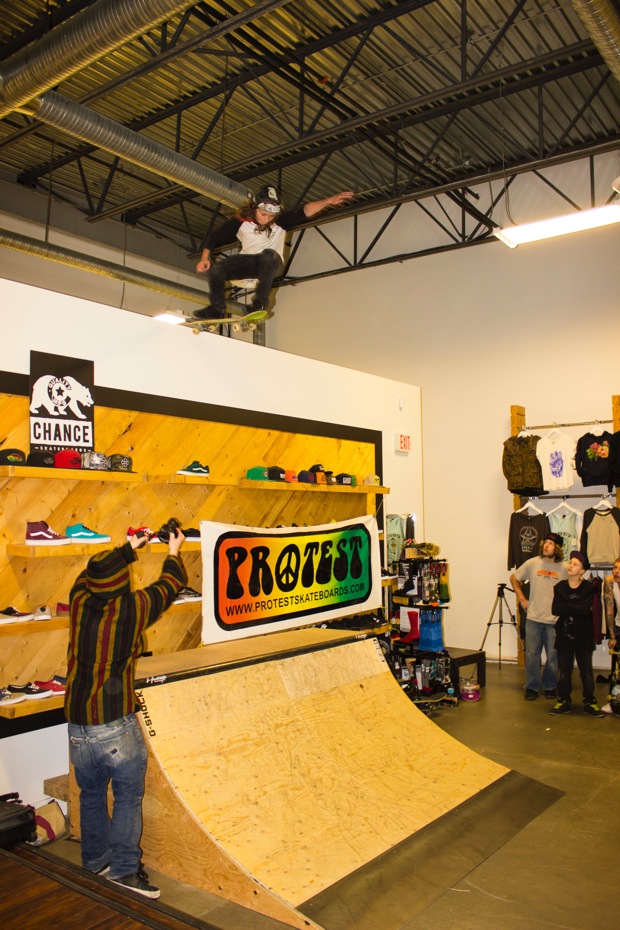 Finally I called it "The Last Try", and BOOM! the little ripper rode it out. Lots of other tricks went down in that Best Trick and people got some prizes but nothing was more impressive than that. From now until forever everyone at this event will talk about that tail drop.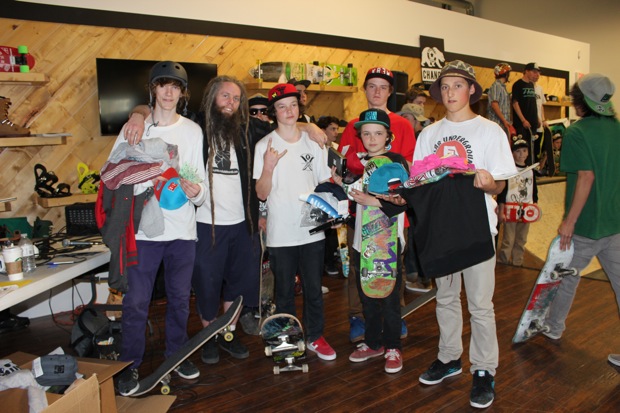 So onward we moved to the Advanced skaters and now that Merrick was way too hurt to skate any more it opened up the doors for everyone else to kill it. Mainlanders like Brody Mutch and Nic McNeill were killin' it for Chance, Mike Rogers and Michael James were reppin' Give'r Wheels, and Andy Anderson and Brad Muscat came to show off their Protest styles. A lot of sick Islanders were there trying to claim their land though –  Isaac Walker, Eric Timmins, Shaun Quinn, even Steven Munro from Regular Underground was in the house, but no one could catch Courtaney's Shay Sandiford. He was on a mission all day proving how solid and consistent he was. Backside 3's, back tails on the fridge, 180 double flips, heelflip grinds on the ledges and so much more, Shay had this comp wrapped up from the start and laid it down in the Finals taking $250 and an armful of gear. Sick job dude!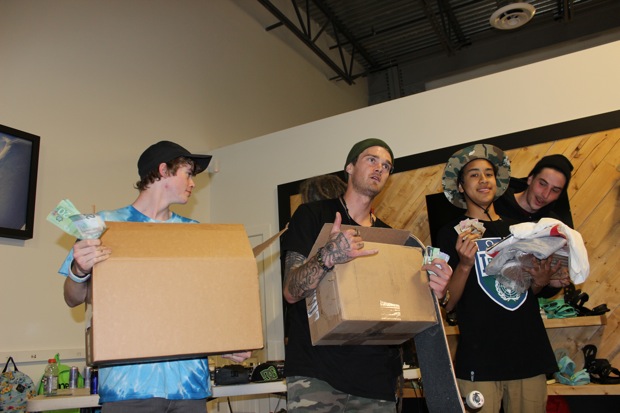 We finished it off with a quick Best Trick on the bump to Fridge set up and shit was going down. The first trick was a frontside noseblunt by Mike Rogers who also kickflip frontside 5-0'd it, local boy Aiden Broe dropped a kickflip back tail and a back tail bigspin, but he got robbed at the last minute by Brennan McEwen and his hardflip 50-50 – Hundred Bucks!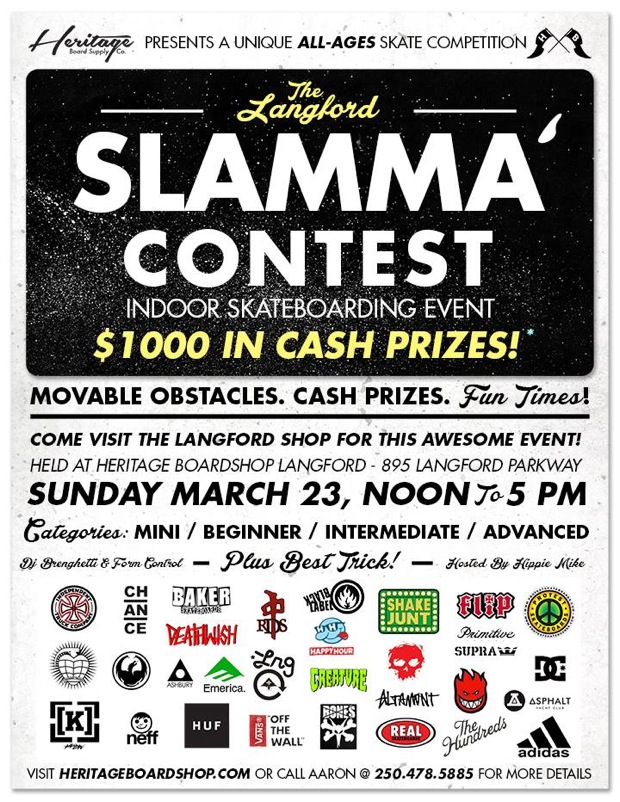 Big thanks to Jeb Neufeld for getting all the prizes hooked up and to all the sponsors.
Results
Mini: 1. Aidan Eastman; 2. Kaelen Faux; 3. Alex Freeborn
Beginner: 1. Cooper Lynch; 2. Jake Van Dyck; 3. Moises – other competitors – Luke Hanna, Keenan Barber
Intermediate: 1. Kai Vander Veen; 2. Riley Allen; 3. Connor Knight 4. Cam Blaney; 5. Jacob Johnson – other competitors – Corey Iverson, Finn Penney, Ethan Woodland, Eli Agostinelli, Dylan Lerch, Cody Pawliuk, Connor Lund, Matt Hyde, Cody Reid, Tyler Woods, Chadd Sinclair
Advanced: 1. Shay Sandiford; 2. Andy Anderson; 3. Brody Mutch; 4. Pierce; 5. Isaac Walker – other competitors – Matt Aulakh, Nic McNeill, Mike Rogers, Brad Muscat, Merrick Orr, Shaun Quinn, Alessio Trani, Marcus Billingsley, Greg Marchese, Steve Munro, Allen Handley, Ben Wag, Eric Timmins, Michael James, Brennan McEwen, Marc White, River Tavis, Aidan Broe