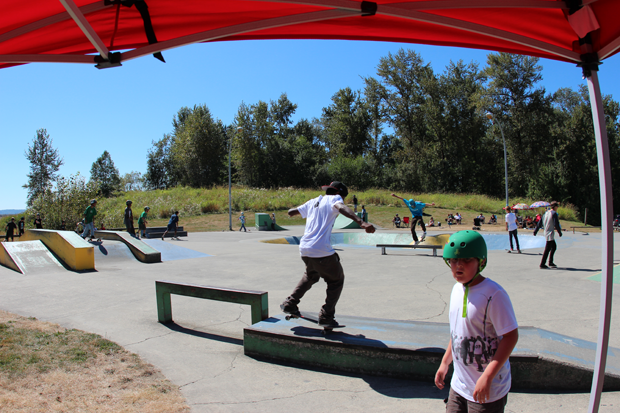 Finally a super sunny day in Cloverdale for a Hippie Mike's Tour de Surrey. 3 years in a row it rained and then last year it was just cloudy and cold. But not this time, sunny, clear and hot…
The Mini started off the day with aggressive moves, Jon Schrack was flying into the bowl, Mark Melyukov was stomping flip tricks and even little Aiden threw himself off the big drop which is taller than he is. Those Mini's are crazy, and if you haven't seen them in action, make sure you come out to the next comp on September 15th.
The Beginners are even more nuts. Morgan Skinner and Kai Searle led the crowd with outstanding runs. Kai had a completely flawless run and was not trying easy tricks, and Morgan was busting huge gap tricks including fakie Ollie off the halfpipe drop and a big half cab into the bowl. 1 point separated their total scores, wow!! They demolished the rest of the competition but it was super close for 3rd place between Justin Fiorante and Zacc Laster, but Zacc managed to hold on for the prizes. That's two 4th places in a row Justin, step it up buddy…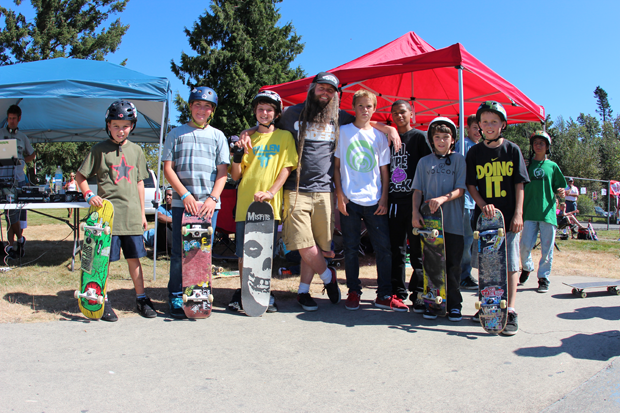 The Girls category was just Carrie Williams and Cali Martin but they both did their best and landed everything they tried, so it was all good.
The Intermediates got busy on the ledges and rails but were all dominated by ex-longhair William LeTourneau. This kid has been skating this Cloverdale Skate Park religiously since he started skateboarding and it shows. He's got all the tranny lines in the nasty bowl and grew up to lock down a whole bunch of ledge and rail tricks. Won by a mile. Little Luke Thodus could be in the Mini category since he's 10 years old, but entered the Intermediate where he belonged. This kid's pushing 4' tall and is completely fearless, and super skilled. 50-50's down the kinked rail, lipslide on the rail down the stairs and whatever else he felt like going for. The best part of Intermediate was seeing Francois LeBlanc with his pants and socks hiked up as far as he could get them for his second run, just cruising around doing pointless old school for a laugh, but landing everything. Francois is heading back to the East Coast this week so that was the last contest we'll see him in for a while…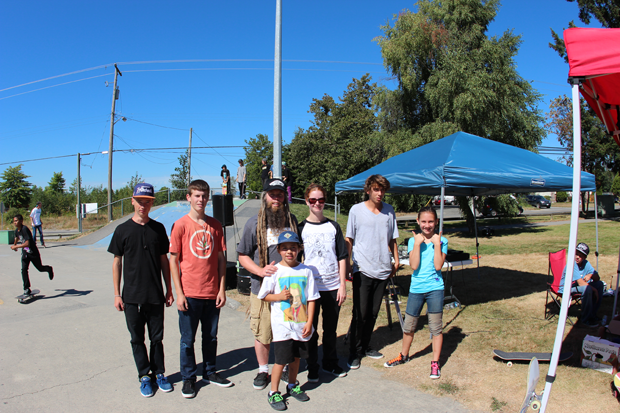 Shawn Jafarnejad from Ollie North Skate Shop had a Best Trick Contest on the 3 stair rail before Advanced and gave away a Deck, a Shirt and a Pair of Shoes. Quick and serious.
The Advanced was stacked with rippers, a lot of them who had plenty of experience at the old Cloverdale Park, Mitch Salter, Jay Mykyte, Jordan Strong, Brendan Nielsen, Keegan Anderson, Andre Bissonnette…. But they were all trying their hardest not to lose to The Dominator, Dominic Devries. Nice try boys, maybe next time. Brendan came the closest. We finished off the contest with a chance to see if anyone could Ollie the old gap into the shallow end of the bowl and land on the hotdog. Jordan Strong, Allen Handley and Mitch Salter went for it and nasty as it was, Allen won it as the only one to ride away. Good job dude.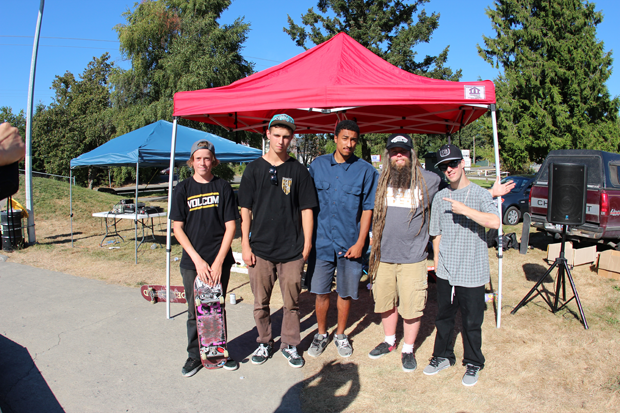 Well, this was most likely the last ever Hippie Mike's Tour de Surrey Contest at the Old Cloverdale Skate Park since New Line Skate Parks is already trying to lock down the designs for the new one. The old park will be removed and the new one will be built around the corner beside the Cloverdale Recreation Centre – 6188 176st and should be done Spring 2013. I'll be left with a ton of awesome memories of lots of kids that I raised as skateboarders in that park through skateboard lessons, camps, and tons of competitions.
RIP old Clovy, and Good Riddance…
 Results
Mini: 1. Mark Melyukov; 2.Jon Schrack; 3. Parker Sherwin; 4. Joe Maillet & Isaiah Stroud; 6. Aiden Eastman; 7. Eli Paad; 8. Kaelen Faux 
Beginner: 1. Kai Searle; 2. Morgan Skinner; 3. Zacc Lester; 4. Justin Fiorante; 5. Nick Bachmeier; 6. David Martin & Justin Gouthier; 8. Riley Allen & Weston Hutchinson; 10. Patrick Jonas; 11. Adam Lewis; 12. Riley Robertson; 13. Bachouch Michael; 14. Finn Schanlka; 15. Matthew Lalim 
Girls: 1. Carrie Williams; 2. Cali Martin
Advanced: 1. Dominic Devries; 2. Brendan Nielsen; 3. Jay Mykyte; 4. Calvin Dignard; 5. Jordan Strong; 6. Mitch Salter; 7. Keegan Anderson; 8. Allen Handley; 9. Ryan Barron; 10. Alexander Savage; 11. Quinton Salter; 12. Andre Bissonnette; 13. Ben; 14. Robert Wylie
See you next time at this year's Grand Finale
South Surrey – September 15th, 2012
Remember to prepare for a full day as I won't announce any winners until the end that day. Top 3 in each category will receive plaques, the King of Surrey 2012 will be announced and the so will the winner of the Show Up Mike Contest…