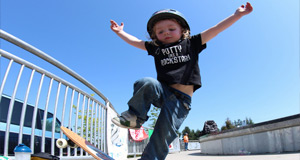 What a clear day, you could see for miles and miles, except for when that truck burnt to the ground on the corner of 105 Ave and 152 st. right beside the park.
Not the biggest crowd I've ever seen at Guildford Bowl but still decent enough to make it count for a contest. The Minis and Beginners were definitely shredding, and the older dudes all showed up to win it. The competition was tight in all categories, but Advanced was a battle.
In Mini, Jon Schrack kept his flow going from the previous 2 contests this year and took home another gold. He was flying over the gaps and ripping up the tranny in the bowl. Joe Maillet showed off his skills all over the park and Aiden Eastman skated the bowl fearlessly, which is amazing since you can hardly see him in there he's so tiny. Dax Searle entered for the first time and did his best, and then little Kaelen Faux barged in a run after the Mini category was over. Kaelen walked over and requested his helmet from me, picked up his skateboard and stated that he was entering the competition. A pretty bold statement from a 2 and a half year old, so I had to let him have a run. He spent most of his time holding on to his Mom's hands and trying big ollies, but we did get a show of his pogos too. Great job Mini's!!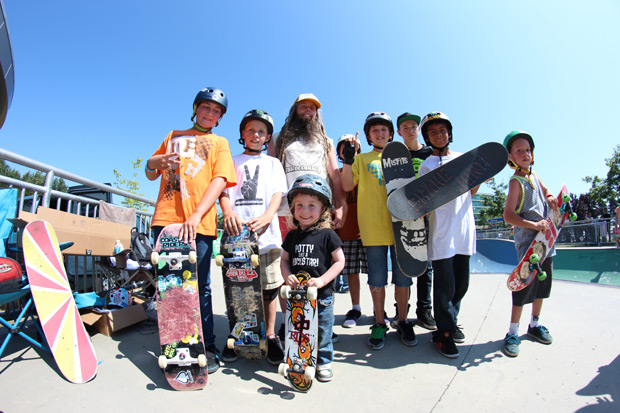 The Beginners were insane like always. Kai Searle started first and set a high standard for the rest to follow. Everyone was going for it, Matthew Major boardslid the 6 stair rail, Adam Lewis blasted over the double set with ease, Riley was going huge out of the bowl and Justin Fiorante landed almost everything he tried. A tough decision for the judges to only have 3 winners.
The Intermediates forgot to show up to this contest so I blended them together with the Girls, tough break for the guys because the Ladies were ready to destroy this place. Jacob Drescher and his buddy John were the only dudes in the heat and Jacob had to work super hard to even place Top 3. It's a good thing he laid down a kickflip over the 6 stair and a 3 flip over the 2 block to finish his run because the ladies were fiercely killing the bowl. Brianna Palmer and Carrie Williams both shredded around the entire bowl with speed and stability, Carrie laid down a bunch of tricks in the halfpipe, on the taco and outside the bowl on flat. Heloise Wathelet just hit the halfpipe section up for both of her runs but threw down some serious skill tricks including a stomped out kickflip rock and a popshovit rock in the second run. But still no one could catch Elizabeth Nenniger blasting speed lines down and up the bowl and showing no fear with 50-50's and smith grinds both ways. She killed it!!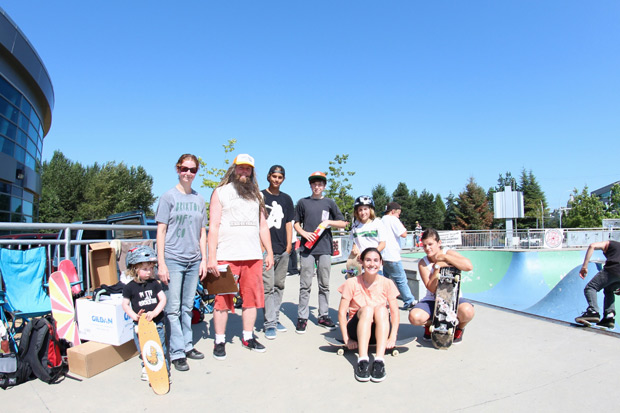 The Advanced is never easy, but Brad Muscat showed up with a mission, which gave everyone else a mission of their own – don't let Brad win. He set the bar high after his first run with a lot of tough tricks that other people don't do, and then finished his second run off with a nasty crooked grind down the double set rail which point straight at the corner of the building. Dominic Devries tore up the entire place in both runs, and actually probably should have won. He laid down skills in the halfpipe, frontside flipped the double set, and backside 5-0'd the hubba. It was a tough call between the 2, They both killed it… Zeebs was there, Lil' G was there, DJ Dale was there, Jaden Easton-Ellet and Jordan Strong were there, but no one was gonna take 3rd place away from Giver. The man known now as Michael James finally showed up with a vengeance and actually Gave'r. Giver shredded the bowl hard, long grinds, stylish bodyjars and crail tricks and finished off his second run with a perfect Miller Flip in the shallow end. Who knows, maybe he should have won. It was so tough to judge between those 3 dudes, they all killed it. Solid Efforts Boys.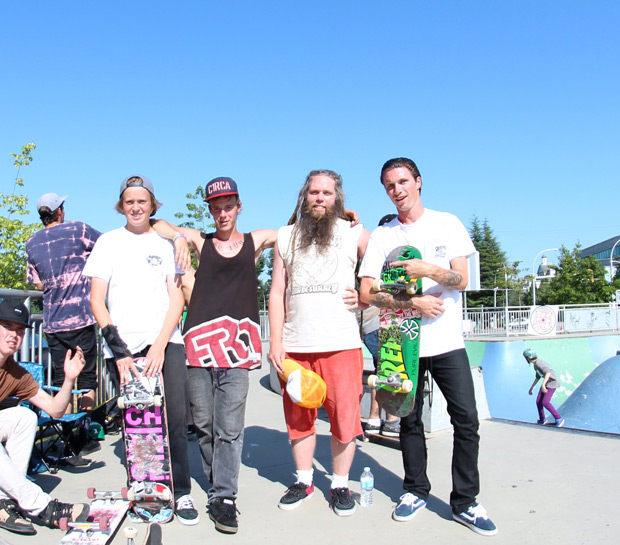 We finished off with a Best Trick anywhere in the park which I though Dominic was going to win for sure. Riley Allen got in there as the only Beginner competing against all the Advanced dudes and almost stuck a huge 360 Judo out of the bowl. Dale had the lead for a bit with a manual to nosebonk bigspin on the curvy ledge, and then Dominic hit a kickflip front board down the handrail, regular and to fakie. But Jordan Strong squeezed out a victory with a long manual over the curvy ledge down the drop onto the deck of the bowl, down another drop onto the middle of the 2block, around the s-turn corner and then kickflipped out. He took home a sweet Cooler Backpack and a sick funky shaped Folk Board. Sick…
Results:
Mini: 1. Jon Schrack; Joe Maillet; 3. Aiden Eastman; 4. Dax Searle & Kaelen Faux
Beginner: 1. Kai Searle; 2. Adam Lewis; 3. Matthew Major; 4. Justin Fiorante; 5. Riley Allen; 6. Patrick Jonas; 7. Austin; 8. Bachouch Michael; 9. Dylan Rossi; 10. Matthew Lalim 
Intermediate/Ladies: 1. Beth Nenniger; 2. Heloise Wathelet; 3. Jacob Drescher; 4. Carrie Williams; 5. Brianna Palmer; 6. John Furquhar 
Advanced: 1. Brad Muscat [Fighter]; 2. Dominic Devries; 3. Michael James [Giver]; 4. Jaden Easton-Ellett; 5. Jordan Strong; 6. Dale Kind; 7. Myke Johnson [Zeebs]; 8. Sean Cuddeford [Lil' G]
Best Trick: Jordan Strong – Manual drop Manual drop Manual to kickflip out
See you next time at
Cloverdale – August 25th 2012