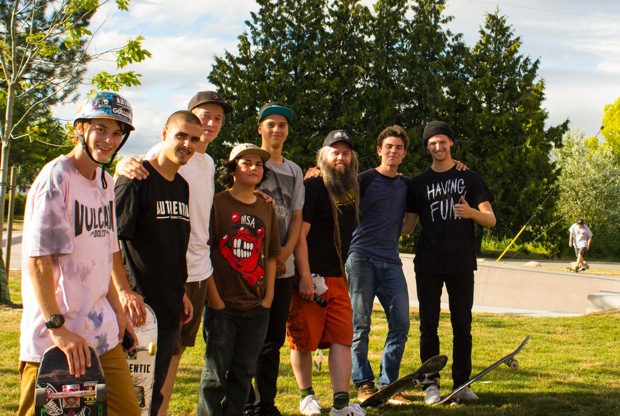 The start of a new era began exactly how the last one ended, it was a great day in Cloverdale and the New Cloverdale Skate Park was jumpin' with a crew of awesome dudes of all ages. Hippie Mike on the mic, DJ Cuz-O on the mixing tables, and the DC Rep Kristen hangin' out all day helping out with registration and hooking kids up with gear left right and centre. We kicked it off with the Mini Category and all 5 kids were going hardcore, little Aidan Eastman went down hard on his wrist down the 5 stair rail and had to rush out for X-rays, but he was okay in the end. Emmanuel killed it hard in the division utilizing all obstacles and even ollied the big 7 stair, lil' Kaelen Faux shredded like no 4 year old should know how to and came in 2nd place, followed closely by Carson Ziegler. The Beginners came out just as hard, except there was 20 of them. It's always a big eye-opener when everyone in the park has astonished looks on their faces while watching beginners, you know right then that the contest is gonna get hectic. Masson Solski squeezed his way into the finals and then turned it up about 4 knotches to take home 1st Place. All the beginners skated really solid putting together runs and landing lots of tricks but the ones that stood out the most were Damon Morgan, Devin Petry, Layne Nyirfa, Yoshe Durston and Kyle Neill. All 6 of these guys killed it in the finals.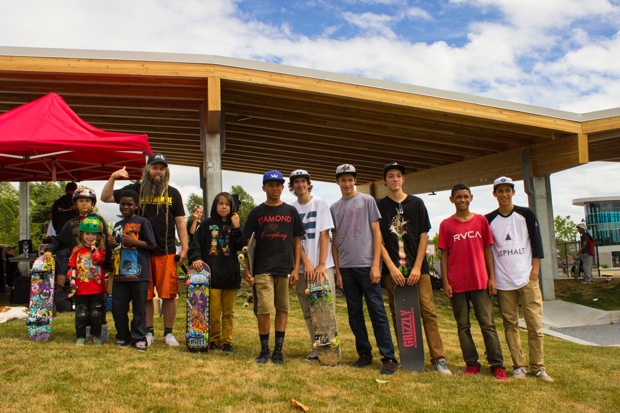 The ladies category was small like usual but they all had a good time, Katie and Tienna ripped around the park carving up lines while Carrie Williams popped all her usual tricks on the flatbanks. Intermediate category was large and in charge, and owned hard by Zacc "Doogie" Lester. This kid was shredding so hard and barely missed a trick all day hitting tons of flip tricks, rail tricks and ledge tricks. After taking 1st Place in the category he was offered a spot on the Authentic Board Supply Shop Team and accepted it, that means it's time to step up even more and start competing against the big boys. The rest of Intermediate was super tight, kids were kickflipping the biggest gaps, Justin Fiorante and JR Barron were putting solid lines together using all obstacles, and Kory Laan reminded the crowd how technical and solid he is, even after not skateboarding for over a year. Intermediates killed it, and got the Advanced guys stoked.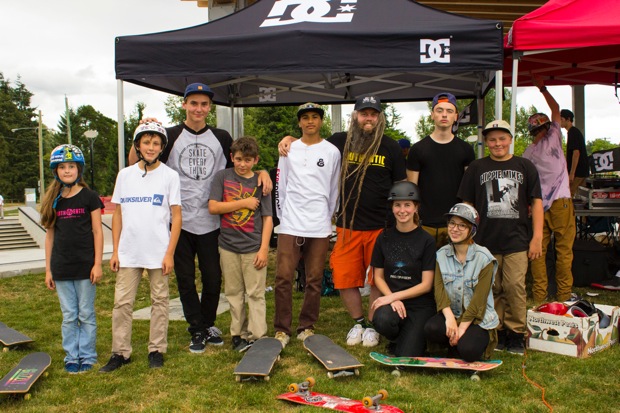 Advanced was full of some heavy hitters with lots of talent like Gabe DiNorscio, Hugo Bedard, Cory Gibson, Sam Cook and Fighter, but the finals consisted of Mathew McCauley, Andy Anderson, Jacob Drescher, Dominic Devries, Andy Anderson, Michael Ray and Ryan Le Pore. The finals was a 10 minute Jam session where all 7 guys skated together, it ended up looking like a best trick contest on the 7 stair setup where all these guys were killing the rails, the hubba and the set. Top trick had to be Ryan Le Pore sacking himself hard and then getting back up and landing nollie flip boardslide down the 7 stair rail. He won the contest! First winner at the New Cloverdale Skate Park! Hopefully he comes out to all 3 events.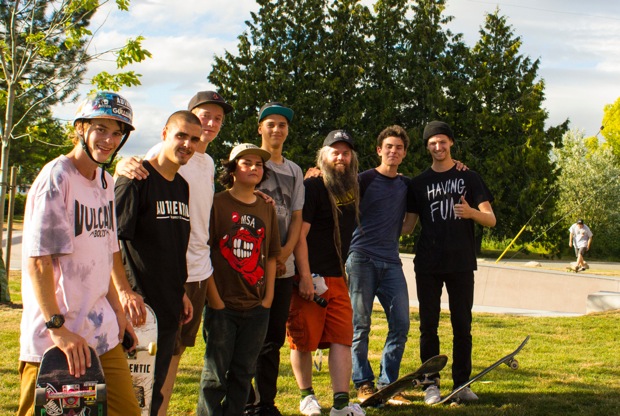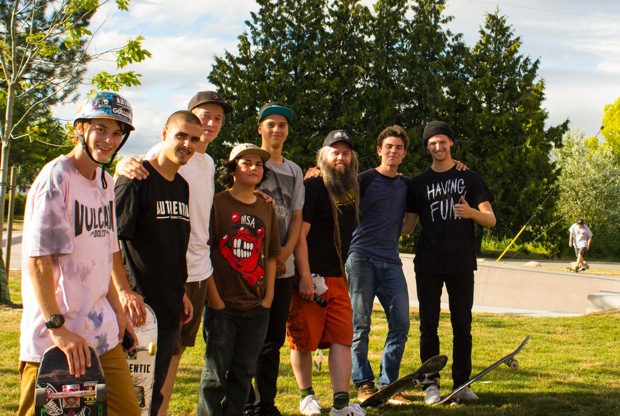 The Best Trick happened down the 7 stair set up and lots of prizes were earned. It was a great day all around, the vibe was positive, the weather turned out nice, and everyone had a blast. Thanks for coming out!
Next Stop – Bonsor August 23rd
Results:
Mini: 1. Emmanuel; 2. Kaelen Faux; 3. Carson Ziegler; 4. Aidan Eastman; 5. Noah Atkins
Beginner: 1. Masson Solski; 2. Devin Petry; 3. Layne Nyirfa; 4. Damon Morgan; 5. Yoshe Durston; 6. Kyle Neill; 7. Lukas Zhanel; 8. Elliot; 9. Blake Storie; 10. Anthony Villareal; 11. Josh Russell; 12. Parker Sherwin; 13. Dominick McWilliams, Braedyn Ryan, Austin Blackwell, Jake, Ken McLean
Intermediate: 1. Zacc "Doogie" Lester; 2. JR Barron; 3. Justin Fiorante; 4. Kory Laan; 5. Jayden Ristich; 6. Mark Melykov; 7. Riley Allen; 8. Chadd Sinclair; 9. Justin Gauthier; 10. Dallas Lang; 11. Nathan Gladue; 12. Bradley Dodd, Josh Lewis; 13. Liam Pitts, Elijah Chutskoff, Robert Wylie, Nick Bachmeier
Girls: 1. Carrie Williams; 2. Tienna Rivard; 3. Katie Wotjun
Advanced: 1. Ryan Le Pore; 2. Mikey Ray; 3. Dominic Devries; 4. Andy Anderson; 5. Jacob Drescher; 6. Weston Ganger; 7. Matt McCauley; 8. Noah Eastwood; 9. Brad "Fighter" Muscat; 10. Cory Gibson; 11. Reed Timmonds; 12. Hugo Bedard; 13. William LeTourneau; 14. Allen Handley; 15. Sam Cook; 16. Gabe Di Norscio; 17.  Calvin Dignard; 18. Barrett Lediard