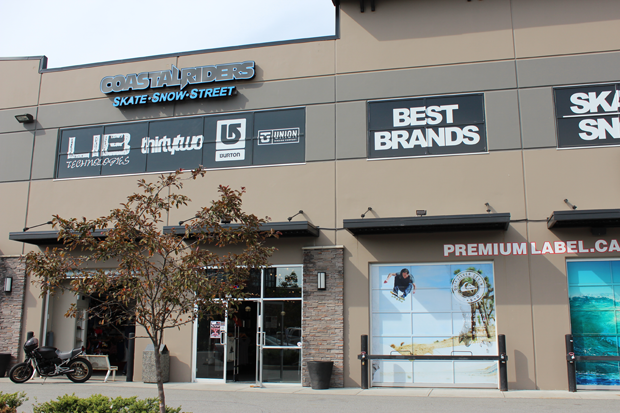 It's a long boring story, but it ends well. Years and years ago I was sponsored by Substance Skate Shop and I was the Team Manager. In ignorance I brought Jay Mykyte, Stu Benoit and Drew Boyle on to the Team from the other Surrey Sk8 Shop – Coastal Riders. I say ignorance not because it was a bad move to bring them on, I love all those guys and am stoked for the relationships we built, but in hindsight it should have gone the other way and instead of taking 3 riders from Coastal's Team, I should have moved on to theirs. Eventually the atmosphere at Substance was getting a little weird, and people were not as happy, and I ended up leaving the Team and going into Coastal Riders and asking if they'd hook me up. I didn't need my name published, and I don't really need any product because I already get everything I need for free or for cost. It was just for the sake of having a shop to promote. Then last year Jay Mykyte started his underground shop, Royalty Skate Shop in New West and so I started reppin' for him to help promote his shop, but unfortunately things fell apart and the shop closed during the winter. Hopefully Jay will get it reopened one day, somewhere in Surrey.
So through all this battle of life, and a decade of chaos, I watched all these skate shops close in my part of town, West49 closed both their Surrey locations, Fluid disappeared of the planet, Board Kennel went under, Paul's Boutique lives in the mall and doesn't count in my eye as a Skate Shop, and Coastal Riders stood there alone, eventually moving out to Langley where majority of the clientele had been coming from for the past 10 years. I have always been strong friends with all the guys from Coastal and never had any bad blood, and I was looking at their team on the website one day and it just astonished me. I helped create that team in a sense. Most of the guys on the team grew up under my wings, learning through the contests and events I provided for them, and even just from being around me in their younger years. And I love all of them like my children. I remember little Magnus when he was like 12 years old and I called him "Mr. Varial Heelflip" because he demoed them everywhere. I knew way back then that we were gonna see his skills go off the chart someday. I remember watching John Hanlon learning back lips on the Bear Creek rail, and teaching Scotty Tyson Blunt Airwalks, and putting Andrew Classon on the Protest Team when he was barely 11 and filming him kickflipping huge sets of stairs and hittin' rails. Almost every single one of these guys grew up competing in my contests and have fully impressed me at some point their young lives and I'm proud to be a part of their future. Dustin, Zaz, Hashbrown, Machnau, Stu, Derek Mayer and more. It's a true team of real skateboarders who are out there to have fun while they skate, it's a solid skate shop that is committed to promoting and supporting skateboarding to the fullest, and it's where I belong.
Thanks to Billy McElhinney, Scott Fierbach and Adam Field for always supporting me without question.
Coastal Riders for life…
Now get ready for some nasty Hippie Mike footage again