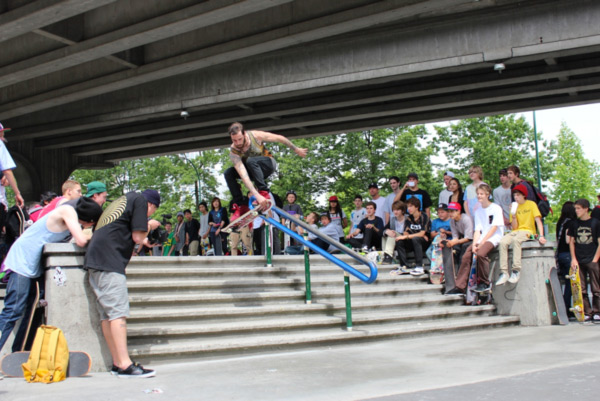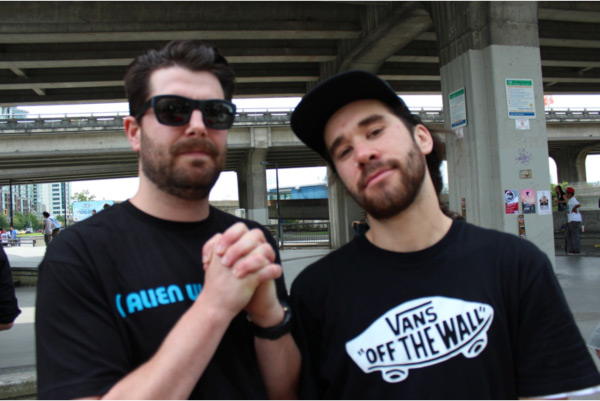 It was a beautiful day outside, especially first thing in the morning. Super sunny and just the perfect day to go out for a skate. A lucky coincidence that it was Go Skateboard Day on this day since the weather has not been the friendliest lately in the Vancouver Region. To prove how lucky it was, we got pissed on hard the very next day.
I got down to the Skate Plaza at about 10am to be greeted by hundreds of people of all ages skating their hearts out already. There was a huge line up for "Waffles on a Stick" formed on the side road and the crew was in full effect. Hosted by Vans and Underworld, along with DC, RDS and many others, MC Cyrus was ready to take control of the mob any time he felt like it. I skated around a bit and threw down some tricks on the Wally Ledges around the pillar and then started shooting photos. The best trick contest down the 7 stair was tight. Cody (GhettoBird) from Bonsor hardflipped over the rail, Ryan Prasad and Graham Bohn threw down multiple flip tricks to perfection, Dominic Devries showed up with a backside flip, and then kickflip front boarded the rail – the list went on and on. Cyrus was just handing out boards like Trick or Treat on Halloween. The kids skated the stairs, the hubba, the ledge over the grate, and the hip, and all 4 got demoed…
The mob moved out around 1:30pm to Cambie Bridge, followed by a couple street spots and then made their traffic disrupting way over the Georgia Viaduct towards Strathcona Park. I think there were more people at Strathcona at that one moment than there normally would be in an entire year. The place got destroyed, in a good way. I left early to head to Hastings Park for a BBQ, but not until after Ryan Prasad laid down a Heelflip Nose Manual Nollie Bigspin on the long ledge – solid buddy!!
Watch out for this kid, he is sick.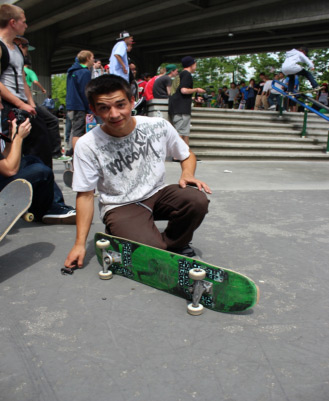 We headed out to Hastings and were met by the Local Crew, Surrey Stu Benoit, Timmers, McCallum, Adam Hopkins, and so on. Rob Boyce was there too, one of my favorites to watch. The beers definitely came out at Hastings, like usual. And everyone who knew how to rip bowl, did just that. The tricks were insane, huge airs all over the place, and Frontside Kid was going so fast on his grinds I think he may have melted the coping. Out of all, I think Adam Hopkins was the man to watch. Big airs left, right and centre, tailslides, smith grinds, handplants and more. He even blew the crowd away at one point by tossing out a drunken 540 McTwist in the deep end first try – no pads. I thought that was pretty much gonna shut it down, but then Andy Anderson rolled in just as the sun was dimming – Protest Represent!!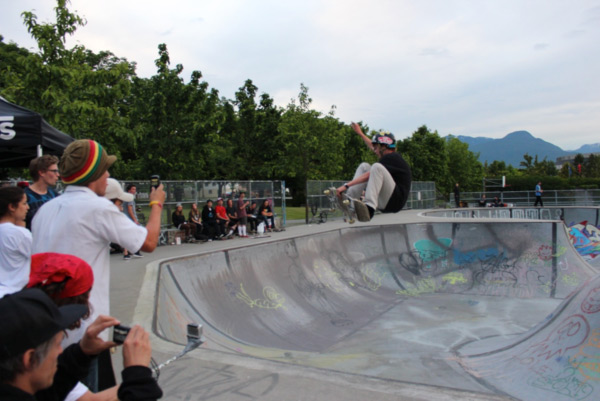 Andy had the crowd wowed in the matter of 30 seconds in his first run to warm up. 2 runs to get the legs going and then straight to the Indy Transfer over the gap from the hip to the other quater pipe that I made him learn last time we were there. Andy kills it, and proved it once again. Jeff Cole called him out on a trick he'd never tried before – Frontside 5-0 transfer fakie over the spine, and Andy laid 'er down 2 tries. The night slowly came to an end and people finally disbursed. It was a great day for skateboarding, and just plain hanging out. It's a great vibe in this City where all skaters come together in harmony, and it makes me glad to be a part of it.
Happy Go Sk8 Day!
June 21st – every damn year…
Here's all the photos: