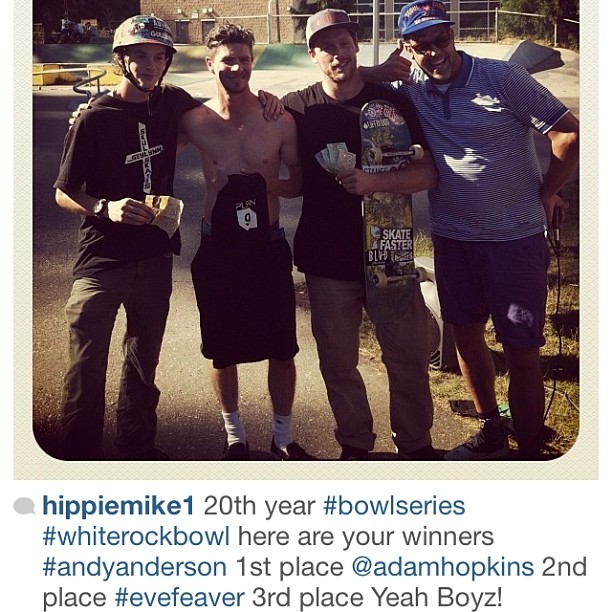 Another beautiful BC Day and another stellar Bowl Series Contest! The White Rock Bowl is extremely unique in comparison to all the other old bowl s that were built in the 70's, 80's and very early 90's, it doesn't have a snake pattern at all, and the shallow end is still 5-6 feet deep. With a ditch, a halfpipe and a round bowl there are always tons of tricks but there is also the potential for major speedlines if you're brave enough.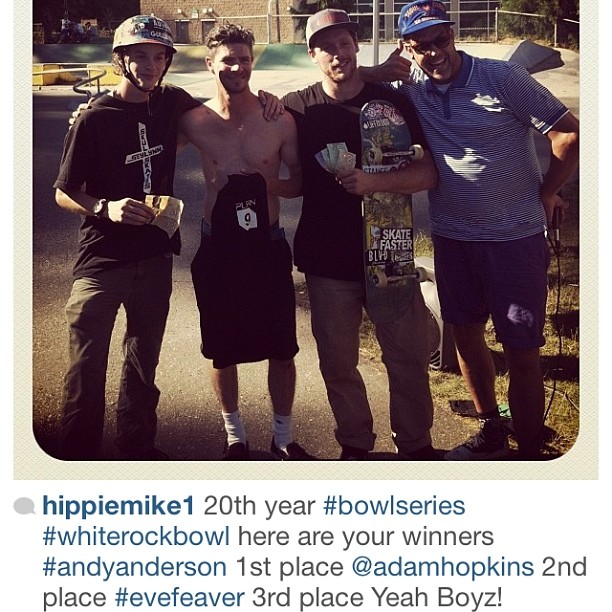 The beginners probably skated harder than the intermediates and they were ripping, ollies and bonelesses on the tranny, mad carves around the deepend and some even tried to make the launch out. The intermediates had more skill but seemed to show their fears and were being more cautious. Still there were some triple airwalks and Dave Brown showed off his China Creek mentality with old school flow throughout. The ladies had some lines too and filled a couple songs with fun times and cheers from the crowd.
Then came Advanced, always insane, but this time worth $$$$!! Everyone was on point, there was even a 720 that went down out of the deepend. It was about making it to the finals, then it was the real contest. Eve Feaver played the bowl with experience under his belt and managed to come in 3rd which meant it was between Adam Hopkins and Andy Anderson for the top prize. This is Andy's home park so he has an advantage but both guys were doing gaps that no one else would try along with wicked speed lines and a whole whack of tricks in and out of the bowl. Andy managed to pull through on this one and take $200 – the home crowd loved it.
1st Andy Anderson – $200
2nd Adam Hopkins – $150
3rd Eve Feaver – $100
Great job to all, see you in 3 weeks Squamish August 16th, Whistler August 17th