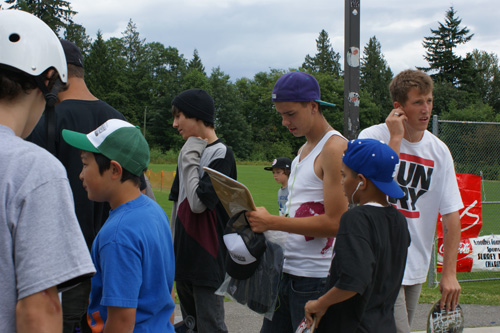 2010 has been an insane year – with our son Kaelen born last November, my Cabinet Business being super busy, our house addition going on, and me trying to pull off 60-70 hour work weeks all year, I did not feel prepared for Hippie Mike's Tour de Surrey to begin. But luckily, I am a very hard worker, and extremely dedicated to all of my jobs. I was ready…
Everyone showed up at Fraser Heights Park just before 11:30am. DJ Cuzo already had the party going, all the City Staff workers were set up and there was a ton of people there. I looked around and smiled – as much stress as I'm under, I love seeing so many appreciative faces. I started unloading the mass of boxes out of my truck, had the helpers put up all the banners and began to enjoy the day. It was a nice day, a little bit cloudy, the risk of rain at any moment, but still warm.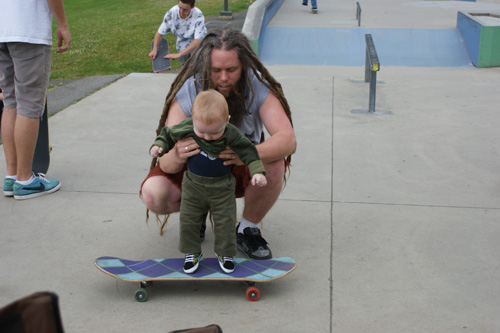 Everyone was feeling the positive vibe. I think that's what keeps me going the most with these contests is how it is a competition, and yes, everybody is there to try and win, but at the same time, all the kids route each other on all day. There never seems to be arguements, or bitterness, or anything negative. It's very rare in todays skateboard world to see and it warms my heart. That is probably the number one reason I keep doing this series of contests.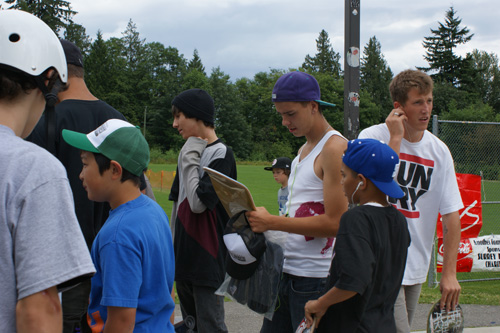 So we started out by hooking up all the people with their "7th Annual Hippie Mike's Tour de Surrey" T-Shirts with Andy Anderson on the front blasting a huge melon out of the South Surrey Bowl over a whole whack of kids. And then the contest began. Only 8 kids in the Mini category – no NIck, no JR… but some serious kids rippin' it. It started off normal, little guys doing little tricks. Then this kid Luke starts flying through the air like he's Ryan Sheckler. I think Luke is about 3 feet tall and he's hittin' melon grabs down the 9 stair first try, huge ollies over the big double set clearing it by a mile, and boardslide both ways down the rails of the 4 and 5 stair. Everyone was blown away. And then Cole started doing the same stuff. I'm looking at people that are in Advanced goin' "Man, you're lucky you're not in this category." These 2 kids killed it, and I have a strange feeling that they are gonna be at all of the contests, going big every time. Their runs were so amazing, I don't even remember what anyone else did. I do know that they both would have still placed 1st and 2nd in Beginner. Crazy!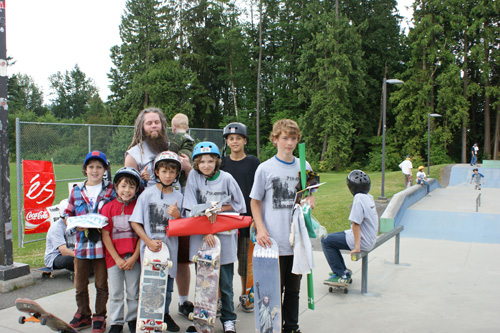 So the Beginners had to follow this circus act, 18 kids going for Gold. Like I said, after the Mini category, it was hard for my brain to know what was happening. All I remember is that there was lots of skills, lots of creativity, and lots of kids. Kory Laan won it, Kolby got 2nd, and last second entry Jacob took 3rd. Everyone had fun though, and that's all that matters.
Carrie Williams is finally back in action after last year's super-long pregnancy. Her and Erin Beynon had there 2 minutes of fame and Carrie ripped up the flatbanks just like she used to. It was good to see her back skating, but sad to see that we still don't have many females coming out to compete. Hey Ladies! Where you at?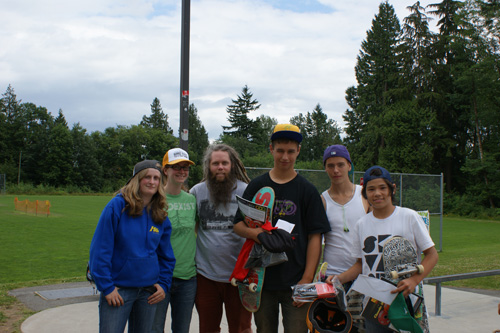 A lot of kids were really rippin' it in this category
The Intermediate division was pretty awesome – 17 kids. Brendan Neilsen finally landed stuff in his runs, Brandon Baba tried all hard tricks and landed a bunch of them. He also landed on the side of his helmet off the big hubba in his run – that's what they're for, protect your brains. A lot of kids were really rippin' it in this category. I think it was a tough one to judge. Dylan and Ryan L. both had sick runs, but barely fell short of placing. Same with Jackson. All in all they all skated good, but Trevor G. skated better, taking 1st place.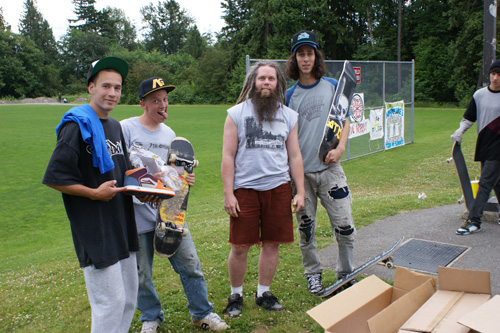 Onward to Advanced. Only 9 people, but all super talented in different ways. Jordan Strong started it off with an almost flawless run filled with lots of manual tricks and big ollies, finishing it off with a sick backside shifty bonk over the block on the bank, Fighter did his usual rail killing, Jordan Repin destroyed, Shameless layed it all down, and Cisco ended it all in his first run – Flawless! and all creative and technical tricks that other people don't want to try. Ryan Barron skated perfect all day warming up and then lost it completely for his run, while the other Ryan threw down some wicked heelflip grinds and manuals. And Andy Anderson skated around like the whole park was one big bowl. After the first runs, it was like a 5 way tie. Then the second run told the truth. Cisco finally missed a trick, but still took home the prize. Tough contest.
We had a best trick down the double set afterwards for a Protest Deck. Fighter started things off with a boardslide across and down the rail, Jordan Strong stole the lead near the end of time with a kickflip backside 50-50 down the hubba, and Ryan Barron won it at the last second with a noseslide kickflip out that he broke the tail off his board and still rode away. Good thing he won a deck.
Thanks to all who came out – It was fun! This is looking to be one awesome year for the Tour de Surrey.
RESULTS
MINI: 1. Luke; 2. Cole; 3. Keinan; 4. Sam; 5. Desmond & Dominic; 6. Alex & Aiden
BEGINNER: 1. Kory Laan; 2. Kolby; 3. Jacob; 4. Riley Allen; 5. Alex Ma & Matthew Major; 6. Alexander Savage; 7. Max Stephans; 8. Cody & Matthew Forcia; 9. Parker; 10. Adam G.; 11. Andrew Harden;
12. Travis, Tristan, Michael, Jaylen, Devon
GIRLS: 1. Carrie Williams; 2. Erin Beynon
INTERMEDIATE: 1. Trevor G.; 2. Brendan Neilsen; 3. Brandon Baba; 4. Ryan L; 5. Dylan L.; 6. Coddi R. ; 7. Jackson; 8. Quinton Salter & Andre Bissonnette; 9. Sebastien; 10. Joanthon Kampen; 11. Ayden, Jacob Martin, Robert Wylie, William Letourneau & Kevin
See you at South Surrey – July 10th