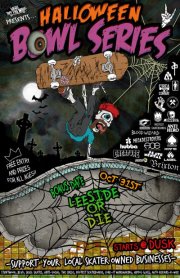 It's that time of year again when Halloween is creeping up on us fast and that means Leeside Session with all the craziest rippers in outfits that make it almost impossible to tell who's who until they start doing tricks. Leeside is  definitely the most hardcore skate park in Canada. Completely man-made and every obstacle is built to kick your ass if your not skilled enough to ride it. The Leeside Halloween Jam is always the best event because everyone dresses up and it just adds to the presence of the Tunnel. It starts at dusk, rain or shine, so be there with your costumes on. The hard part though is trying to make your tricks with fireworks deafening your ears and people shooting bottle rockets at you. But that's part of the Jam.
If you can't take the heat – stay the fuck out!!
Here's a video of last year's event so you can get a taste in your mouth of what's to come this time around….