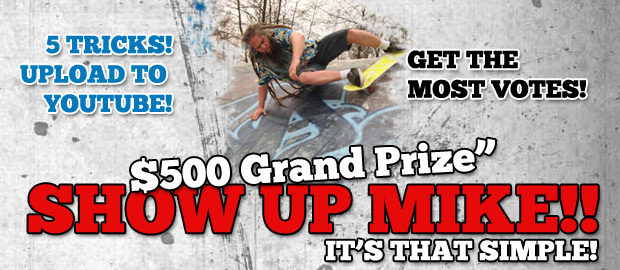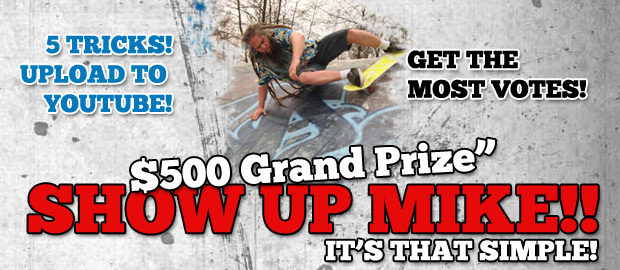 Long Anticipated, and patiently filmed for over the nasty months of Winter, all 48 videos are made. Hippie Mike has set the standard for you guys to compare to. You can enter as many 5 Trick Videos as you want to. Pick any of the 48 skate parks below and get out there filming. Upload your videos to Youtube, then submit your video links here. Your videos will be voted on by the public. And whoever has the most votes wins.
Grand Prize $500
The rules are simple:
1) – Choose any of the parks that Mike has already filmed his 5 tricks at.
2) – Film 5 tricks of yourself in One Session at that park.
3) – Edit your 5 tricks into a video and upload it to Youtube (name it: Your Name – and whatever park it is – "Show Up Mike").
4) – Submit your Youtube link to www.protestskateboards.com along with your contact information (kept confidential).
5) – See how many votes you get
6) – Repeat steps 1-5 at another park
There will be a separate winner for every Park on the list who will win a Protest T-Shirt. Video Submission runs from June 21st – August 21st. Online Voting runs from June 21st – September 11th. Winners will be announced and awarded on September 15th at Hippie Mike's Tour de Surrey grand finale held at South Surrey Youth Park. Check out Hippie Mike's Videos below
A WINNER HAS BEEN ANNOUNCED!! Sean Lowe has won the Show Up Mike online skateboarding contentst.
Below is an archive of the Show Up Mike 2012 online skateboarding contest leaderboard.
Check out Sean Lowe's entry into the "Show Up Mike" online skateboard contest at the Kensington skatepark.