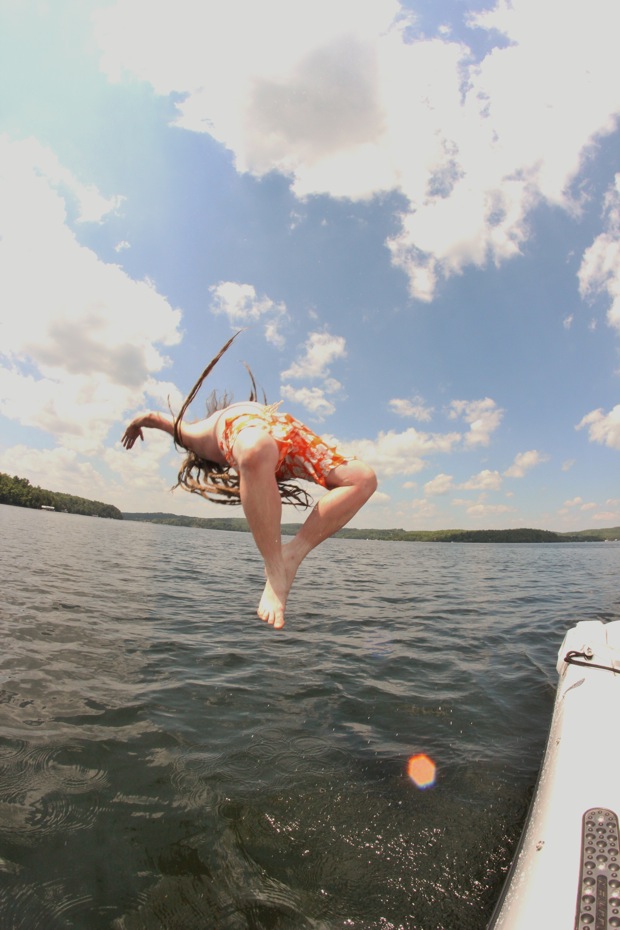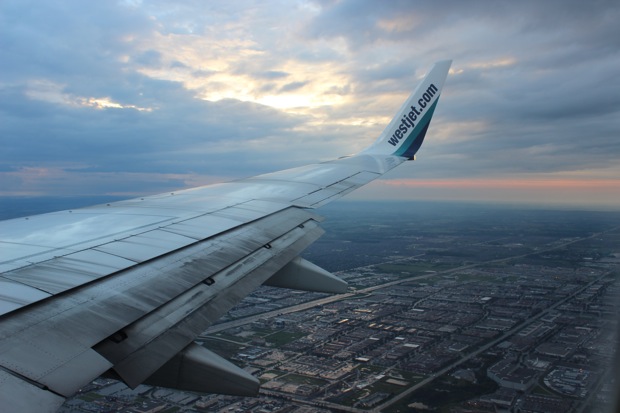 It was a trip back to the homeland of Barrie, Ontario for myself, Carrie and Kaelen, and we normally avoid going there in the Summer months because of how hot it gets, but there was a Milestone Celebration Party happening that we needed to attend. A 60th birthday, an 80th birthday, a few 30th birthdays and a bunch of key anniversaries, including ours were all occurring in the June, July, August time period, so off we went. It wasn't meant to be a skateboard trip but you know it's always on my mind, so we tried to get as much skating in as possible, but with temperatures being in the mid 30's every day that it wasn't raining, that can be a tough thing to do. Either way, even if we don't skate, we still meet up and hang out with the old crew that I grew up skating with.
We flew in on the Sunday evening and you could see the humidity, but we were blessed that we weren't stuck at all in that insane flood of rain that hit Toronto the next day and shut the whole city down. They got over a year's worth of rain in 1 hour – how the hell do you see that coming? Up in Barrie it was all good and we met up with some friends and family to get the vacation started. Doug Williams' house seems to always be a central hang out and you get to play darts against Kevin Creelove and Mike Van Noortwyk (Noorty) while you're there. They are tough to beat. So we spent a few evenings there seeing lots of people. We met up with Jay Coulson the second day we were there and we skated his little mini-ramp.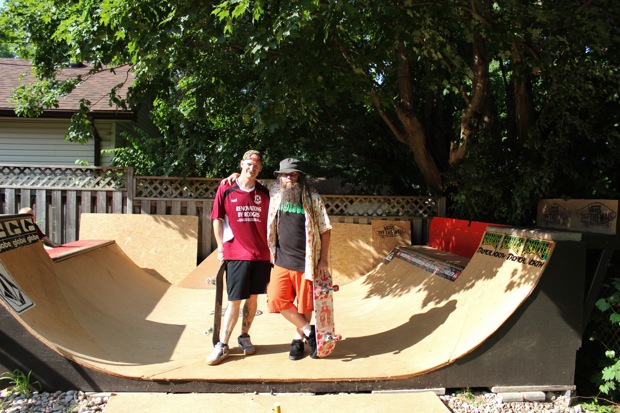 Jay is now the manager of Tropical North Surf Shop which is the longest lasting skateboard shop in the area and we swung in there the last day to show off some fresh Protest product. With our distributor Unit120 Distribution ready to sell our gear across Canada, hopefully you will see it in Trops pretty soon. The ramp was fun, pretty small, but really quick. Good for mellow sessions, and it was great to skate with Coulson again – it's only been about 10-15 years. Anyone from the local area will remember the old days when there was a ramp in Jay Coulson's barn. A lot of insanity went down in that spot before it collapsed.
Wednesday seemed like a great day for Golf so Doug, myself and Carrie's Dad Dave hit up this course called Pine View, which we had played last year as well. A lot of hills, and a lot of bushes. We got 'er done and survived the heat, and found more balls than we lost. Somehow Dave won, and I think he mentioned that in his speech at the Milestone Party. Thursday had been set out as the Canada's Wonderland trip with all our nieces and nephews, and Kaelen was stoked to see all his cousins and go to this huge park. Being the crazy guy that he is we made sure he got a blue wristband so he could hit certain rides, even though he came up about a 1/2 inch short for it. The first thing we did was take him on the Thunder Run a roller coaster that shoots through the mountain in the dark. 1st roller coaster – successful, so then later on in the day we had to get him on the Ghoster Coaster, one of the oldest wooden roller coasters around.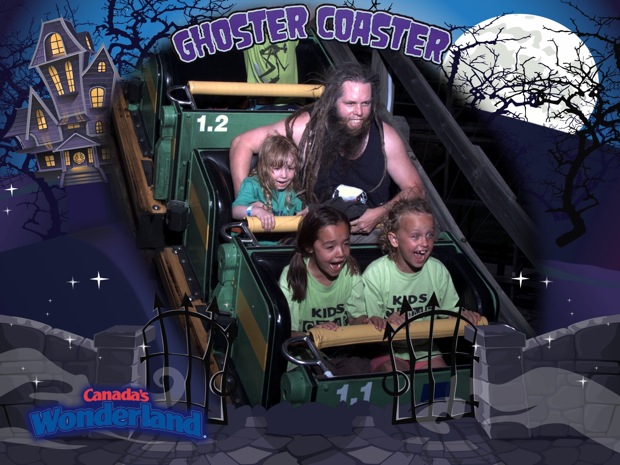 That thing was crazy, and by the look on Kaelen's face in the photo, he didn't expect it. But afterwards, he was stoked on it. A great day for fun times with the family.
The next day was back in the mode of skateboard world – I had a meeting set up with Sean Bittle from a new company called Top Grom.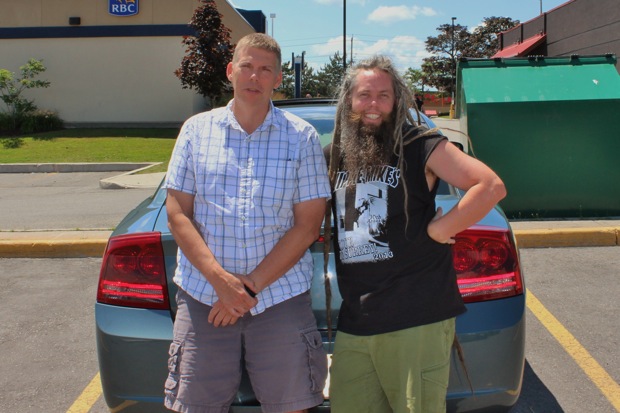 This company is focused on promoting skaters that are teens and children only. They are hosting competitions for kids 13 and under in 5 different countries this summer, and have created a magazine that will be hitting the shelves in the matter of weeks. Sean drove up from Toronto to meet me for the first time as we had been talking over the phone and by email for a while. We discussed a bunch of opportunities for us to collaborate, and it sounds like I will be writing for their magazine, along with some other amazing things. It was a great lunch meeting a Moose Winooski's, and I had my oldest nephew Riley Robinson with me to be a part of this new venture. I look forward to being a huge part of this new Top Grom era. After the meeting, there was really only one place to go – the Barrie Skate Park. I remember it took years of meetings and petitioning and a bunch of work to get that skate park built back in the 1990's, and they ironically finally put it in the year after I moved away to BC. So I've only ever skated it a few times, but I know which obstacles I like there. I'm still recovering a strange injury I had in the middle of June when I jammed my ankle at Seylynn, so this was the first time I had skated anything but tranny in a while. You could tell – my pop wasn't poppin' and my flips weren't flippin', so I tried to stick mostly to this weird rising quarterpipe they have there. The design of the Barrie Skate Park isn't that bad, but the concrete job is terrible filled with lumps and bumps all over that shouldn't be there. I really don't like flat banks that are steeper at the bottom than at the top… I only filmed this 1 trick there, body varial noseblunt near the top of the quarter, and it wasn't easy. Plus pushing as hard as I could across the entire park in 35 degree sun doesn't help, but I did skate Bear Creek and Confederation Park for many years, so I know how to handle it. Thanks to the local kid Dylan for filming it.
Saturday was party day, that was the Milestones Celebration Party at Carrie Williams' parents' house. Beers, wine, food, a band, cousins, grandparents, aunts, uncles, and some old time friends all came out to celebrate, and it was good times.
Me and Creelove dominated the game of ladder golf until the wee hours of the morning, and nobody got hurt. It was great to see everyone. The next day the same type of get together happened at my Mom's house, but with about 100 less people. It's hard sometimes to live so far away from all of our immediate family, and although we love the family we have created in BC, it's always a nice treat to be bombarded with the originals. The night at my Mom's ended with 3 1/2 year old Kaelen busting out his skateboard in the driveway and putting on a full demo. I grabbed the video camera and got this rare event on film, drop ins, fakie rides and he even landed a sweet primo stall. It was great to see him on his board showing off again, it's been a while. On Tuesday before we headed back home we stopped by the old stomping grounds of St. Mary's Elementary School and Kaelen continued to go for the gusto.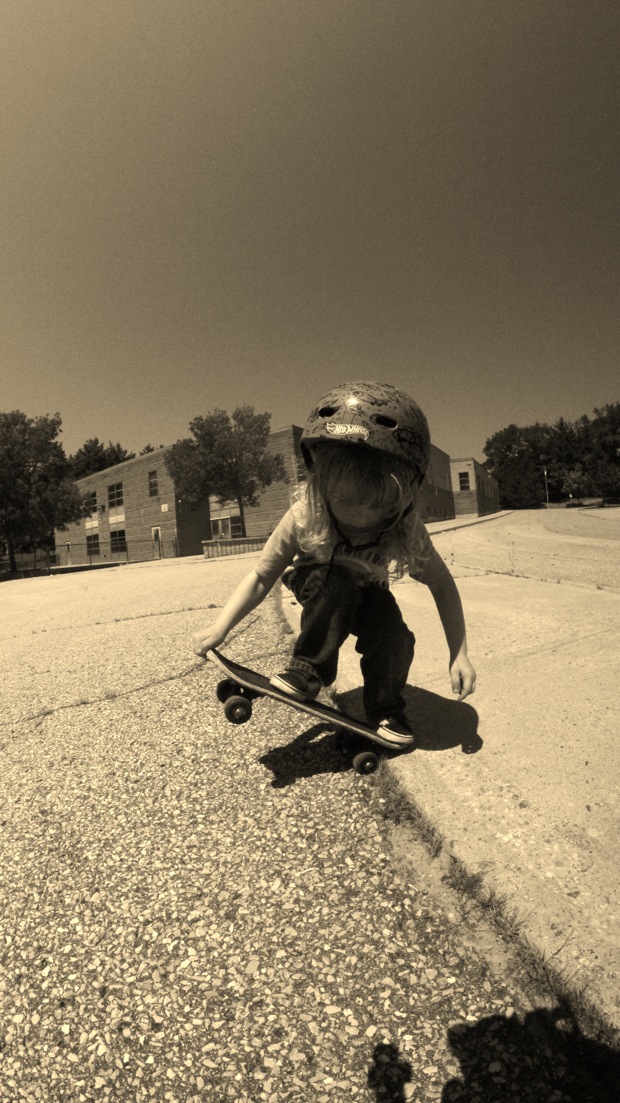 It meant so much to me to skateboard at this spot again and even more to do it with my son. St. Mary's was the spot where we hung out every day while growing up in Barrie from about the time I was 15-18 years old. If you were a skateboarder in Barrie Ontario in the 1990's, you knew about St. Mary's and you hoped you were accepted by our crew when you showed up. Each year we filled the basketball court with wooden ramps in the summer and had our own skate park until some idiot decided to come by one night and torch everything on us. The one flatbank had been pushed up tight to the wall of the portable that day as I remember Chris Foley doing huge wallrides on it, and unfortunately half the portable burnt to the ground. An era was ended that day as we were told that weren't allowed to skateboard there anymore, even though it wasn't our fault – The St. Mary's Posse had to change their location. So many of us have our roots at that spot. I tossed a basic line through the whole parking lot for old time's sake – 1 footer off the curb cut at the top, kickflip on flat, manual down the table in the island, ollie up the curb and down the 3 stair and 180 off the concrete into the basketball court. Just doing that line once brought back years worth of memories.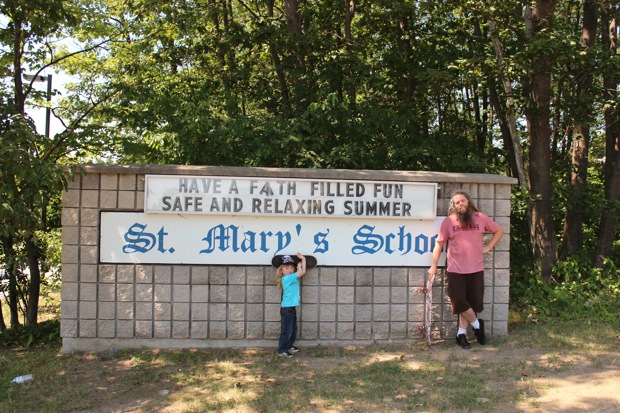 I filmed Kaelen while we were there and then we headed out. A 15 minute session was more than enough in that heat, we were soaked.
Monday was probably the best day we had, next to the Canada's Wonderland day, we hooked up with 2 of the true old schoolers – Shane L.S. Dennis & Eric Francom.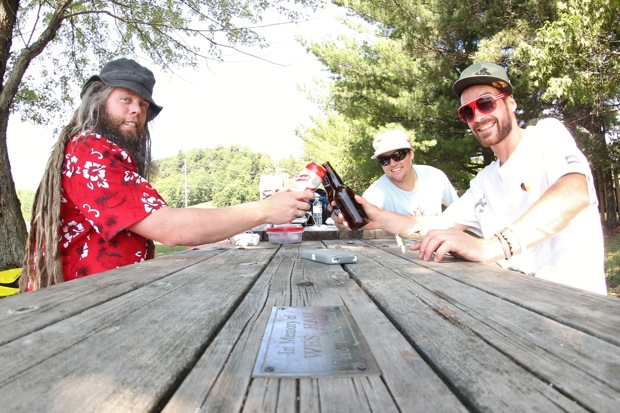 When we moved away these guys were barely old enough to drive, and I had been a huge mentor to them in Snowboarding for many years. Both went on to become sponsored riders for Burton after I left and it had been since our wedding 10 years ago that all of us were in the same room together. Eric picked up me, Carrie and & Kaelen early morning and we grabbed Shane from his Unity Market and Studio downtown and started driving to Huntsville. Eric's got a cottage and boat there and we needed a day on the lake.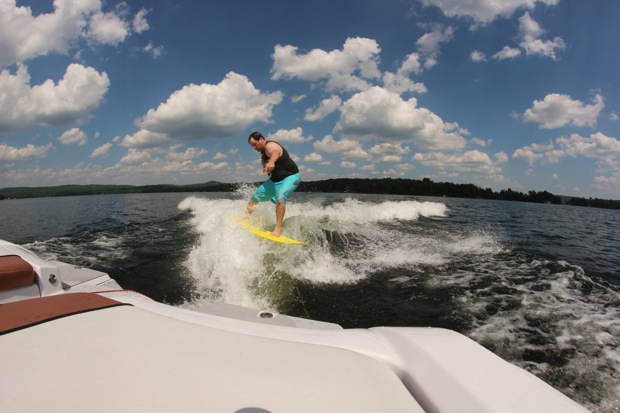 These guys are sick Wake Surfers and we just cruised the lake for hours while they did their thing.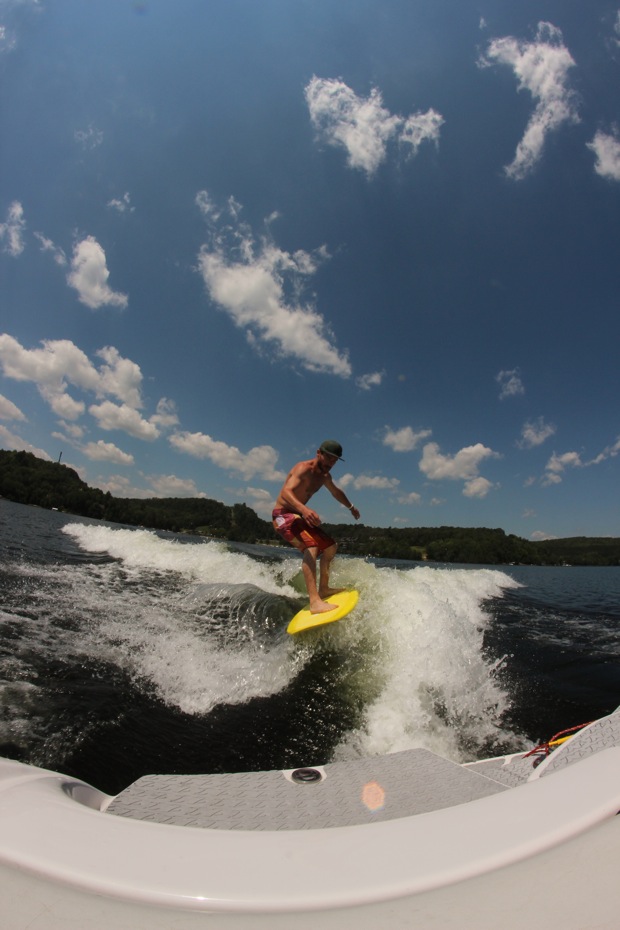 Carrie and I attempted it but neither of us could get up for the start. I just flipped off the boat a bunch of times during the day. It was old times at it's best, and we all were glad that Eric made it happen.
The whole trip was a blast, and it was great to see all these old friends and re-live some amazing memories. We partied, we skated, we saw friends and family, we visited my Dad's memorial, we hit the coasters at Wonderland, we flipped into the lake, we created new ventures, we sweated in the heat, but most of all we had fun. It's always a great time to take Hippie Mike back home to Ontario and be Skully again…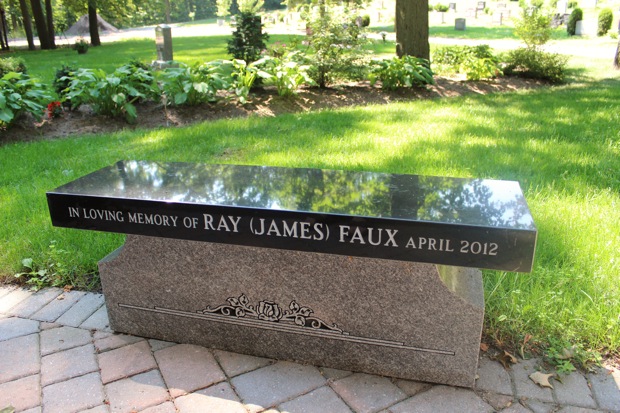 Love to all my family – my Mom, my Dad, my sister and kids, the in-laws, and everyone else out there. See you again next May for Julie and Deon's wedding.