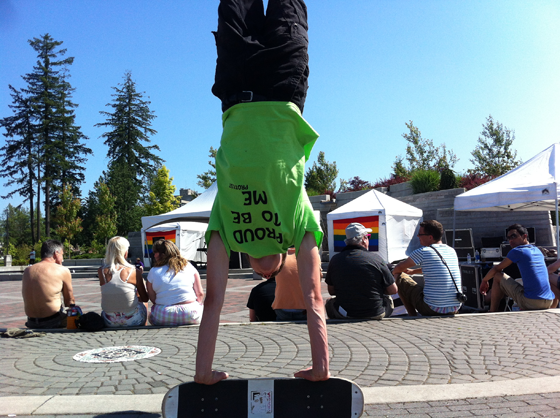 Well we sponsored the Surrey Pride Festival went as a vendor. There were tons of people there having a great time, it was super sunny and hot. The music was pretty good, I liked the first band – Goatface Killaz. They were pretty funny, and they were totally stoked when Ryan Brynelson walked up and threw down his board in front of the stage and started ripping it up Freestyle. Handstand kickflips, Pogos and Spins, and just Walking the Dog across the entire park, the crowd's attention was suddenly turned to him and the band recognized it right away, calling him "Skater Guy" and giving him props over the microphone while singing their songs.
Ryan attracted many people over to watch him skate as he put on short demos throughout the day and lots of people were taking photos of him. I heard a lot of people talking about how amazing he was.
We showed up, me and Jaden sold some gear, and Ryan Brynelson ripped it. It was a good day.
Protest.