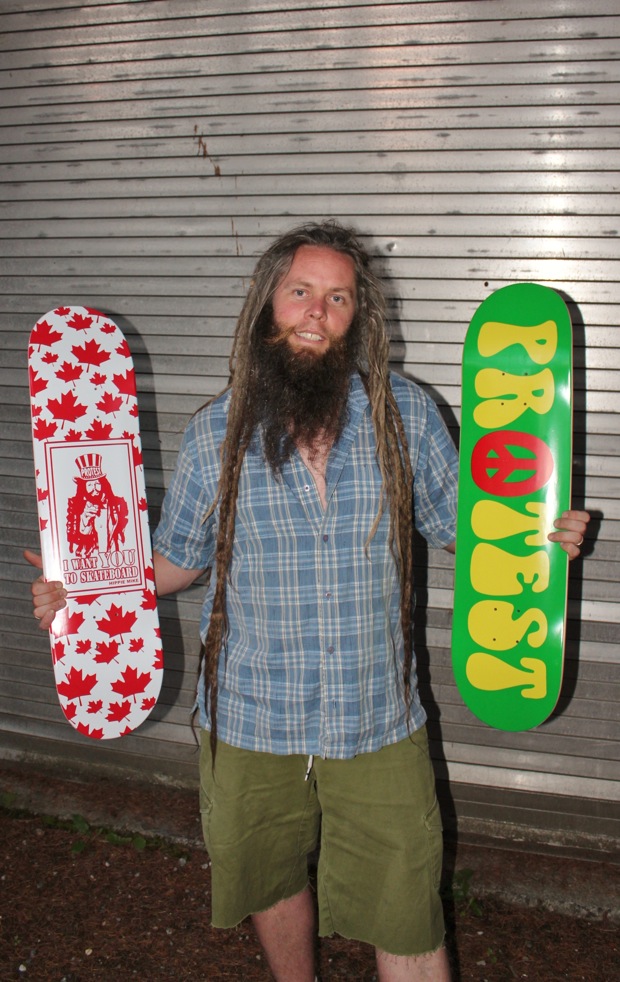 Hi Everyone – our new line of 2013 products are now for sale online. You can check out our store to see what you like and make a purchase through paypal.
We have 2 new designs for our standard decks – The Protest Peace/Rasta Team Deck and The Hippie Mike-Uncle Sam Deck which both come in 5 sizes 7.5", 7.75", 8", 8.25" & 8.5". The 2 bigger sizes are made with a longer wheelbase to properly match the widths!
Then if you love to cruise, you can grab one of the Old School Cruiser Decks specially constructed by Folk Skateboards for Andy Anderson. They have the new Protest Crest Design and every single one has different colour patterns in the crest. They measure up 33" long and are 9.25" at the front truck and 8.5" at the back truck with custom wide tail. These boards are amazing!
Protest Skateboards has now started manufacturing wheels as well. There's only 1 design but 4 different sizes to choose from 50mm, 52mm, 54mm & 56mm. The price is good and they are built to last.
We have 3 standard T-shirt designs – The Protest Peace, The Protest Fist, and The Protest Peace Sign on Tie-Dye shirts. And there's also the option to customize your own T-shirt or hoody with some of our other special designs.
And lastly, we of course have stickers. Rectangle vinyls, and 2 types of Dye-Cuts. Have you seen The Statue of Hipperty before?? You gotta check that one out.
Click here for the store
http://www.protestskateboards.com/protest-skateboards-online-store/
Anyway, we love all of you whether you buy stuff or not. Protest Skateboards is a company that exists for the love of skateboarding and just wants to promote the positive benefits of living life as a skateboarder.
Peace!