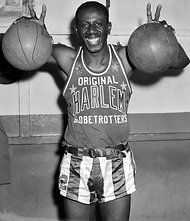 I was on an airplane the other night coming home from Ontario and I caught this amazing documentary on TV. The story of Reece "Goose" Tatum, the one time leader of the Harlem Globetrotters, and definitely someone who broke many boundaries in the world of racism. The documentary includes commentary from other historic father figures of the black community such as Oscar Robertson, Ernie Banks, and even Bill Cosby. These guys were all around during the times of struggle where the white man thought they were the superiors to all other races and made sure everyone knew it. A disgusting period of time which I am glad I wasn't born to see.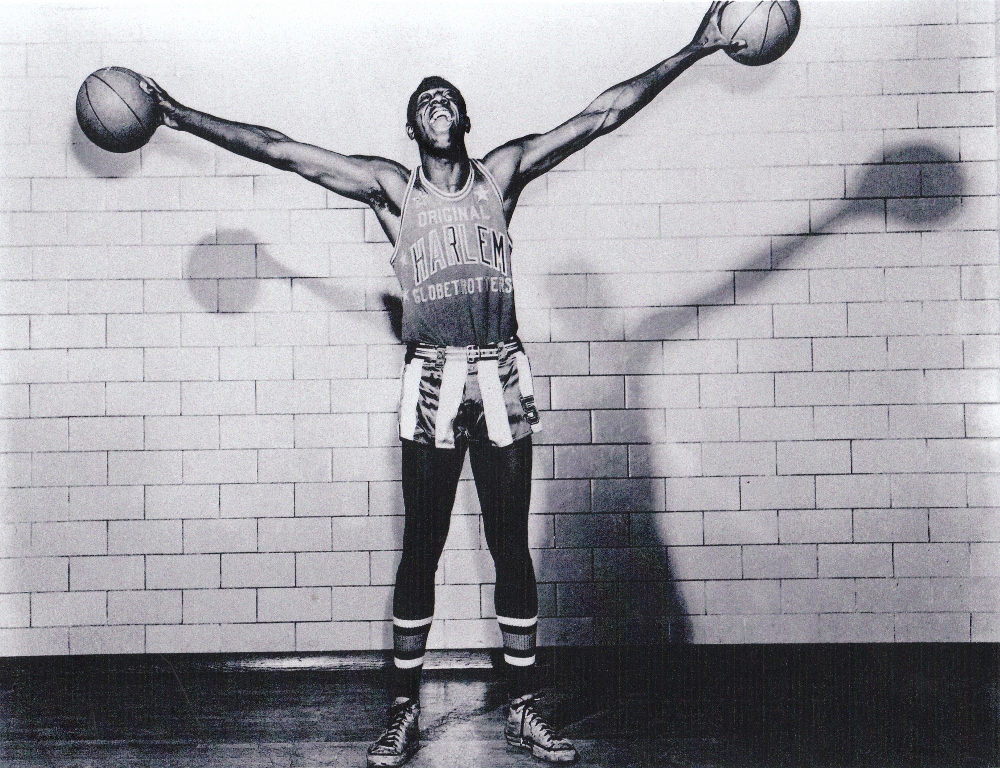 The story starts out displaying some awesome, and almost unbelievable baseball tricks with the Goose just messing around with the baseball. His skills of deceptive magic were amazing. You just have to see it to understand it. I thought it was astonishing to learn that he was a baseball player by heart, not a basketball player, and it made me think of Michael Jordan and how he was totally the same. It made me very glad that both of them ended up on the NBA floors because they were both the leaders of change in how the game of basketball is played today. The Goose was credited with introducing the no-look pass and the no-look hook shot, while Michael Jordan taught us how to fly through the air for hours at a time. And they could both juggle a basketball like nobody's business.
Reece Tatum was a baseball player in the Negro League on a team called The Indianapolis Clowns, and his magical talents were discovered by marketing genius, Abe Saperstein, who brought him into the basketball spotlight as the new leader of the Harlem Globetrotters (who weren't actually even from Harlem) and the times began to change. Tatum would actually play Center even though he only stood approximately 6' 3", but due to his creative means, along with an 84" arm span, nobody could stop him from finding the basket. With the mixture of comedic genius and athletic skills, the Goose would help to attract major audiences, and it was planned for the Harlem Globetrotters to play against their first NBA Team – the "all white" Minnesota Lakers, the best team in the NBA. This was a major historic event as the Globetrotters took the win, and were immediately challenged to a rematch. They won again.
This was in an era, where African-Americans were not respected by all parts of the United States and sadly, no matter how big of a superstar you were, you were still black. You had to drink out of specified water fountains, and stay in certain hotels only. Unbelievable… But Reece Tatum was one of those men who opened the doors for the African Community to be respected as human beings across North America.
The story goes on and gets better. The Goose left the Harlem Globetrotters due to disagreements with Saperstein and began a new team called The Harlem Magicians. He had kids and took them with him on tour wherever he went. The Goose was a hero. He was respected by so many well known individuals, like Ray Charles and Sonny Liston, and of course anyone in the history of basketball or baseball. He was there to help change the world.
A tragic accident where he lost one of his sons drove Tatum into a bad state and he ended up passing away at a young age. The days of The Goose were over, but the impact he had made on society was there to stay, and the memories of The Goose would live forever.
Reece Tatum was eventually welcomed into the Basketball Hall of Fame recently, and his son, Reece Tatum III, was there to accept the honors. He had been there with his Dad through the good times and the bad, and no one respected him more. He quoted his Dad on stage with a statement that almost made me cry:
"Things change very slowly so pay attention, because if you don't pay attention we will repeat where we've been before, and we don't want to go back ever."
What a statement. It explains a lot in my own life. And now I have another person to relate my being to. I break this statement down to what it means to me:
Believe in yourself and others will believe in you;
Trust people fully, only when you're looking at them;
Change the world to make it better for everyone, and make sure that the changes have been accepted;
And never give up on your dreams.
He brought joy and laughter to everyone around him. Check out some of the links below and enjoy.
Classic comedic basketball footage of The Goose
http://www.youtube.com/watch?v=3cjtEP2NHQg
Classic comedic baseball footage of The Goose
http://www.youtube.com/watch?v=PunxRJZzn6A&feature=related
View the induction speech by Reece Tatum III
http://www.youtube.com/watch?v=moljx66W_yw
Learn more about the Harlem Globetrotters
http://www.history.com/this-day-in-history/harlem-globetrotters-play-their-first-game
Click here to see the original promotional commercial for the documentary
http://www.thesportsfanjournal.com/columns/ed-the-sports-fan/espn-to-air-documentary-on-legendary-harlem-globetrotter-reece-%E2%80%9Cgoose%E2%80%9D-tatum/