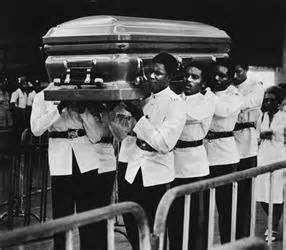 With yet another unexpected death in my family a lot of us are lost in sorrow and raw emotions. It gets tougher every day when you think about how we spend our lives meeting people and falling in love all for the times when it changes to watching all those friends and family around us pass away. Everything we do seems like a waste at times, but it's not. Even when you lose someone very close to you there are always the memories that you have to continue on living with. That's why it is so important to not hold grudges or get super bitter at people over minor things that happen in life, because you never know when the last time you are going to see them is until after it happens. Even through tough times with your friends and family it is so important to think positively and try to resolve your issues. I have so many friends and have lost, quite a few in strange situations that no one could have predicted, and I always think back to that final time we had together in hope that it was a good one, and it usually is, luckily. I never was the type of person growing up that said the words I Love You all the time and hugged people but I catch myself doing it a lot lately, and it feels good. I think some of that comes from worrying that the people around me might not know how much they really mean to me. Through skateboarding alone I have met thousands of people and a lot of them I consider my good friends. I try my best to care for everyone and treat everyone the same but there are definitely those who I cherish a little bit extra, who I have spent way more time with and just have so many amazing memories of. Today, as I write this I think of Josh Evin and how his 3rd annual Memorial Jam was today, and then I think of all the sweet memories I have of Josh from Leeside, Hastings and Confederation Park and the old PM BBQ's back in the day at 53rd and Victoria. And I think of all the kids that don't know who he is, or how amazing a person he was, or how high he set the bar when he skated. Who remembers the barefoot backside disasters on that 14 foot vert wall in The Project? And that makes me think of Lee Matasi and his crazy switch hardflips and 270 flips on the pyramids at Confed, and then there was Carver Don where 300+ people saw him go down at Seylynn Bowl and never recover. A tragic moment. For some that memory will be etched in their minds but I have to look past that moment into the reasons why I loved him and why everyone loved him – he was one of the most caring and inspiring individuals around and expressed himself even in his 50's though his positive music and wicked skate styles. These are just a few of the friends we all have lost in our society. And I'm sure every one of you has at least one family member who meant the world to you that is no longer around to share a hug.
I quote the Bob Marley song No Woman, No Cry –
Good friends we have, oh, good friends we've lost
Along the way.
In this great future, you can't forget your past;
So dry your tears, I say. 
It's not about the times you had today as it is about the times you might not have tomorrow. Take this time to think of all the people you have lost in your lives and what they brought into your life that made you love them. Pick the best memory you can think of and cherish it. Now go live your life and make sure that you create those feelings in others around you for them to remember you by…
To all my friends and family who are suffering
and to those we have lost
– LOVE