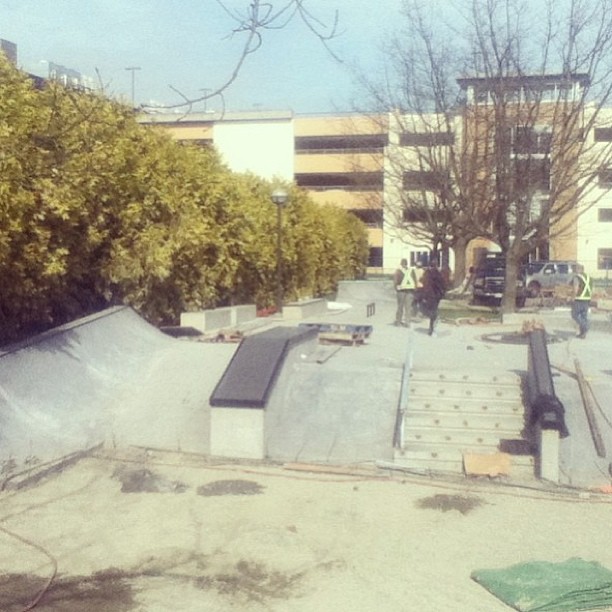 After so many years of controversial kick outs while Vancouver Skaters try to hammer down tricks on the UBC Campus, they are now bringing skateboarding to us.
The UBC Planning Department thought it would be a good idea to build a park on their property for the residents of UBC to enjoy. They put a certain amount of funding aside specifically for this project and connected with New Line Skate Parks to bring the thought to reality. It will be a positive addition to the community there and hopefully it creates more awareness as to how the guys skating the street obstacles there are just trying to skate, and not trying to be pests. But will it help justify those facts or will it cause a different argument where the Campus Security will just keep pointing over to the Skate Park and saying that it was built to keep people from skating the street on campus? We won't be able to answer that question until after it opens. One thing is for certain though, it is definitely going to attract people to the Campus to check it out.
There was a lot of controversy back in November when New Line started the construction. Vancouver Local Skateboarder Sean Campbell stirred up the system a bit by complaining about the design and many people got involved in this protest for changing the design. It brought out a lots of opinions from both sides, some people liked the design and others did not. It must be very difficult to be a designer of Skate Parks now a days because skateboarders all like different styles and what one group might love another might completely hate. New Line and UBC Planning worked very hard when getting the designs for this park created and they ran an online survey as to what people wanted in the park. Over 300 people submitted their feedback and the designers had to take the requests and see what would work with the space provided as it wasn't a huge lot and is filled with pipes, gas lines and other obstacles in the ground. Both parties agreed that they wanted to have a mixture of transition and street obstacles to help please every type of skater, but of course all the "Big Bowl Skaters" were not pleased with the 4′ half bowl. But that's life.
Every skate park that gets built comes with complaints. There's either too much Street and not enough Tranny, or too much Tranny and not enough Street. Or the Street Obstacles are too small or to big, or the Tranny isn't deep enough, or too deep to learn on. No matter what, not everyone will love a new skate park anymore. We are overly spoiled with selection of Skate Parks in today's world, especially around Southern BC.
So be excited if you want to be, or be a hater instead and don't show up, but either way the UBC Skate Park will be a destination spot for many skaters and I'm sure it will always be busy. We'll try to keep you posted as to when the Grand Opening is happening.
Thanks Stacy Gabriel for sharing this photo and being stoked. I'm sure we'll be seeing him, Geoff Dermer and the Kitsch Crew shredding there often.