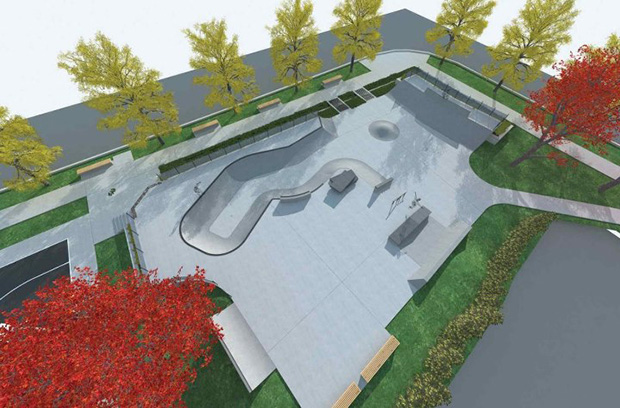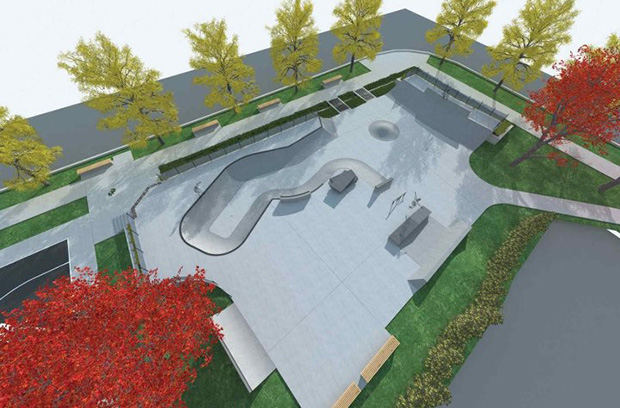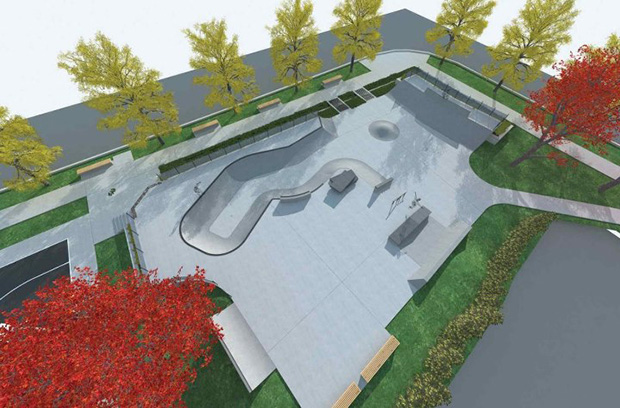 (Here's a little write up from Sean Campbell about the "new" UBC Skate Park which was planned out years ago and is now finally about to be constructed. Sean has voiced how the plan that was revealed by New Line Skate Parks is old and out of date, and straight up, not meeting the standards that New Line has recently proven themselves to be capable of. In my opinion, I have to agree in a sense that this Park  Design is lacking in potential. I have my own opinions about all these smaller Skate Parks popping up around the Lower Mainland which "Yes" they are great because there is no Park in that area, but "No" they are not so great because they are too small and and not thought through all the way by the community, waste of space in my mind sometimes. Look at Mt. Pleasant Park and Mackin' Park for examples, to me these Parks hurt my feelings when I show up to them. I understand that these Municipalities are the ones to blame as they are the ones who decide how much the Skate Park will cost. But when I show up to a brand new Skate Park and my first thought is about how you couldn't skate there with more than 7 people, to me that's a bit of a waste. Maybe I'm just spoiled with all the Skate Parks in Surrey being worth more money and better designed to allow freedom of direction. Don't get me wrong, I love New Line, these guys are amazing, and they do awesome work. Skate Park Construction has evolved so much since they built LaFarge in Coquitlam and we all thank them for the efforts they put in, but I look at this photo of the design for UBC Skate Park and wonder "Is it worth building just to have a park there? Or should there be consideration to take it back to the drawing board and redesign something that will benefit more people at once? Is this gonna be another Strathcona Park?" I think that no matter what happens from here, the UBC Skate Park will be awesome, and will be well utilized. And we are guaranteed that New Line Skate Parks will doing an incredible job constructing it. Read Sean Campbell's Story below and add your comment to the pile…. – Hippie Mike)
I tried my best all last week and up to today to try and get NewLine and UBC to review their park plan. As many people are discussing online and in the real world – the plan is remarkably outdated and offers no modern terrain other than the bowl. Not only is the park insufficiently out of tune with current trends in skateboarding – the elements that are present are all repeats of features that have been readily available to skate in the community for decades already – with in easy reach of the UBC campus.
I wrote to NewLine , I wrote to the President of UBC ( maybe a little over the top there but it worked real good ) , and I asked them both to review the park. Both UBC and NewLine replied with the same statement – that the park plan was a product of the planning meetings that were held. The relative obscurity of these meetings – as well as the fact that they automatically exclude anyone who has a scheduling conflict from providing their input – left me wondering if there isn't a better way to handle the process of gathering public opinion. After speaking with people who were actually at these meetings I get the feeling that overwhelmingly the voice of the skateboard community was not taken into regard at all and that the park design that resulted is a bland , outdated , budget-over-function fail.
To be fair I think the bowl is amazing. Every park should have some sweet transition – especially the UBC park considering it serves a wide area – but to go and waste ALL that other space with some big grey pads and two f'n banks is not only a shame – it's a concrete crime! There are countless more inventive ways to use that space would provide modern terrain that is anything but a repeat of every other park in the city. NewLine is famed for their inventive terrain – what happened here? I made sure to ask the University planning committee why an institution dedicated to preparing people for the future would build such an outdated facility?
Lastly – and why I wrote this – is that the guy from the UBC plannig committee offered me the slimmest sliver of hope. UBC called me on Tuesday to discuss my concerns with their current plan – and I think that's pretty cool. After hearing my arguments and getting my input I was given the opportunity to go ahead and gather up opinion and support for my own arguments – if I could find it – and present it to them before the end of the week. I was told that if I could pull together enough local opinion that there might – just miiiiiiiight be some tiny sliver of hope that the design could get a review.
This morning I woke up and decided not to put a ton more effort into this. I wrote my letters to give what I felt was a diplomatic and informed opinion and to offer some suggestion. To go and track people down and try to gather statements and signatures and put it all together is too much. However – if everyone else who is concerned about the poor design takes the same steps that I did and sends an email directly to UBC and to NewLine – perhaps if there is enough of THAT – then they will realize that I'm not the only one who thinks the design is a real bummer compared to what it could be. Shit – it's not even up to the standards that NewLine themselves have set!
I also think it's important to be respectful of the Campus and NewLine here – they ARE building a skatepark and we should ALL be grateful for that .. but the waste of an opportunity like this is something worth trying to change .. and considering the track record NewLine has and the parks they build everywhere else – it's baffling why the UBC park is so remarkably bland and out of touch. If you write them emails please be cool about it – don't go off and try to tell them how to do their job! I tried to be brief and diplomatic and honest while making sure I drove my points home – and it seemed to be very effective.
I'm ONE dude and I received way more feedback than I could ever have hoped for .. if lots of other people put the effort into giving input there is a very good chance that the planners and designers would get on board and provide UBC and the skate community at large with something worth the effort.
For newline I just went to their website and found a 'contact us' link .. for UBC I kind of went nuts and sent my letter directly to the president – but his email address was front and center on their contacts page so why not?
Lastly – the park is schedule to start RIGHT AWAY – as in maybe even Monday. The reality is that it would be a true miracle of the heart if both UBC and NewLine were wiling to change the plan – and that's why I decided to drop the issue – erase the stuff I had posted previously from my feed – and let it be. All I wanted to do with my emails was put the opinion out there. I'm not prepared to champion the fight that could cause planning delays and scheduling nightmares for people I probably know – but if NewLine and UBC show some love and do what should have been done in the first place – build a relevant skateboard facility that provides modern terrain for all skill levels and ages – and if that happens because a bunch of us were genuinely concerned enough to provide informed opinions and constructive input … well shit – that's how it should be!
Anyhoo – that's my park story.
please share this article with anyone you want  to spread the word . I tried to tag a ton o peeps just to share this. Time is very short but the internet is a great way to get the word around …
And to be blunt – commenting on MY note here is pointless. Like it or whatever to show some support for the idea if you feel the plan needs reviewing – but if you want to type – send the planners a letter!
– Sean Campbell
UPDATE #1: Sean Campbell Gets his Point Across