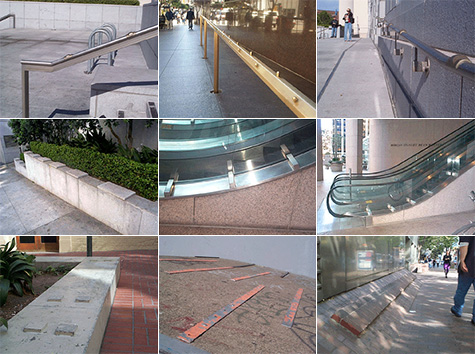 You wanna be disgusted? Click this link
These guys are making a living selling objects to help prevent skateboarding and change the appearance of the world in a negative way.
I love their motto too: "Because signs alone are not enough…"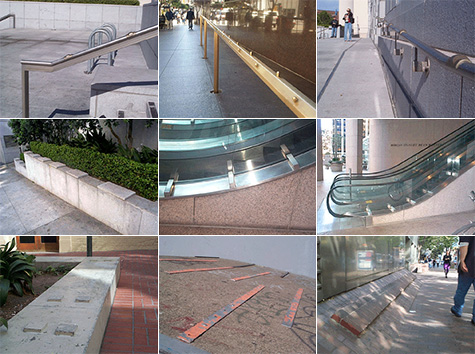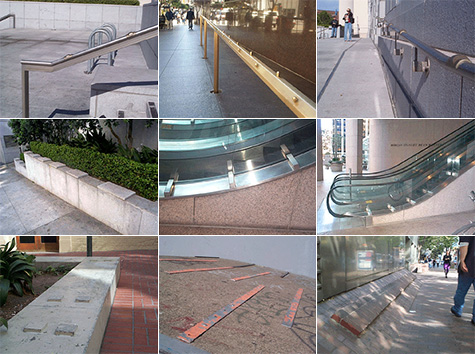 What have we become??
A friend recently sent me a link to this video which is talking about the diversity of street skating and how the world of street skating is so much tougher now with all these "Anti-Skate" features everywhere. It also touches on the fact that with all these skate parks being constructed, the public expects us not to skate in the streets anymore, but they have to understand that that's never gonna happen.
One thing that has to be recognized is that "Street Skating" will never disappear. This is what true skateboarding is to most of the population, and with all the Anti-Skate Caps and stuff on obstacles now, it just creates more boundaries for skateboarders, bikers and rollerbladers to cross, but it doesn't stop them. What has happened since the evolution of "Skate Stoppers" is just that the skaters have had to become more creative with what they skate. It almost helped to evolve the sport into a more artsy style of life. There has always been conflict between skateboarders and the public, and of course owners of private buildings, and that conflict will never disappear completely. But it would be nice to try to create a more positive relationship and see some of these places show acceptance to our mentality. It would be amazing if instead of people saying No you cannot be here, having them create designated spots on their properties which are made to be ridden, and have liability signs posted – "Use at Own Risk". I know Vancouver has built a couple small ledge/bench spots in random places in the city that are actually made for skateboarding, and that's nice, but no matter what they create, people will always be searching for other obstacles. One thing that needs to be recognized is the addiction to finding new spots and being the one setting the standard on them with that first trick.
With all the skate parks popping up all over the world now there is definitely an acceptance for skateboarding and other extreme sports, but real street skaters and the up and coming generation of good skateboarders just use these facilities as training grounds to get their tricks down pat so that when they go out filming in the streets they can land stuff quickly before getting kicked out. It would be nice to add skateboard features into the planning in the other parks around the city, and even on the new buildings that will be built soon. We know from the ratings on TV that most people do enjoy watching these extreme sports, and maybe it's time to collaborate with the architects to make street skating legal.
Skateboarders have definitely changed the entire world of architectural design. Everywhere you look you can see everything changing and know why things were built that way, with gaps in the ledges, caps on the rails, even patches of grass in the middle of sidewalks. To me it looks ugly and ruins a lot of the artistic side of architectural design. Instead of spending money on Skate Stoppers, just add one long piece of metal coping into the ledge when it's built to stop it from getting ruined. Recognize the fact that majority of skateboarders would never sue a business for injury and put up liability signs on the property instead of paying security to kick them out. There are many solutions as to how skateboarding can be more accepted into society for what it is, what it always has been, and what it is becoming, but we definitely need to work together to figure them out…
I am very interested to hear feedback from people on this topic so I can go a little further with trying to make something happen about it.
So please watch this video and leave your comments on our page below
http://www.theatlanticcities.com/design/2012/08/politics-skateboarding/2811/
"Without creators in this world, we would have nothing new, but the ones who make the biggest difference are those that change what already exists…"   –  Hippie Mike