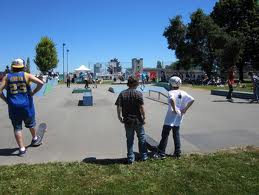 Saturday, July 14th is rapidly approaching which means the 9th Annual Hippie Mike's Tour de Surrey is about to begin. This year I'm kicking off at Kwantlen Park in the heart of Whalley. Kwantlen Park is one of those places you show up at for the first time and just stand there wondering – "what the hell happened when they built this place??"
The ground was never graded level so you're always going either uphill or downhill, some of the obstacles are movable, the pyramids are either too small or too big, and the park itself is about the same size as a tennis court, maybe… But the manual tables are nice.
It wasn't the best plan, and the people that built it were not even close to today's standards of New Line Skate Parks, but it happened, and it is a skate park. The thing I love about Kwantlen Skate Park is how even though it is not the best park out there, at one time it used to be busy every single day. So there's all these kids that have a million tricks there, and when I run a contest there, everyone lands everything. Kwantlen Park is one of my top favorite places for a contest because of this. The judging is always so difficult because there's always flawless runs from so many different people. We know Jay Mykyte is gonna show up and put on a Kwantlen Demo like he always does, but maybe someone could beat him this time. It's going to be a beautiful day on Saturday, hot and sunny, a great day for a contest. The only thing I'm disappointed about is that I didn't have Kwantlen on the Tour last year, and I put it first this year just for Kory Laan since he's probably the only person that you could call a Local there now, and he went away camping or something. Bummed out…. But that's okay, it will still be a great day.
And afterwards, head over to Chuck Bailey Skate Park and join in the fun with Jorden Murray, representing for Vans and Underworld. They'll be holding a BBQ, putting on some sort of small Demo, and having a Skate Hockey Tournament in the Sports Box.
Starts around 5pm.
 Check out the rest of Hippie Mike's Tour de Surrey 2012