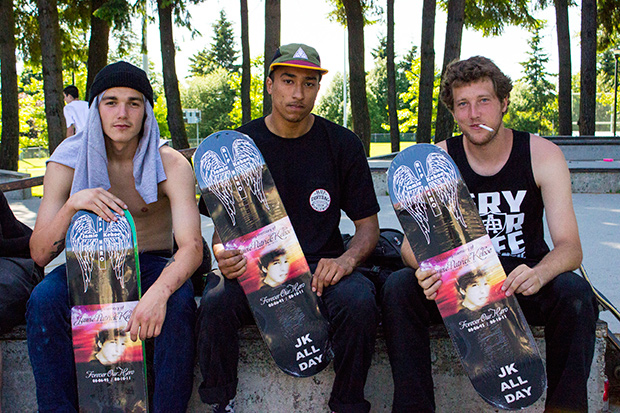 Another awesome day to be a skateboarder, the vibe at this event was amazing. Celebrating the life of a young kid who lost his life in a completely unfair situation is never easy but the fact that this event happens every year helps a lot of people who loved him get through those tough days. And for Jamie's family to see so many people show up and have nothing but smiles on their faces all day means more than words can say. Chris Somerville from Street Dreamz got a bunch of sick decks made with Jamie Kehoe's faceshot printed on them and Jamie's dad Jay was giving them out all day, everybody wanted one for sure.
The main point of the day was to have a god time and everyone was down with that, there was Free BBQ, Free Drinks, tons of prizes to be won, and tons of awesome peeps. Donny Chang would pick out the obstacles and I (Hippie Mike) would call out the tricks. Stuff was goin' down all day and dudes to watch were Tony Casano, Andy Anderson and Zach "Doogie" Lester. Doogie was the star of the show managing to do a heelflip on every single obstacle in some form, but was just stomping tricks solid all day. His best accomplishment was an inward heelflip down the 3 block – BAM! Dudes of all ages and skill levels took home prizes from Street Dreamz, Authentic Board Supply, Protest Skateboards, Huf, DGK, The Hundreds, Vans and more.
Thanks to DJ Cuz-O for keeping the sound smooth for the event and big props to everyone who came out to make this an awesome day – Until next year….